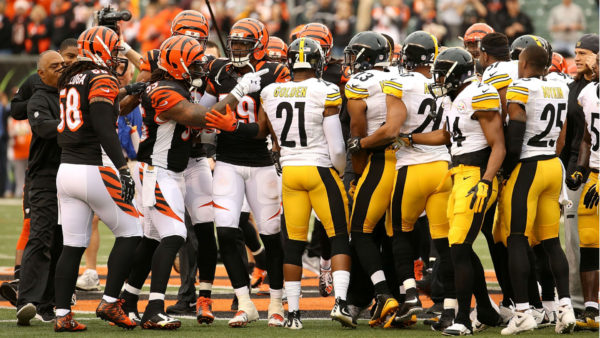 After an exciting week one of the 2016 season, the NFL continues to roll on into week two. Every team in the NFL gets a clearer picture of whether they are contenders or pretenders after week two. I will now attempt to pick the winners of each game based off of the spreads. If you agree of disagree tweet at me @treydaubert to let me know where I'm wrong for my NFL week one predictions. *All spreads are courtesy of oddsshark.com
Thursday Night: Jets At Bills (BUF + 1.5)
Both AFC East rivals roll into Thursday night football at 0-1. With New England easing their way as certain AFC East champs, both Buffalo and New York need a win the cement themselves as potential playoff contenders. Both teams are very similar as they are built on great defenses and power run games. Buffalo however comes in a little more banged up. The Bills will be missing Marcell Dareus and Cordy Glenn. Sammy Watkins and Charles Clay are also questionable. I like the Jets to take this one.
Jets defeat Bills 17-9
Sunday at 1 ET: Dolphins At Patriots (MIA +6.5)
The Dolphins suffered a crushing loss last week to Seattle in the final minute. The positive for Miami is they look like a well coached team and could be a tough out all season long. This is the most confidence I have ever seen Ryan Tannehill have. However this is the Patriots. We saw last week that this team really doesn't miss a beat with Garappolo. They beat Arizona on the road last week and should get the job done again.
Patriots defeat Dolphins 28-10
Sunday at 1 ET: Saints At Giants (NO + 4.5)
The Giants struggled to gut out a one point win over the Cowboys, a team lead by a rookie 4th round quarterback. New Orleans on the other hand put up an offensive show but were shocked when the Raiders went for a game winning 2 point conversation. This will probably be a high scoring game but giving the Saints offense 4.5 points is good enough for me. I'll take them to win outright.
Saints defeat Giants 38-35
Sunday at 1 ET: Ravens At Browns (CLE +6)
Josh McCown shocked the Ravens last year with an upset win. One year later why can't he do it again. The Browns are actually probably more talented offensively. Browns back Duke Johnson could become a problem for the Ravens defense as a pass catching back. Regardless I expect it to be a close game. I'll take the Ravens to win but they fail to cover the 6 point spread.
Ravens defeat Browns 27-23
Sunday at 1 ET: Cowboys At Redskins (DAL + 2.5)
Watching that Monday Night game made me very cautious of the Redskins this season. I'll go with the points in this game. Dallas is my pick to win the division as rookie Dak Prescott should only continue to improve as the season goes along. This time I expect Prescott to get the job done securing his first win in a close game.
Cowboys defeat Redskins 34-30
Sunday at 1 ET: Chiefs At Texans (KC + 2.5)
This game to me is almost impossible to pick. Both teams got off to sluggish starts to inferior teams after completing come from behind wins. Houston probably has the better overall roster but Kansas City has a more trust worthy quarterback in Alex Smith. KC went on the road in Houston in the playoffs winning by a huge margin. I'll take them to win this time again.
Chiefs defeat Texans 35-28
Sunday at 1 ET: Bengals At Steelers (CIN + 3.5)
Both teams are 1-0 but perhaps no one was more impressive than Pittsburgh in week one. They showed they are still and offensive powerhouse despite not having Martavis Bryant or Le'Veon Bell. Then again the Bengals come into this game with a little chip on their shoulders after handing the Steelers a win during the playoffs due to a costly fumble and multiple personal foul penalties. I'll take the Bengals to get their revenge as the Steelers will find it tough to repeat on their magnificent Monday night performance.
Bengals defeat Steelers 21-17
Sunday at 1 ET: 49ers At Panthers (SF + 13.5)
Giving up 13.5 is never ideal but you have to take Carolina to cover right? The Panthers have such an advantage heading into this game considering they played last Thursday while San Fran played on Monday. That gives the Panthers 4 extra days to prepare as the schedule makers didn't do the 49ers any favors. Take Carolina but I wouldn't advise betting this one, 13.5 is too rich for my taste.
Panthers defeat 49ers 41-10
Sunday at 1 ET: Titans At Lions (TEN + 6)
Any time Marcus Mariota throws the ball 45 times the Titans are basically asking to lose. That is what is probably going to happen again as the Lions want nothing more than to get into a shootout with the Titans. For Tennessee to win they must control the clock and really commit to the run game. Giving Derrick Henry 3 carries last week is unacceptable. I'll take the Lions to cover here as I doubt the Titans learn from their mistakes in week one.
Lions defeat Titans 28-14
Sunday at 4:05 ET: Buccaneers At Cardinals (TB + 6.5)
You better expect the Cardinals to rebound after suffering a tough loss to New England during Sunday night football. Jameis Winston had a nice showing for Tampa as I expect he will produce once again even though the match up is a bit tougher against Arizona. The Cardinals will rebound it is just a matter of covering the points. The real match up to watch here will be Bruce Arians out-coaching Dirk Koetter.
Cardinals defeat Bucs 35-21
Sunday at 4:05 ET: Seahawks At Rams (LA + 3.5)
This has upset written all over doesn't it? The Rams were just blown out 28-0 against a putrid 49er team. The Seahawks hung on by the skin of their teeth to beat the Dolphins. The line only is set at 3.5? Case Keenum could not move the ball against the 49ers, Vegas knows something is up. I'm picking the upset here. The Rams will be playing their first game in LA in 23 years. The home crowd in the loud LA Coliseum will be chaotic and could give Seattle trouble. Russell Wilson is also not 100 percent and could struggle moving around in the pocket, something Robert Quinn and Aaron Donald will feast upon.
Rams defeat Seahawks 31-21
Sunday at 4:25 ET: Colts At Broncos (IND +6)
I really feel bad for Andrew Luck. His team is a complete dumpster fire on both sides of the ball. His coaching staff is inadequate. This dysfunction goes all the way to ownership as their isn't an NFL owner who does more to run his team into the ground than Jim Irsay. The Colts gave up 36 to Detroit, I'm sure Trevor Siemian won't have problems scoring either. Please do us a favor Indy, hire a real general manager and capable coaching staff.
Broncos defeat Colts 30-24
Sunday at 4:25 ET: Jaguars At Chargers (JAC +3)
This spread makes absolutely no sense to me. Jacksonville almost had Green Bay beat a week ago yet find themselves under dogs to hot garbage San Diego. The Chargers actually showed promise offensively up until Keenan Allen found himself on injured reserve blowing a 21 point lead. The Jags are my pick to win the AFC South and get on the win column in week 2.
Jaguars defeat Chargers 38-7
Sunday at 4:25 ET: Falcons At Raiders (ATL + 4.5)
This game is pretty close to call. The only real difference is the Raiders have better overall leadership with Jack Del Rio. The play-makers on the outside will be ones to watch with Amari Cooper and Julio Jones. The game comes down to who is better defensively. For that I will take Oakland but Atlanta covers.
Raiders defeat Falcons 28-24
Sunday at 8:30 ET: Packers At Vikings (MIN + 2)
We still don't know if Sam Bradford or Shaun Hill will start this game for the Vikings. This will also be the first ever home game for the Vikings in their new stadium. Minnesota is one of the best defensive teams in the NFL and will keep this game close throughout. I'll take them to win their home opener. For Green Bay they just seem like the Pack need a wake up call game before going on a nice win streak.
Vikings defeat Packers 28-20
Monday Night: Eagles At Bears (PHI +3)
Carson Wentz is the real deal folks. He gets them to 2-0 defeating a sketchy Bears team that lacks offensive identity. Give me 3 points and the franchise quarterback please. For Chicago, I expect them to keep the game interesting with a possible Alshon Jeffrey ridiculous catch along the way.
Eagles defeat Bears 23-16