The 2016 Playoff Bracket (Def Pen Sports)
AFC Wildcard Playoff Preview: Kansas City At Houston
Saturday, January 9th, 2016 – ABC/ESPN 4:20 P.M. ET
Announcers: Mike Tirico, Jon Gruden, Lisa Salters (sideline)
The 11-5 Kansas City Chiefs will oddly enough travel to the 9-7 Houston Texans due to the Texans winning the pathetic AFC South in the NFL's first game of the 2016 postseason. The Chiefs are three point favorites over the Texans despite not having won a playoff game since 1993 (0-7 since 1994). Houston is 2-2 all time in postseason play with both wins over the Andy Dalton led Bengals. This will be the 2nd season game between the two that resulted in a 27-20 Chiefs win during a week one affair. Let's take a look at the keys to the game in this Divisional Playoff match up.
Why Kansas City Will Win: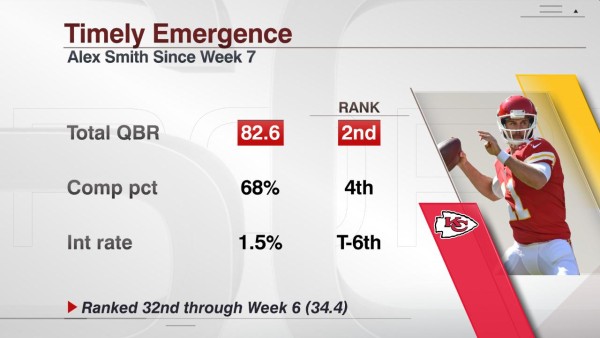 Alex Smith Doesn't Turn The Ball Over
Alex Smith, otherwise known as the ultimate game manager, has led the Chiefs to 10 straight victories. Part of the reason for Smith's success is his lack of turnovers. The Chiefs rank 2nd in the NFL in turnover differential at plus 14 and it's easy to see why having Alex Smith. Smith has only thrown 7 interceptions on the season, ranking tied for first in this category for quarterbacks that have started all 16 games. Of course a large part of success should be credited head coach Andy Reid, but we will get to him later. For the Chiefs to win, Smith has to be the best quarterback on the field. According to Pro Football Focus the Texans have the 5th best defensive line in all of football; something Smith should be awfully aware of.
Can We Really Bet Against Andy Reid?
The Chiefs should have the advantage in terms of the coaching aspect. Reid's playoff track record cannot be ignored which includes taking the Philadelphia Eagles to 4 straight trips to the NFC Conference title game from 2000-2004. While Reid is 0-1 during his Chiefs playoff tenure it came at the hands of an Andrew Luck 45 point explosion resulting in a one-point loss 2 years ago. On the other side Bill O'Brien will be coaching his first career playoff game with a quarterback starting his first career playoff game in Brian Hoyer. It would be foolish to take Houston over the veteran led Chiefs not? Reid's offense has improved drastically since singing Jeremy Maclin in the offseason giving Alex Smith his first true deep threat. Would this game ever be considered a toss up if Jamaal Charles were healthy? Undrafted backs Charcandrick West and Spencer Ware have kept the Chiefs running game alive since relieving Charles combining for a 4.5 yard per carry average. Chiefs offensive coordinator Doug Pederson talked about the effectiveness in the running game.
"We're fortunate to have two different style runners,'' offensive coordinator Doug Pederson said. "One is a between-the-tackles, downhill, tough, feet-keep-moving, will-take-two-or-three tacklers-with-him [player]. Then you have Chancandrick, who is more of that left-to-right, jump-cut, gives you a little more quickness in and out of a hole and a burst of speed. It gives you two different flavors. It's good to have two types like that in your game plan because you can dial those up at any time and give two different looks to a defense.''
Pederson, a top candidate for a head coaching job, has been one of Reid's many coaching proteges that has this offense moving and grooving all season long. The Chiefs have the clear advantage in both the running and passing games. Alfred Blue will be Houston's starting back as their rushing attack has not been the same since Arian Foster was lost for the season.
The Chiefs Have Been On Fire During Their 10 Game Winning Streak
Kansas City will enter the playoffs on a franchise long win streak looking rather unbeatable during this run. The question is whether the team can sustain this run during postseason play? The offense has averaged 28.1 points per game during the streak. The defense has been just as good only allowing 12.8 points per game. Kansas City's baseball team has already won a championship this season, maybe its football team is next. An 11 game winning streak looks attainable at this point needing a just a road win over the 9-7 Texans right? Houston went a mere 1-3 vs postseason teams this season with their lone win coming against the Bengals anchored by back up quarterback T.J. Yates. Yates has since landed on injured reserve due to a torn ACL. More importantly all pro left tackle Duane Brown will miss the game.
Kansas City doesn't lose. The @Chiefs have not lost an NFL game since the @Royals won the World Series. pic.twitter.com/q17bzKHTv9

— NFL on ESPN (@ESPNNFL) January 4, 2016
Kansas City's X Factor: Special Teams Unit
KC's special teams unit is far more superior to Houston's in more ways than one. According to Football Outsiders the Chiefs rank 7th in special teams D.V.O.A. Houston on the other hand ranks last in the league.
(DVOA is a method of evaluating teams, units, or players. It takes every single play during the NFL season and compares each one to a league-average baseline based on situation.)
 To make this easier to understand this measures every special teams play compared to the league average. Returning kicks, kicking field goals, and punting the Chiefs are head and shoulders above the Texans in that category. Nothing better then special teams analytics!
Why Houston Will Win:
Houston Has Won Playoff Games In The Past With Inexperienced Quarterbacks
The Houston Texans have won 2 playoff games since coming into the league in 2002. Guess who won those 2 games, oh wait you were wrong it's Matt Schaub and T.J. Yates…….. Starting quarterback Brian Hoyer's play this season while inconsistent should be considered an upgrade over both those options at the time of those games. Head coach Bill O'Brien has had success with Hoyer (19-10 INT-TD Ratio). O'Brien is vastly under rated as evidence by Penn State quarterback Christian Hackeberg's play who was considered a possible first overall pick and has since dropped to a 2nd-3rd rounder since O'Brien has departed. Hoyer will look to improve upon his season opening loss to Kansas City that resulted in an ugly stat line being benched in favor of Ryan Mallet (18/34, 236 yards, 1 td, 1 int).
Quarterbacks beware when @JJWatt AND @JHouston50 are on the field. pic.twitter.com/XHVrdzrPQq

— ESPN Wild Card (@ESPNMondayNight) January 8, 2016
2. Romeo Crennel Has Led A Masterful Defensive Unit
Crennel, Houston's defensive coordinator, may know the Chiefs better than anyone. Crennel was Kansas City's head coach from 2011-2012 and may have an inside track for ways to win the game. Of course Crennel coached Matt Cassel instead of Alex Smith so this may not be entirely true but it can't hurt. Crennel will surely be in the film room with the offensive coaches on ways to slow down players such as Justin Houston that could catapult a Texans victory. Crennel's defense is another story that has improved during his Texans stint. According to Pro Football Focus the Texans have the 5th most effective defensive line, an element that could result in trouble for the game managing Alex Smith who needs time to throw. KC's 22nd ranked offensive line will have their hands full with Crennel's effective 3-4 defense. J.J. Watt figures to be a difference maker as usual. This game will feature a pair of elite pass rushers as Justin Houston is just as dangerous for KC. The player who has a the better game could decide the outcome.
DeAndre Hopkins Can Be A Difference Maker
Rookie corner Marcus Peters will draw the Hopkins cover, a task he failed during the season opener allowing Hopkins to reel in 9 catches for 98 yards and two touchdowns. Peters has drawn rave reviews during his rookie campaign reminding me of a young Jimmy Smith at times. The only difference the Hopkins task is unlike any other, he may very well be the league's best receiver. Based on the earlier meeting Hopkins will have to have a big impact for the Texans to pull of the home upset. Kansas City may opt to have stud safety Eric Berry shadow Hopkins for much of the game. Berry has been a remarkable story in his own right battling back from Cancer. If Berry can successful plan double teams surrounding Hopkins it could spell the end for Houston's playoff run.
Houston's X Factor: Whitney Mercilus
I'm still not sure Mercilus is any good as anyone recording 12.5 sacks seems achievable if your lined up opposite of J.J. Watt. Nevertheless for Houston to win Mercilus may have to play a part in pressuring Alex Smith forcing his to make mistakes getting the ball out sooner then he anticipates.
Def Pen Staff Picks:
In the end I found myself torn in picking this game as I believe Houston's defense will keep the game closer than most people anticipate. Overall in picking this game I simply trust Andy Reid and Alex Smith more than I do Bill O'Brien and Brian Hoyer. Take the Chiefs in this one. Just remember we are just one hit on a Charmin ultra soft Brian Hoyer from seeing Brandon Weeden in a playoff game.
PREDICTION:
Kansas City Chiefs defeat Houston Texans 27-23