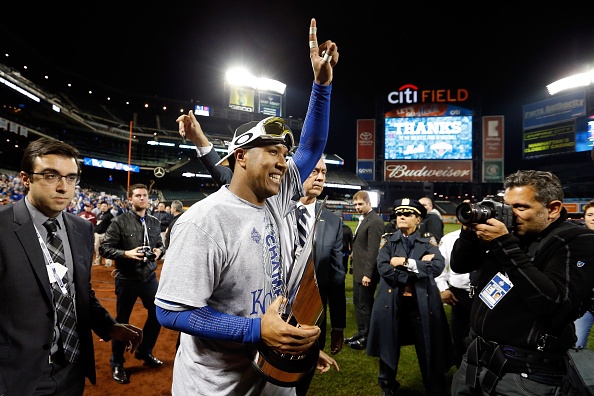 The Kansas City Royals are your 2015 World Series Champions. One year after their season ended at the hands of the San Fransisco Giants, the Royals revisited the Fall Classic with one idea in mind. Get it done this year.
They did that at the expense of the New York Mets, a team entering the 2015 World Series as one of the hottest teams in recent memory.
In back-to-back contests, and for the third time this series, the Royals used late rallies to hand the Mets heart breaking losses at home. Eric Hosmer once again came up big for the Royals, much like he did in game 1. Hosmer scored the game-winning run in Game 1 on a pop fly and in Game 5, he tied the contest up in the top of the 9th inning after taking a calculated risk to steal home on a ground ball to the shortstop with one out.
David Wright instead snagged the ball, rifled it to first base to get the force out but Lucas Duda couldn't connect on his throw home and Hosmer, who would've been out on a clean throw, was safe and he tied the game.
This is how the #Royals tied the game up with the #Mets in the 9th inning. #WorldSeries https://t.co/DyR4Xmyg0g

— Def Pen Sports (@DefPenSports) November 2, 2015
The 12th inning came and the Royals completely deflated any hopes the Mets had by scoring five runs in the top of the 12th, making their chance of winning nearly impossible.
Earlier in the game, Mets fans had hope when Curtis Granderson smacked a homerun off Edison Volquez to start the game. It gave Mets ace Matt Harvey all he needed on the night as the 'Dark Knight' was nearly perfect for 8 innings of the game. Before allowing two men to score in the 9th, Harvey had allowed only three hits, he struck out nine batters and he forced Mets manager Terry Collins to go back into the game in the 9th inning. A move that would be costly for the Mets.
He even tells Terry Collins. There's no way you're taking him out. #Mets https://t.co/tgiZPmM4rv

— Def Pen Sports (@DefPenSports) November 2, 2015
At the end of the day, the Kansas City Royals showed why they almost won last year and why they were the favorites going into this series. They executed almost perfectly, their relief pitching was wonderful and unlike the Mets, who heavily relied on the big bats in this series, they played small ball and made sure to make the most out of every out.
Congratulations to the 2015 Kansas City Royals, the 2015 World Series Champions and also to Salvador Perez, the 2015 World Series MVP.