The Dallas Mavericks blockbuster trade in which they acquired New York Knicks promising young star Kristaps Porzingis has thoughts of an international duo featuring Porzingis and rookie Luka Doncic locking in deep playoff runs for the next decade.
The NBA has never seen a duo such as this before. Two young prospects, one 23 years old and the other a fresh 20, from the other side of the world who were undervalued despite being selected in the top five are about to team up. This is as unique a setup as we've seen in this league. The potential is mouthwatering, frightening, and dependent on a healthy knee.
But lost in the fantasy of what might come from a Doncic-Porzingis pairing is the other Knicks player tossed into the deal. Tim Hardaway Jr. wasn't just a "throw in" player to complete this deal, rather, he's someone the Mavericks should view as the perfect third option once Porzingis does return.
Hardaway Jr. is a professional scorer first and foremost. He was playing the best basketball of his five-year career while in New York before being traded, putting up a personal best in points per game at 19.1 through 46 appearances while shooting just a shade under 35 percent from three on over seven attempts per game. The adjustment period in Dallas is still in progress and his stats have regressed a bit since arriving with the Mavericks, but the thought of a three-headed offensive monster for next season that can score from literally every spot on the court is so alluring.
Obviously, the future health of Porzingis – still recovering from an ACL injury – is critical in determining how likely this trio is to succeed. But let's allow the mind to tickle itself for a minute.
By sending out Dennis Smith Jr. to New York in the trade, Doncic is now the de-facto point guard for Dallas. Jalen Brunson, the Mavs rookie who has assumed ball-handling duties throughout the season when Doncic is off the court, is a legitimate pro but nowhere near the caliber of player that Doncic is when he has the ball in his hands. Plug Hardaway Jr. next to Doncic and place Porzingis on the block or anywhere in space and the floor-spreading possibilities are endless. Basketball savants will drool all over Doncic/Porzingis pick-and-rolls/pops with Hardaway Jr. spotting up on the wing.
But is this a theory that can actually work in practice? Doncic needs the ball to be at his most effective. Porzingis is the same way. And while Hardaway Jr. would be perfect in a catch-and-shoot role, he spent the majority of his time in New York as one of the team's highest usage players. So the old adage of "will there be enough basketballs for everyone?" will find it's way into the conversation. But the evidence is beginning to stack up against that argument. Just by looking at James Harden/Chris Paul in Houston, Russell Westbrook/Paul George in Oklahoma City, the entire Golden State Warriors starting five, and even the four All-Stars in Philly, we now know it's possible. If winning is the ultimate goal, players have proven that they will make things work.
Star power is what wins in the NBA and teams are doing whatever they can to acquire it. Take the risk now, figure out the semantics later. And Dallas took a major risk. Giving up on Smith Jr. this early probably wasn't the ideal plan, but DeAndre Jordan was half-assing the season and Wes Matthews is basically an older and worse version of Hardaway at this point. Aside from giving up a future first-round pick, this really wasn't a major risk for Dallas, especially if Porzingis can return to full health.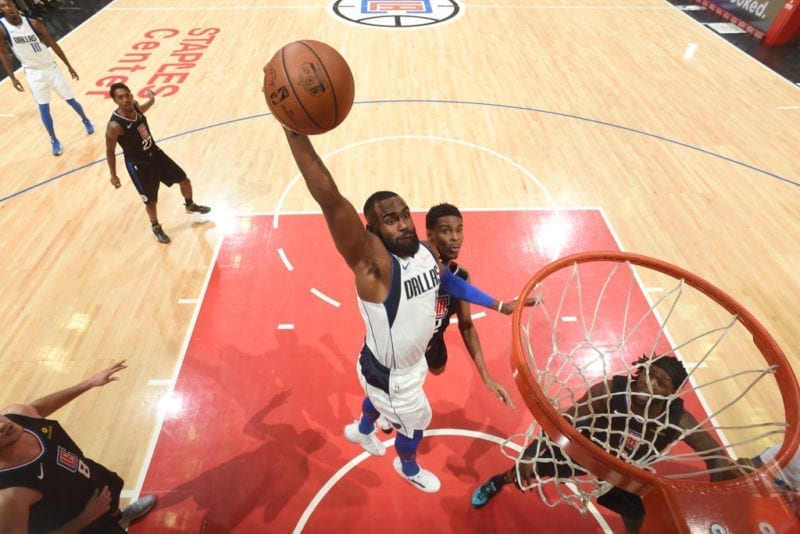 What makes the addition of Hardaway Jr. so tantalizing is how quick he can put up buckets. He's already posted five games with at least 20 points in only nine appearances with Dallas – including three straight. He's hit 20 points in 30 games this season and at least 30 in six games. He isn't taking away from Doncic, either, who is averaging roughly 23/9/7 in seven games with Hardaway Jr. – all above his yearly averages.
The sample size is small right now but through 278 possessions where Doncic and Hardaway Jr. share the floor together, the Mavericks average 3.9 more points per 100 possessions than their opponents, according to Cleaning the Glass, with an effective field goal percentage of 56 percent. Those two on the court together have already been effective in opening up the paint. Next to Smith Jr. – who isn't as good a shooter as Hardaway Jr. – Doncic didn't have the space to operate in like he will with the new Maverick. As a team, Dallas is converting on over 66 percent of its shots at the rim and 44.8 percent on short mid-range jumpers with both Doncic and Hardaway Jr. on the floor, both ranking above the 82nd percentile.
Despite the impressive shooting numbers, the Mavs actually don't get to the rim as often as they could with those two on the court – and rank near the top of the league in three-point attempts – but it's on purpose. Nearly half of the shots taken by Dallas when both Doncic and Hardaway Jr. share the floor are threes, but without multiple shooters taking those shots, they convert at an incredibly low clip. That's where losing Matthews and Harrison Barnes hurts (they both shot 38 percent from three for Dallas this season) but filling that void with Porzingis should quickly heal the pain. Again, the sample size is small so far, but adding in a 7-foot-3 floor-spacing, shot-blocking unicorn should bump up both the inside and outside scoring numbers. Doncic and Hardaway Jr. have already experimented some working together in the pick-and-roll and inserting Porzingis into the mix could create unlimited possibilities with those three interchanging roles.
The versatility of those three can allow head coach Rick Carlisle to stagger his three best players, ensuring that at least two premier scoring threats share the floor at all times. Hardaway isn't a natural lead guard but has proven he can confidently handle the task of directing an offense. During his last year-and-a-half with New York, Hardaway Jr. posted a turnover percentage of under 10 percent despite a usage rate of over 22 percent. Through only nine games in Dallas, those numbers are even more exaggerated; a 9.2 turnover rate compared to a 23.5 usage rate.
Without Doncic, however, when Hardaway Jr. can effectively go back into "Knick mode" where he's the primary scorer, the Mavericks have struggled so far. But that's why a healthy Porzingis is so important. Being able to stagger stars for a full 48-minutes gives the opposition no time off. If Doncic sits, Hardaway Jr. won't have to do everything with Porzingis hogging most of the attention. One thing that is going to have to happen, though, is improved passing abilities from the Latvian. Drawing double-teams with four shooters surrounding him means nothing if he can't find the open man.
We'll have to wait until at least the start of next season before this trio can begin to unlock their full potential. The growing pains of implementing an All-Star caliber pro will be well and alive. The team defense will likely be an issue. But Doncic and Porzingis is already a scary thought, and adding in that third lethal scorer be the piece that takes the Mavericks back to the playoffs.