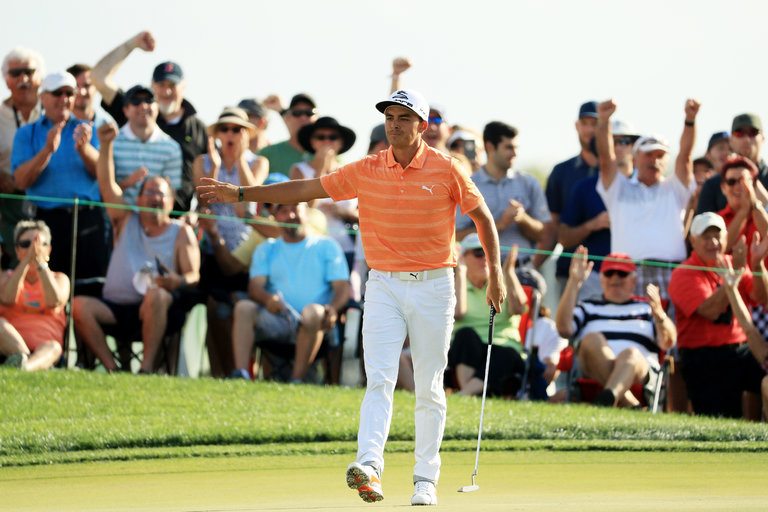 All he cared about was winning the Honda Classic and when it came to hitting clutch putts, he came through. Entering the final round on Sunday, Rickie Fowler had collected a four-stroke lead over the next closest competitor in Tyrrell Hatton of England.
He collected his first birdie of the day on the Par 5 3rd which increased his lead to five and hoped to walk his way onto to his first victory since The Deutsche Bank Championship in 2015. The next three holes he played in three-over par which put some eyes on the board as others were trying to catch the young kid for the lead. He ended the front nine going birdie-bogey on 8 and 9 heading into the back nine with the lead still.
Even though he ended his front nine not so well, all he could keep his eyes on was the crystal trophy in which he hasn't held in 13 months. Also in the field were the likes of Dustin Johnson, Spieth, Justin Thomas and Mcilroy who held trophies in multiple events this year already.
It would finally be Rickie Fowler's turn come Sunday evening as he would hold off the rest of the field, even a surging Jhonattan Vegas and Gary Woodland.
Following from Associated Press
"Whether I'm talked about with those guys or not, I just want to play the best that I can and keep pushing myself and ultimately, just keep trying to put myself in position to win and start collecting more of these," Fowler said, tapping trophy.
As he headed to the back nine, Fowler nailed some clutch putts on back-to-back holes, 12 and 13 with long bombs from 25 and 40 feet. With those two birdies in a row, he looked confident in earning that much coveted trophy at the end of the day for his superb playing all week long.
He put the tournament out of reach on the par 4 16th when he stuck his approach shot to nearly three-feet and increased his lead to five with just two holes left to play. Even though Rickie closed his final two holes with bogey-bogey, he took home the crystal trophy with a four-shot victory over the second place finishers of Morgan Hoffman and Woodland.
On the par 3 17th, Rickie Fowler placed his tee shot into the water leading to a bogey and his approach shot on the finishing hole found the sand trap on the par 5 leading to another bogey.
The victory for Rickie Fowler and Woodland's tie for second pushed Charles Howell III and Hudson Swafford out of the top 10 in the FedEx Cup standings.