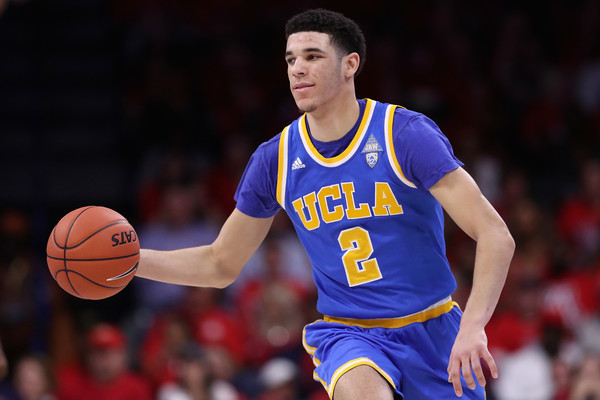 In unsurprising news, Lavar Ball is making headlines again by talking about his sons. He has already made claims such as switching Lonzo Ball and Steph Curry would make no difference for their teams, or that Lonzo will only play for the Los Angeles Lakers. Now, Lavar is saying that Lonzo Ball's brand out of college can be bigger than both Nike and Jordan.
"I said, 'I'm not looking for no endorsement deal. I'm looking for a marketing and distribution deal.' Branding. The only person doing that is [Michael] Jordan with Nike. That's what we're for. If Lonzo doesn't sign with Adidas, Nike or Under Armour, guess what — I'll sign the Big Baller Brand. We already got our own brand. Triple Bs. Lonzo is going to be the first one drafted with his own brand."
The Big Baller Brand is a clothing line that the family has already worked on. As of right now, they sell shirts, sweatshirts, shorts, hats, and beanies.
According to Forbes, Jordan sold an estimate of $3 billion worth of shoes in 2015, and Michael Jordan himself earned about $100 million that year from Nike. Nike in it's entire brand is worth close to $75 billion.
Lavar Ball is –shockingly — also stating that his son should be the top overall pick in the upcoming draft this summer over the likes of Markelle Fultz of Washington and Josh Jackson from Kansa.
LaVar Ball on why his son, UCLA star Lonzo Ball, should be the No. 1 pick in the 2017 NBA Draft. pic.twitter.com/rMLADAkEwa

— Jovan Buha (@jovanbuha) March 2, 2017
Lonzo Ball will have a chance to show his potential in the upcoming Pac 12 Tournament, and then March Madness soon after.