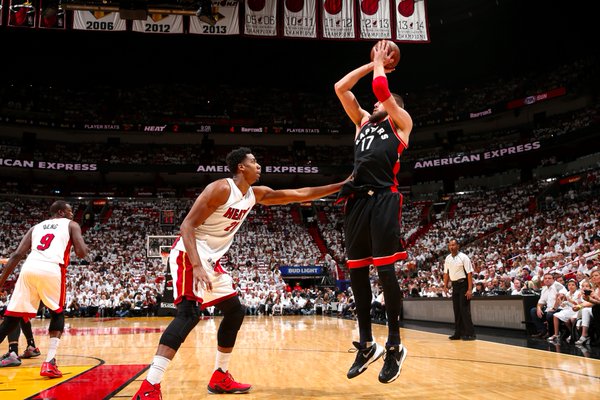 Jonas Valanciunas has been the saving grace for the Toronto Raptors in the 2016 NBA Playoffs. While Raptors stars Kyle Lowry and DeMar DeRozan have not been consistent and often disappointing, JV has been the one to hold down Toronto.
In the Raptors game 3 road win over the Miami Heat in the Eastern Conference Semifinals series both Valanciunas and Heat big man Hassan Whiteside went down with separate injuries, putting them both out for the remainder of the game.
While Whiteside's MRI came back clean and listed him officially as day-to-day with a sprained MCL, the same can't be said for Valanciunas.
Following from the Raptors media relations.
The Raptors announced Sunday centre Jonas Valanciunas will miss the remainder of the series vs. Miami with a sprained right ankle. #RTZ

— RaptorsMR (@RaptorsMR) May 8, 2016
The Raptors currently lead the Heat 2-1 in the series and of course, the first to four wins advances but can the Raptors now heavily rely on their often inconsistent backcourt?
Valanciunas has increased his numbers from what he posted during the regular season. In 10 postseason games, Valanciunas averaged 15 points per game, 12.1 rebounds, 1.4 blocks while shooting 55% from the field. He elevated his game to do what the Raptors needed but now without him, can Toronto find a way to get two more wins, advance and hope he'll be healthy for the next round?