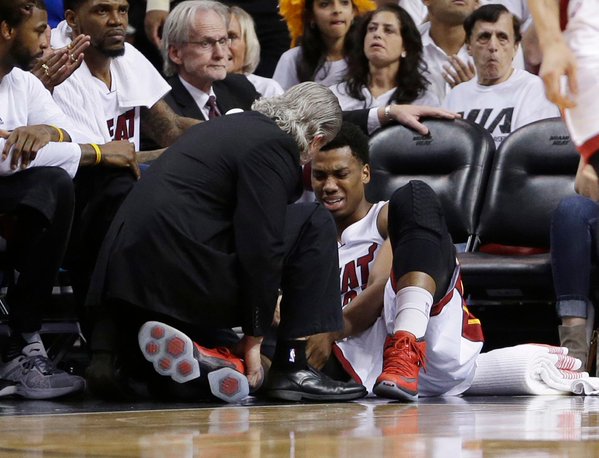 (5/13/16) UPDATE:
Hassan Whiteside has been ruled out for game 7 of the Raptors vs Heat series, per Ethan J. Skolnick of the Miami Herald:
Hassan Whiteside says he is traveling to Game 7 but won't play

— Ethan J. Skolnick (@EthanJSkolnick) May 14, 2016
(5/12/16) UPDATE:
Miami Heat center Hassan Whiteside has officially been ruled OUT for game 6 in Miami, per Ira Winderman of the Sun Sentinel:
So, yes, Hassan Whiteside has now officially been listed as out for Friday's Game 6 by the Heat in their game notes.

— Ira Winderman (@IraHeatBeat) May 12, 2016
(5/10/16) UPDATE:
Hassan Whiteside will not travel with the Miami Heat to Toronto for game 5 against the Raptors, according the the Miami Heat.
INJURY UPDATE: Hassan Whiteside (sprained right MCL) will not travel with the team to Toronto for tomorrow night's Game 5.

— Miami HEAT (@MiamiHEAT) May 10, 2016
Coach Spo says Whiteside will remain in Miami for treatment and rest.

— Miami HEAT (@MiamiHEAT) May 10, 2016
(5/9/16) UPDATE:

Hassan Whiteside has been officially ruled out for game 4, courtesy of the Miami Heat.
INJURY UPDATE: Hassan Whiteside (right MCL sprain) has been ruled out of tonight's Game 4.

— Miami HEAT (@MiamiHEAT) May 9, 2016
(Original story from 5/8/16)
Hassan Whiteside suffered a knee injury in the 2nd quarter for the Miami Heat in Game 3 of the Eastern Conference Semi-finals vs. the Toronto Raptors, and he did not return to the game. The Raptors went on to win the game 95-91 and take a 2-1 series lead, despite Dwyane Wade's spectacular playoff performance. Whiteside has proven to be a catalyst for the Heat this season and in the Playoffs, averaging 14.4 points, 13.6 rebounds and 3.5 blocks. After X-rays came out negative, showing there was no fracture or structural damage to his knee, there was hope Whiteside would be okay, but as NBA fans might know, it's the ligaments that always cause knee problems.
According to the Miami Heat:
INJURY UPDATE: MRI results on Hassan Whiteside's right knee confirmed a Sprained Right MCL. He will be listed as day-to-day.

— Miami HEAT (@MiamiHEAT) May 8, 2016
The grade of his sprain has not yet been announced but a knee sprain of this magnitude takes at least 2 weeks to deal with, which means he'll most likely be missing the rest of this series against the Raptors. Stephen Curry received a grade 1 knee sprain in the 1st round of the NBA Playoffs against the Rockets, which has kept him out of Playoff basketball for 2 weeks. If Whiteside sustained an injury any grade higher, it could pose some serious problems for the Miami Heat, if they were to move on to the next round. The gridlock of a series that is the Miami Heat vs. Toronto Raptors has been intense, going to over time for the first 2 games in Toronto, and a nail bitter in Miami in Game 3. Losing a key player like Whiteside could be exactly what the Raptors needed to blow this series wide open. That being said, the Raptors also lost their Center and by far their best player in the Playoffs, Jonas Valanciunas, as he was announced that he will miss the remainder of the series vs. the Heat. This has put the series back into even playing ground and now momentum can swing in any direction. With Hassan Whiteside questionable to return for the series, and Jonas Valanciunas ruled out for the series, look for both teams to play a lot more small-basketball, allowing more dribble penetration and points in the paint for both teams. For the Heat, it's a matter of finding a way to cope defensively without Whiteside. For the Raptors, it's a matter of finding a way to get DeMar DeRozan and Kyle Lowry going consistently, because without Jonas Valanciunas, they're in trouble. The highly anticipated Game 4 is on Monday in Miami.