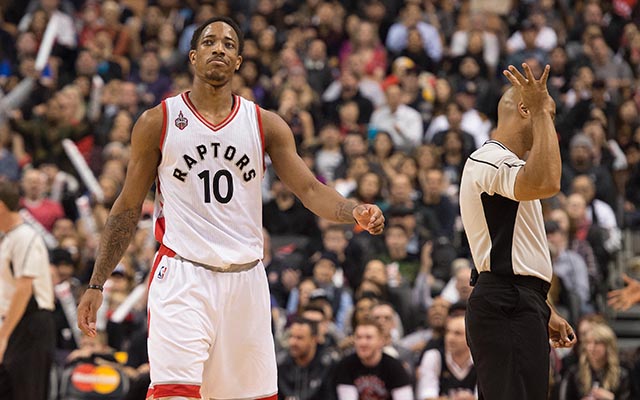 With free agency now just one month away , league-wide speculation on players soon to be up for grabs is reaching its highest point.
In this case, the focus is centered on All-Star shooting guard DeMar DeRozan. Expectations are that DeRozan will have two main suitors this coming July: The Toronto Raptors, his current team, and the Los Angeles Lakers, the team on the hunt.
Recently, Stephen A. Smith of ESPN reiterated that DeMar DeRozan is interested in joining the Lakers and bolting Toronto:
"My sources have told me all season long that DeMar DeRozan, obviously from the L.A. area, wants to go back to L.A.," Smith said in the video. "The Los Angeles Lakers are in his sights".
Despite this report of DeRozan thinking highly of Los Angeles, it appears the interest might not exactly be mutual, per Bleacher Report's Kevin Ding:
"There's a lot of presumption about DeRozan and I'm told the Lakers aren't that high on him", Ding said in a recent appearance on BR Radio.
For DeMar DeRozan, the tough decision of either leaving Toronto or staying put looms over the horizon. One month from now, he'll likely be nearing his final decision. For now, DeRozan sounds committed to staying put in Toronto.
"My mindset has always been Toronto", DeRozan recently said when asked if he could envision playing in a better situation than Toronto. "I've always preached it. I was passionate about it when we were losing, when we were terrible. I said I was going to stick through this whole thing and I want to be that guy who brings this organization to where it is now. I definitely don't want to switch that up after we win."
While this should be taken with a grain of salt, it provides some optimism for Raptors fans — For now. Players are known for going back against their word during their respective careers, and this very well could be the case with DeRozan.
In 78 appearances with the Raptors this season, DeMar DeRozan averaged a career-best 23.5 points, 4.5 rebounds, and shot 34% from behind the arc, also a career-best. The Lakers have a plethora of cap space available this off-season, meaning they will likely pursue top-tier names in the first week of free agency. Whether they pursue DeMar DeRozan, however, has yet to be determined.