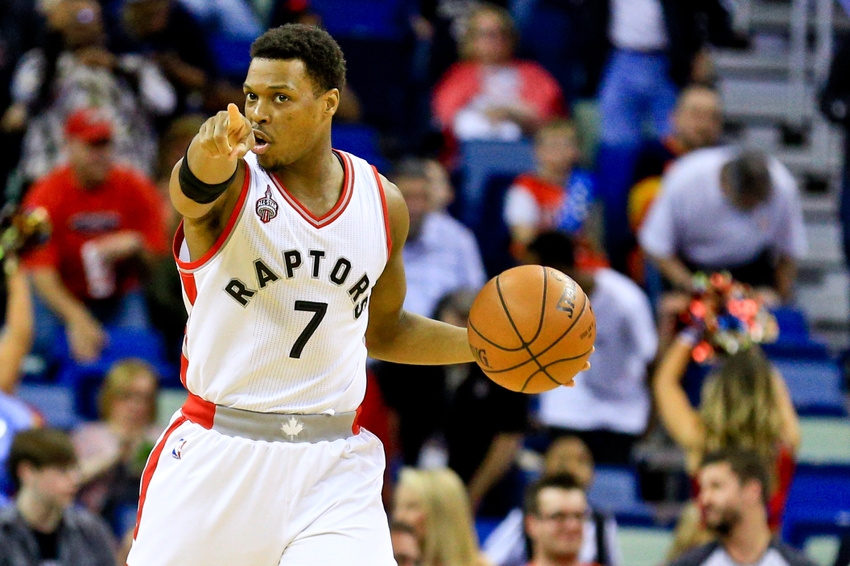 Kyle Lowry is a very late bloomer on the NBA scene. The point guard out of Villanova spent the first six years of his career dueling point guards for starting spots as a member of the Memphis Grizzlies and Houston Rockets and also famously battled his weight. But when he was traded to the Toronto Raptors in the summer of 2012, it was viewed as a new start for the tough guard, and he made the most of it.
He broke through in 2015 getting selected as a member of the NBA All-Star game but 2016 was his coming out party. He was picked as an All-Star again but this time as a starter on his home court of Toronto and also as a member of the All-NBA team. Lowry, along with his backcourt partner DeMar DeRozan, led the Raptors to the second seed in the Eastern Conference and the Eastern Conference finals before being ousted by the Cleveland Cavaliers.
The last two seasons have been a great change in Lowry's career but his renaissance also coincides with the start of his 30's. Kyle will be 31 by the end of the season and by the end of the season is also when Kyle Lowry is looking to hit the free agency market. And he's looking to get paid.
Following from Adrian Wojnarowski of the Vertical on Yahoo! Sports.
Lowry plans to opt out of the final year of his contract, he told The Vertical, passing on a $12 million salary in 2017-18 to join a point-guard marketplace that will include the Los Angeles Clippers' Chris Paul and Golden State's Steph Curry, who has already said he plans to re-sign with the Warriors.

Somewhere on the summer market – Philadelphia, New York, perhaps the Clippers, should they lose Paul – there will be an offer in the neighborhood of a max deal for him. Nevertheless, Lowry's preference is a painless, fast, five-year deal to stay in Toronto, to take him into his mid-30s with the Raptors.

"If you're that franchise's guy, and you're the guy that they've been rolling with, and you've given that franchise everything you have, yeah, I think [the talks] should be easy," Lowry told The Vertical. "I think it should be a situation where a guy shouldn't have to talk to another team. DeMar didn't have the chance to talk to another team. …

"For me, I think that at 12:01 a.m. on July 1 – something should be close. If not, I'm open to seeing what else is out there."
Obviously, Lowry took note of the free agency decisions by DeRozan this summer and the money handed out to other players this past summer. Some are obviously at a lower caliber than Lowry but they will be making more money than him this season. It's an obvious situation for one of the best point guards in the NBA who is looking to get a big payday.
Lowry is going to get his money and even if it's not a max, it would definetely be a raise from his current salary and, as Wojnarowski pointed out, he is looking to garner a big deal despite going into his mid-30s by the end of an expected long-term deal.
The good thing for Lowry, in comparison to fellow 2006 NBA Draftees Rajon Rondo and Rudy Gay, he has yet to crack the 20,000 minutes mark. The milage on his aging body isn't as high on mileage as others. It could result in him extending the prime of his career, as others his age begin to fade away.