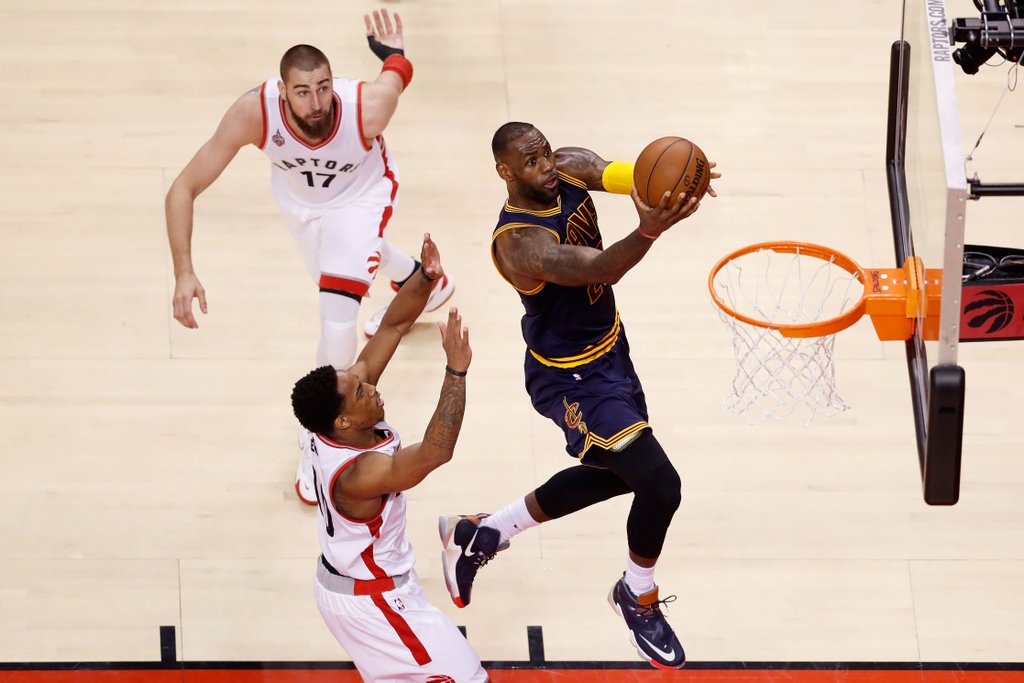 The Cleveland Cavaliers will appear in their second straight Finals after eliminating the Raptors in game six of the Eastern Conference Finals, their second straight win after a 2-2 tie. LeBron James led the way with 33 points, 11 rebounds, and six assists.
The Raptors saw a revamped James in the first half. The Cavaliers forward came to play right away. Despite slow starts from the Cavs' role players, the team was able to pull away in the second quarter due to a huge performance from James. LeBron led the Cavs from everywhere on the floor, including hitting three three pointers despite his well-proclaimed struggles as a jump shooter all season.
The Raptors actually played fairly well despite the pressure of playing against James in an elimination game. Nevertheless, poor shooting and some foul trouble from Bismack Biyombo ultimately led to a 14 point deficit.
Toronto continued to fight in the third quarter but were unable to catch any ground on Cleveland. With the Cavaliers clicking on all cylinders and LeBron continuing to lead the way, there was nothing else the Raptors could do. Yet, as has been the case for the majority of this postseason, the Raptors continued to fight, following their leader Kyle Lowry who erupted late in the third with help from his backcourt partner DeMar DeRozan to keep the Raps within striking distance going into the 4th.
Unfortunately, the monstrous and inspiring effort from Lowry was not enough. The Cavs more than doubled the Raptors' made three pointers and LeBron James' 41 minute effort was too much for Toronto to handle.
The Cavs were able to pull away with a 113 to 87 win, eliminating the Raptors from the postseason in what was the best year in franchise history.
Meanwhile, Cleveland will be going to its second straight Finals appearance to face either Golden State or Oklahoma City. It will be LeBron James' (and James Jones') 6th straight Finals.