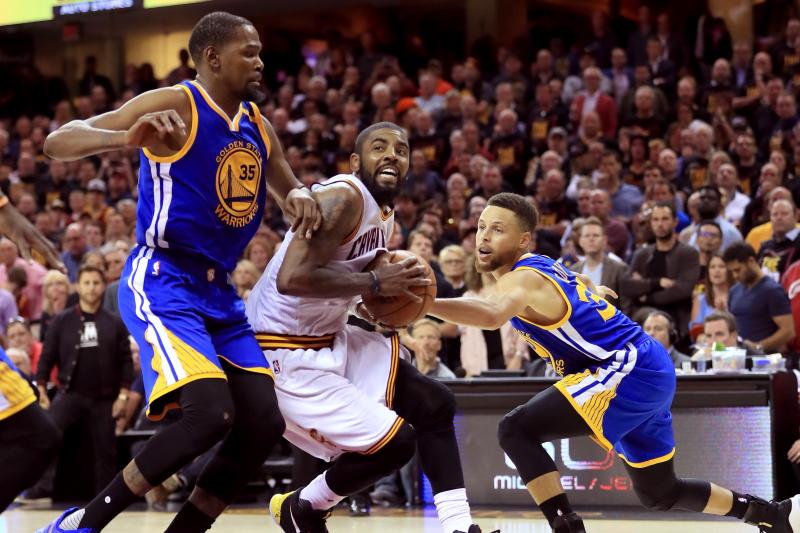 On Monday, the Golden State Warriors completed their gentleman's sweep of the Cleveland Cavaliers, and Kevin Durant was named Finals MVP. On Wednesday, Bill Simmons uploaded the latest edition of the Bill Simmons Podcast featuring Durant. On the pod, Durant said that he feels that Kyrie Irving is better than Philadelphia 76ers legend Allen Iverson was (transcribed by Ryne Nelson of SLAM):
"I was telling some of my friends after Game 2, I was like, Kyrie, he just makes you happy when you watch him play. You just smile when you watch him play because for somebody to be that skilled, you know he had to work tirelessly at it. The stuff he has in his package is next-level stuff that you can try to teach your kids to do it, but you'll never be able to do it.

"I've never seen somebody block his layup, and he's 6-2. I've never seen one person pin his layup on the glass—not one—because the spin he got on it and he don't have to look at it. I just got so much respect for him because I know how much work he put in to be that good. I never seen nobody like him." […]

"Kyrie is better than AI to me. I'm going from like skill for skill. His handle is better. We might have to cut that out—I don't want no problems with AI. Y'all might have to cut that one. I don't want that to get out. I'm just saying I feel like Kyrie got more skill."
Simmons agreed with Durant without hesitation. Kyrie and Iverson are fairly similar players; both are scoring-minded point guards with dazzling handles who can score against anyone one-on-one.
It's hard to say who's better between Irving and Iverson. They're two of the greatest ball-handlers ever. Kyrie has AI beat from an efficiency standpoint, and when it comes to finishing at the rim. Iverson carried a relatively weak Sixers squad all the way to the Finals, though. Irving hasn't proved that he's capable of being the no. 1 guy on a competitive team.