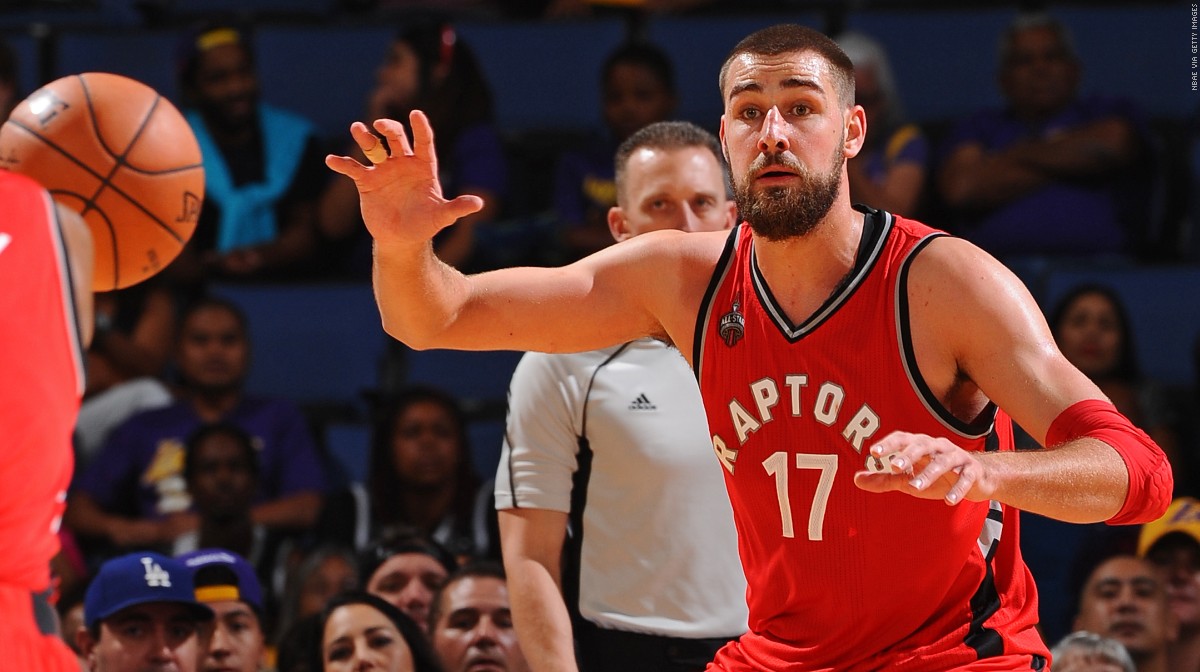 (5/23/16) UPDATE:
Jonas Valanciunas has been upgraded to a gametime decision and he is expected to play in game 4 against the Cleveland Cavaliers.
Jonas Valanciunas (ankle) upgraded to gametime decision. Signs are that he will play tonight for Raptors vs. Cavs.

— Brian Windhorst (@WindhorstESPN) May 23, 2016
(5/20/16) UPDATE:
Mike Breen said the following during last night's broadcast, as transcribed by Zach Harper on CBS Sports.
"Jonas Valanciunas. He will definitely not play in Game 3, according to Dwane Casey. He's still not close. They're hoping maybe Game 4, but you get the feeling that's wishful thinking."
UPDATE(05/17/2016): Toronto Raptors center Jonas Valanciunas has officially been ruled out for game one vs. the Cleveland Cavaliers. From ESPN's Brian Windhorst:
Raptors center Jonas Valanciunas is out for Tuesday's Game 1 of the Eastern Conference finals against the Cleveland Cavaliers and is doubtful for Game 2 with an ankle injury, coach Dwane Casey said Monday.

Valanciunas missed the final four games of the Raptors' second-round series win over the Miami Heat with the injury. Casey didn't give a timetable on Valanciunas' return but said he wasn't yet able to participate in basketball activities.
With Valanciunas out, the play of backup center and superb shot-blocker Bismack Biyombo will be key for Toronto. Biyombo will have his hands full dealing with Kevin Love and Tristan Thompson in the paint.
Jonas Valanciunas is just one of the four big names on the Toronto Raptors injury report going into their Eastern Conference Finals series against the Cleveland Cavaliers.
Valanciunas joins the Raptors star backcourt of Kyle Lowry and DeMar DeRozan along with big free agent signing DeMarre Carroll as Raptors all battling injuries. Valanciunas' is obviously the most severe with all three of the others playing through ailments including Lowry's elbow issue, DeRozan's thumb injury and Carroll's wrist injury.
JV missed the final four games of the Raptors seven game series against the Miami Heat due to an ankle injury. Miami was also without their starting center as Hassan Whiteside fell to an injury in the same game but the Raptors scrapped out a win in game 7 to advance.
As the Raptors head into Cleveland facing the daunting task of squaring off with the Cavaliers, they are going to need all hands on deck. Unfortunately it appears to start the series, Valanciunas won't be around for the start of it.
Following from Ryan Wolstat of the Toronto Sun.
Casey says won't rule out Valanciunas for series but can't see Game 1 or likely Game 2 either.

— Ryan Wolstat (@WolstatSun) May 16, 2016