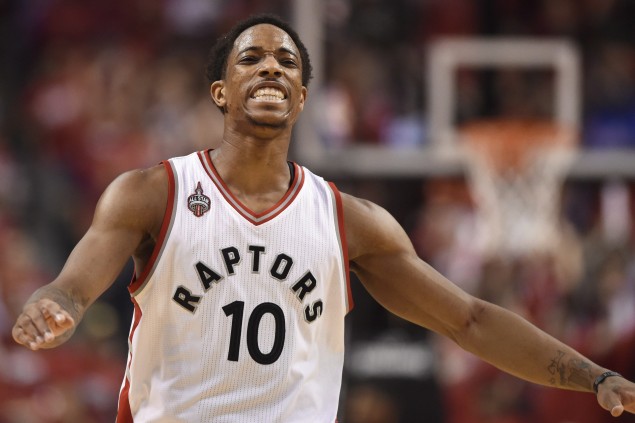 Before Game 5 of the Toronto Raptors vs. Miami Heat, all eyes in Toronto were on DeMar DeRozan and Kyle Lowry because of their inconsistent play this Playoffs, and they did not upset. Derozan finished the game with 34 points and Lowry chimed in 25 points to lead the Raptors backcourt past the Miami Heat in Game 5 99-91 and take a 3-2 series lead. Before the game, DeRozan told the media that his thumb had been in pain after suffering the injury late in Game 1 and having to wear a wrap through the next 4 games.
DeRozan spoke to CBC Sports before the game:
"When I try to draw my fouls, grip the ball, can't really grip the ball like I want to, when I shoot just being able to control the ball," he said. "It has its challenges. I'm just trying to figure out the best way to play with it as possible. I tried having it wrapped, I hate having it wrapped so I try to go without it. It's just me figuring it out."
During Game 5, DeRozan hurt himself again late in the 3rd, which led to a little bit of a run for Miami, but he came back to finish the game. After the game, DeMar DeRozan spoke with Ethan J. Skolnick of The Miami Herald:
DeMar DeRozan on his thumb: "It just feels like a blowtorch on my hand."

— Ethan J. Skolnick (@EthanJSkolnick) May 12, 2016
Another key Raptor sustained a hand injury late in the 3rd quarter as well, DeMarre Carroll. Despite x-rays coming back negative, the injury on his wrist looked bad and it is not sure whether he'll be clear to play in Game 6 to help the Raptors advance to the Eastern Conference Finals for the first time in franchise history. The Heat also might be missing Loul Deng, so injuries are piling up in the series that will determine who will play the Cleveland Cavaliers next round. Hopefully, DeMar Derozan can fight through the pain to achieve history for the Raptors, or else the Raptors will be in trouble for the rest of the series.