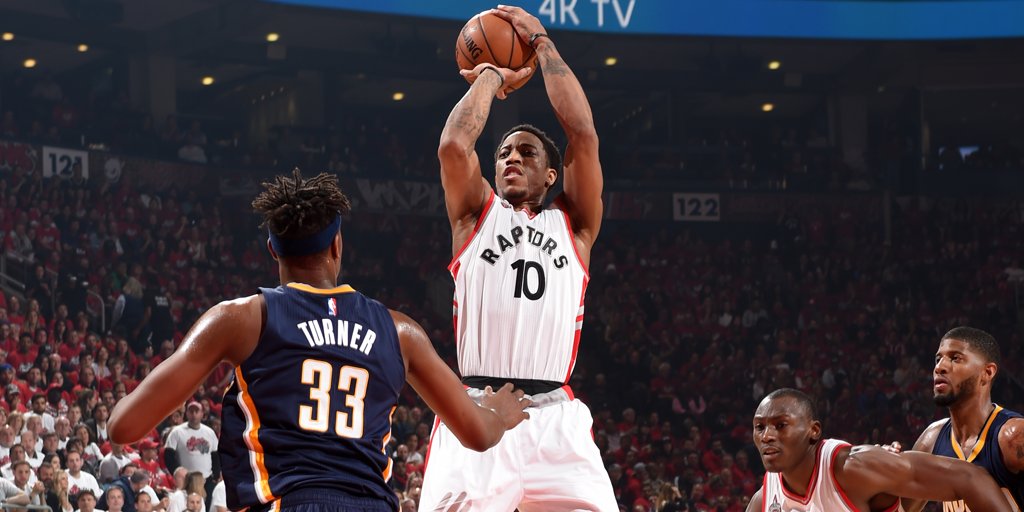 DeMar DeRozan has had a very poor playoff run to say the least. The Toronto Raptors' shooting guard is shooting at an incredibly low clip and his shot selection has made his struggles an even tougher pill to swallow. It has been nothing short of disappointing for the all-star.
The poor playoff performance bears the question: will this hurt DeRozan in free agency? The shooting guard will hit the open market this summer and is widely believed to garner a max contract from the Raptors and others. But the postseason has been bad enough for him that it has some wondering if teams will be scared off investing that much money to sign him.
DeRozan, however, does not seem to be worried. In an interview with Michael Lee of the Vertical, he maintained that his one and only focus is on his team and the playoffs and he is not worried at all about free agency.
"I feel like I have nothing to worry about," DeRozan said of his pending free agency. "I take it day by day, whatever happens. I'm not even looking towards then. I'm thinking about the next game and trying to figure out that."
"We put a lot of pressure [on us]," DeRozan told The Vertical. "We put extreme pressure. We put the work in, we try to figure it out the best way we can. We'll take the heat any day. It's all about being a leader, so we're going to figure it out."
It has been a rough few weeks for DeRozan but it's nice to see that his mind is at least in the right place. His shooting struggles have cost his team immensely but at the end of the day, they are tied 2-2 in only the second second round appearance in franchise history and have a great chance of advancing to the Eastern Conference Finals.
DeRozan had his best season as a pro this last year even scoring efficiently despite his old-school game featuring mid-range jumpers. Eleven games of shooting struggles do not change that.
I believe that DeMar is completely correct in not being worried about his issues in the playoffs. He is still an immensely talented guard hitting free agency when every team in the league has cap space and when the salary cap is expected to take another huge rise in a year. A max deal for DeRozan this year is likely not as bad as one would think as it will be reduced comparatively when the cap space goes up.
Even if other teams (such as the Lakers who have been linked to DeRozan due to his Los Angeles roots) are scared off by this performance, it may be hard to imagine the Raptors moving on from this core when it has already been more successful than any other team in their history. Add to that DeRozan's great relationship with backcourt partner Kyle Lowry and it's almost a certainty that he will be in Toronto with big money next season, at least in my eyes.
Instead, DeMar DeRozan should fixate on finding ways to get better shots and get something going. His team has relied on him all year as they secured the second seed in the East. Now they need him to find something more in order to get past the Miami Heat.