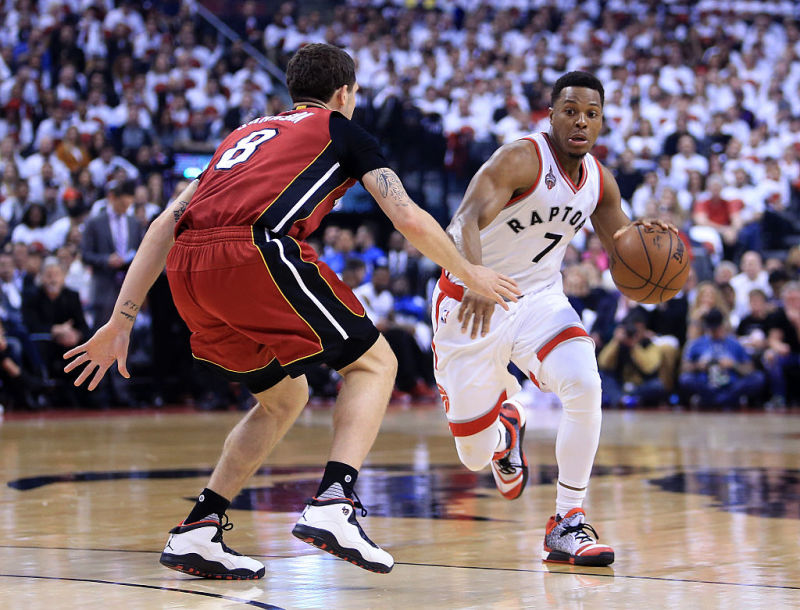 The wait has been painful, but now the Toronto Raptors will get their chance to move one step closer to the Larry O'Brien trophy. Behind a rocking home crowd at the Air Canada Centre, the Toronto Raptors routed the Miami Heat, 116-89, to move onto the first Eastern Conference Finals in franchise history.
The stellar backcourt of Kyle Lowry and DeMar DeRozan shined again, as they combined for 63 points this afternoon. Bismack Biyombo, who is filling in for injured center Jonas Valanciunas, had another great day today. He had 17 points and 16 rebounds, as he completely dominated a depleted Heat frontcourt. DeMarre Carroll had 14 points, including a three pointer in the fourth quarter that put the Raptors up 13.
Patrick Patterson added 11 points for Toronto. Toronto became the 15th team to win two Game 7's in a single postseason. The Raptors also defeated Indiana in Game 7 in the first round of the playoffs. Dwyane Wade and Goran Dragic both had 16 points apiece for the Heat. Joe Johnson and Justise Winslow had 13, and Luol Deng added 12 for Miami. Miami fell short in its bid to become the first team to erase two 3-2 series deficits.
Miami came back from down 3-2 against Charlotte in the first round. Miami was close with Toronto all game until the fourth quarter, when the Raptors exploded. Toronto outscored the Heat 30-11 in the quarter, all but ending the Heat's season.
Miami was down just eight in the fourth quarter, but Toronto got a dunk from Biyombo and back-to-back three pointers from Carroll and Terrance Ross, to stretch the lead to 16. In the middle of that run, Josh McRoberts picked up a flagrant foul after whacking Biyombo. McRoberts was clearly frustrated about the previous play, where he was pushed by Biyombo. Following a Patterson steal and two free throws from Lowry, Toronto had a 102-82 lead, which all but ended the game. The Raptors will play the Cleveland Cavaliers in the Eastern Conference Finals, which start Tuesday. Fans welcomed the fact of playing LeBron James and company, as they cheered, "We want Cleveland!"