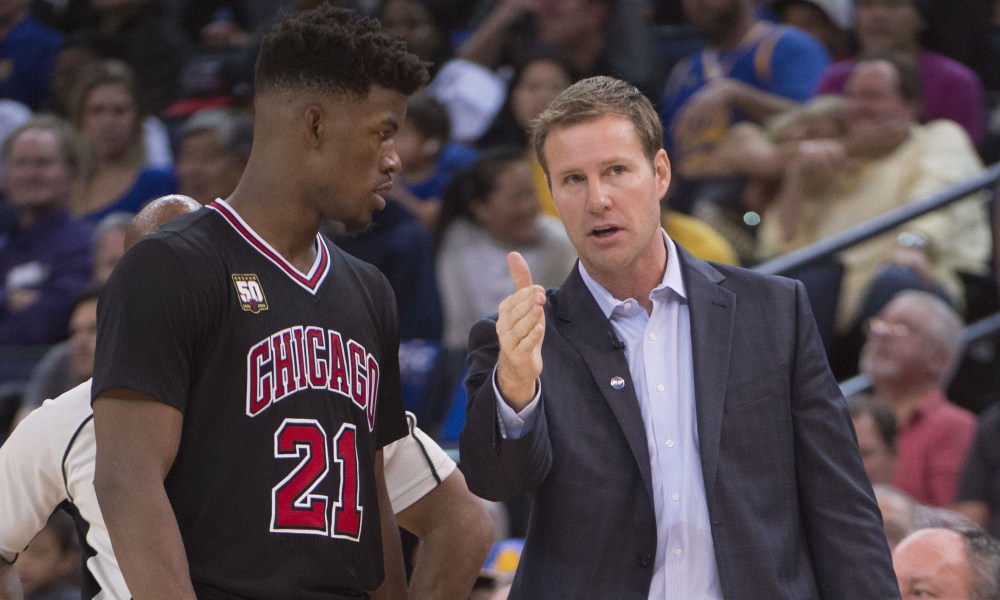 Jimmy Butler is seemingly not pleased with the direction of his team. The Chicago Bulls' shooting guard took the opportunity after a loss to the New York Knicks to call out rookie head coach Fred Hoiberg:
Here is Jimmy Butler calling out coach Fred Hoiberg after #Bulls' loss: pic.twitter.com/HBt7iRYM7q

— Chris Kuc (@ChrisKuc) December 20, 2015
Jimmy Butler actually circled back twice saying #Bulls coach Fred Hoiberg needs to be be more vocal in calling out players.

— Chris Kuc (@ChrisKuc) December 20, 2015
Jimmy Butler on Fred Hoiberg not calling out players: "I know it's really not in him like that but I think at times that's what we need."

— Chris Kuc (@ChrisKuc) December 20, 2015
That's an intriguing quote from a team looking to make noise in the Eastern Conference. The Bulls took a gamble in the offseason in firing Tom Thibodeau and hiring Hoiberg to replace him. The fact that their best player is already butting heads with him is more than a little scary. Hoiberg has made several changes since getting the job, namely playing Joakim Noah off the bench, but his addition has not had any profound positive effects. That becomes more of a factor when Butler takes to the media to call the coach out.
Meanwhile, this is a pretty negative indictment of Butler as well. Butler has at least been rumored to butt heads with or question teammates and coaches in the past. Now actually publicly calling out the coach, even if what he said is not particularly damning, puts some evidence to those rumors. In effect it puts into light the dysfunction currently taking place in the Chicago Bulls' locker room. If the team is to make any sort of progress on several seasons of playoff exits, they need to have everyone on the same page first. Until that happens, they will be looking at more of the same.