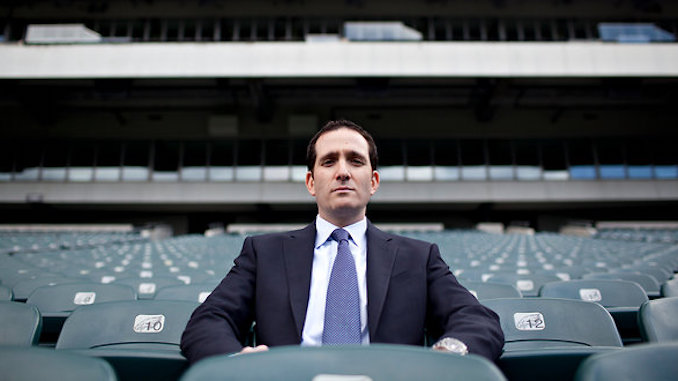 How long has Howie Roseman been at the head of the Philadelphia Eagles? 2 years? 5 years? Depending on who you ask you will get a different answer. Some say he's technically been the GM since being promoted in 2010, although he served mostly an advisory role to head coach Andy Reid. Others will tell you he started when Fletcher Cox was drafted. But the most common answer is that he was never really a GM until last season. So now that he's officially heading this ship what will his legacy be? Will he show he was the guy for Philly all along and most importantly where will he lead this team in 2017 and beyond?
After Howie was brought in as an intern to fix a salary crunch before the 2000 season he quickly rose through the front office ranks. In 2010 he was promoted to GM but was never really in power as Andy Reid served as head coach and VP of football operations, and had the final say on many decisions. Although Howie has been involved in the process since 2003 he hasn't had any serious power in decision-making until last season.
During the beginning of his first tenure as GM, and the end of Andy Reid's reign, Howie isn't held accountable for many of the questionable decisions leading up to Andy Reid's departure. On the flip side, he isn't given much credit for his moves either. It was Howie who signed a young and ready LeSean Mccoy to a 5-year extension in May of 2012 yet the same man who drafted Danny Watkins 22nd overall in 2011.
Roseman's market evaluation and value placement skills will never be questioned, it would be his skill evaluation that was criticised. As a former team employee said, " He could tell you where every player in the draft would be taken, he just couldn't promise you they would be good."  He was the one who pushed for the trade up to select Fletcher Cox in 2012 because he knew they wouldn't get him 3 picks later. These types of decisions can haunt you as well as Howie also pushed up to get Brandon Graham who, even as a solid contributor, prevented them from landing Earl Thomas in their original spot as a steal.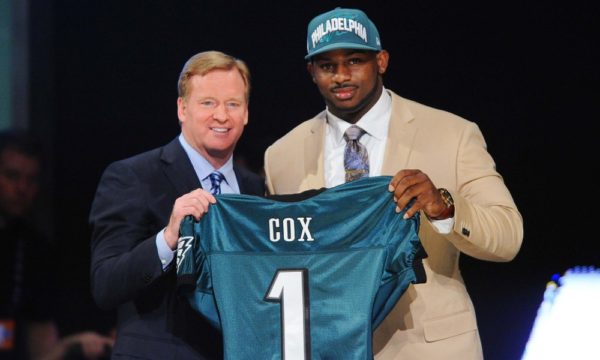 Andy Reid has credited Howie with being a key cog in building the 2010 squad that won the division in 2010 during his first year as GM. But once the team hit 4-12 on the season in 2012 Reid was fired and Roseman along with Eagles chairman Jeffrey Lurie were tasked with finding a new head coach. Lurie gave all the power for his 2012 draft to Roseman which is generally considered the best draft by this front office in recent memory, mostly because of that man at the top of the Eagles list, Fletcher Cox.
Once that search concluded with Chip Kelly Roseman got a "promotion" from General Manager to Executive Vice President of Football Operations. While he did get more money, a longer contract, and more security, he lost his brief control over the roster and his real part of the team. While it could seem like Roseman was expendable and maybe lacked the trust of Jeffrey Lurie, he never considered letting Roseman go. "I came to the conclusion that the person that was providing by far the best talent evaluation in the building was Howie Roseman," Lurie said on Dec. 31, 2012. Lurie explained how he kept "voluminous notes" on who made exactly what decisions in 2010,2011, & 2012 offseasons and drafts. Howie's duties then became to manage the team's salary, and negotiate contracts while also managing the medical and equipment staffs.
Why did the GM who made all the right decisions lost his position after just 2 years?
After a strong 2013 draft in which the Eagles scored 3 solid players in Lane Johnson, Zach Ertz, and Benny Logan, while there are some arguments about where and who they were taken over, overall they are 3 good players who contribute. The late rounds of that draft were very weak for the Eagles, Roseman said he was limited by Kelly. He had made 13 draft day trades from 2010-12 only made 1 in 2013. After day 2 the Eagles found many misfires in their selection, even trading up for Matt  Barkley in the fourth.
In 2014 Roseman had a very mediocre draft, reaching for Marcus Smith with the No.22 then spent the next day defending his pick.  This year, even though Roseman had final say, Kelly was more involved. How else would the Eagles end up with 2 mediocre Oregon products? This decision was compounded by the fact that Derek Carr and Bridgewater were selected less than 10 picks later.
The Eagles left the draft with more players but no actual difference makers. This draft seemed lost for them and stirred up Jeff Lurie's plans for the future. Roseman and Kelly began to see things differently and the 2 clashing over a decision became more and more common. After his results in the draft and Kelly's success that season Howie received his new office and duties and all personal duties went to Chip Kelly.
At the time it seemed as if Roseman lost the power struggle and was on his way out.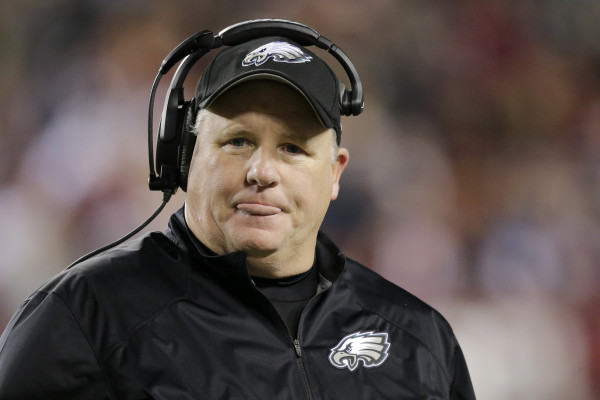 Until Chip Kelly decided the roster needed a flip. In the span of 2 years, Chip Kelly did a lot of moves that could be considered…questionable at best. Personally as an Eagle fan questionable is far from the worst word we used to describe some of these. The ones that stick out the most are the trades of Mccoy for an injured middle linebacker who saw limited snaps because he wasn't the best player at his position. The trade of Foles, a 2nd and 4th round pick for Sam Bradford who has played well. Finally the release of DeSean Jackson and letting Maclin walk in free agency.
This all cumulated in the 2015 draft, it seemed doomed from the start when Gamble, the Eagles head of scouting for the draft, was fired 4 weeks before. Following a very mediocre draft, the first fully under Chip, and a seemingly lost season Lurie wanted to take personal responsibility away from him and return them to Roseman after Kelly refused he was fired.
After what seemed like forever Howie Roseman was back on top with the Eagles, he was determined to build a winning team from the ground up. The first decision was one that would leave a mark in Eagles history forever and would be fully supported by every Eagle fan in the whole city.
Howie Roseman traded up for a future franchise QB in Carson Wentz with the No.2 overall pick in 2016.
The 2016 season was one about building, Roseman signed Bradford to a 2-year deal to let Wentz redshirt a year. Once Bridgewater went down in Minnesota it was decision time, do we try to recoup lost picks by risking rushing Wentz in too early?
Howie made the call and got a deal done with the Vikings and Bradford over for a pair of picks including a first rounder. Wentz played the year going 7-9 but showing great potential he completed an NFL rookie record 379 completions on a record number of attempts as well.
After the season Roseman went out and good his future star some weapons, signing Torrey Smith as well as Alshon Jeffery and he got league-leading touchdown scorer LeGarrette Blount.
Now, this season Howie finally had all the power at his fingertips. He's put together a roster with a young franchise QB, a top tier O-line, improved offensive weapons and a developing defense leading up to a deep draft.
This brings us to present day, 1 week out from the season opener. Will Howie's team take the next step or will it go to shambles and prove we are farther than ever from a championship. This next season will lay heavily on Roseman's legacy no distractions, no bosses, no one else in the way.
Just a man and his franchise.