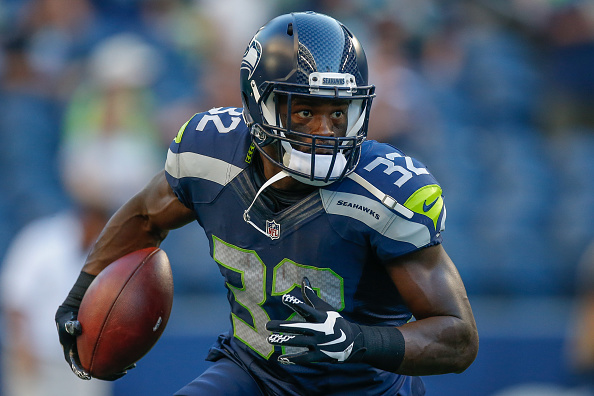 Week three of the NFL season is officially in the books. Fantasy owners everywhere are either siting pretty or have a lot of work to do. Luckily it is not too late to turn things around for owners who still sit at 0-3. What did we learn from week three, fantasy edition.
Patriots Lean On Ground Game In Brady's absence:
Yes LeGarrette Blount looks good right now but that is because the Patriots are smart. They realize they have no chance to win with Jacoby Brissett throwing the ball 30 times a game. Now heading into week three the Patriots don't even know who the quarterback will be this week. There has even been talk that Julian Edelman or tight end A.J. Derby could be the back up this week. Nevertheless Blount will be the workhorse against the Bills this week. After that Brady returns and Blount becomes a nice sell high for fantasy owners.
The Bills Are Down But Not Out:
The Bills made a change at offensive coordinator but the offense appears to be very similar. The difference this week in the win over Arizona was the defensive unit's ability to force turnovers. Rex Ryan knows he is firmly entrenched on the hot seat and needs to win now. Running Backs coach Anthony Lynn has taken over play calling. As a result LeSean McCoy score two touchdowns last week. McCoy could be a nice trade target for fantasy players.
DeMarco Murray Is Back:
Is their a back in the NFL that looks better than Murray? It is amazing that his statistics are as good as they are considering the Titans are always playing from behind. You would like to see the Titans coaches commit more towards the run considering how obvious it is that Marcus Mariota can't win games with his arm. The take on Murray is interesting but Derek Henry could be a guy to trade for. His snap count has risen three straight weeks and could be a goal line vulture very soon.
Terrell Pryor Did Everything:
This past week for the Browns Pryor played receiver, quarterback, and safety all in the same game. As long as lame duck Cody Kessler is the quarterback, Pryor will be asked to do a little of everything. Snaps at running back appear to be coming his way too as Duke Johnson often times lines up as a receiver. Pryor not only is a must add on the waiver wire, all of the sudden he is a must start especially since Corey Coleman is out with a broken hand.
The Jaguars & Ravens Both Stink:
The Ravens might be the worst 3-0 team in the history of football. The entire Ravens offense can't be trusted in terms of fantasy except if you're desperate at tight end and start Dennis Pitta like I do. When talking about the Jaguars it is clear they only know how to function during garbage time. I've given up on this Jaguars team and maybe you should too. Trade Allen Robinson, trade Blake Bortles, trade Allen Hurns it is clear Jacksonville needs a coaching change.
Jamison Crowder Is Washington's Best Weapon:
Not Jordan Reed, Not Matt Jones, Not DeSean Jackson. The fantasy player you actually want on this team is Jamison Crowder. In his second season, Crowder is becoming one of the best slot receivers in the league. He has scored a touchdown in three straight weeks and is a must add for fantasy owners. When Kirk Cousins gets in a jam he looks Crowder's way. Whatever you have to do to get this guy do it.
Christine Michael Is Better Than Thomas Rawls:
If you read my Don't Eat The Cheese article on running backs you would have already known this. Rawls is a one hit wonder let's face it. Michael has always been the guy with more talent after have a productive college career at Texas A&M. After a two touchdown week against the 49ers, it is time to admit Michael is the guy to add. Next time do yourself a favor and read my Don't Eat The Cheese piece before you make bone headed mistakes at running back.
Carson Wentz Is the Real Deal:
Back In April I said Wentz was the best quarterback in the 2016 NFL Draft. That statement seems to be holding up. Wentz torched the Steelers in a 34-3 beat down. As the season progresses Wentz will only be handed more keys to the offense. His statistics are only going to improve. Depending on the match up, Wentz is a good start in fantasy leagues.
Ezekiel Elliot Is The Cowboys Workhorse:
After 30 carries and 140 yards later, Elliot appears to be the man for Dallas. Even after fumbling last week, Dallas kept faith in him and gave Elliot more touches. For Dynasty owners such as myself that have Elliot under contract for the next few years, your team appears to be set. For fantasy owners next season, Elliot is the clear first overall pick next season.
Tevin Coleman Is Better Than Devonta Freeman:
Ok so both players had great weeks against the putrid Saints defense we get that. What fantasy owners should have been paying attention to is who was leaned on more in the red-zone. That happens to be Tevin Coleman. Of course when I told you not to take Freeman this year in fantasy leagues you probably did so anyway. Freeman lead the list of Don't Eat the Cheese candidates and looks to be a prime fantasy bust. Tevin Coleman is the better option and has far more fantasy points than his counterpart Devonta Freeman. If you can trade him do so now. You don't play the Saints defense every week don't kid yourself.