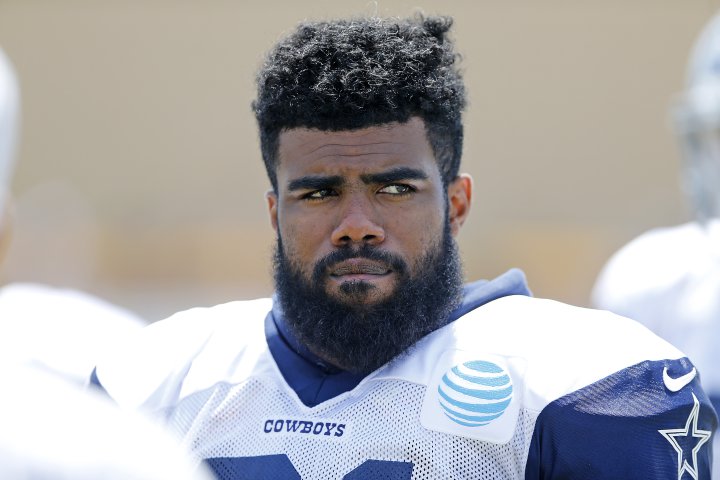 Jaylon McKenzie was something of a football prodigy. Especially around Mason-Clark Middle School, where McKenzie attended. However, McKenzie's life tragically ended prematurely when he was struck by what authorities have called "stray bullets" while he was leaving a party. Enter: Ezekiel Elliott,  the Dallas Cowboys running back who voluntarily decided to pay for the teen's funeral services.
The bullets also struck a teenage girl, who remains in critical condition.
JAYLON MCKENZIE: I spoke to Jaylon's mom, @sukeena5, who says that someone on behalf of @EzekielElliott reached out to pay for her son's funeral costs. That's so incredible, since Jaylon used to watch Ezekiel to improve his own skills. @ksdknews pic.twitter.com/W0j6Yxatqa

— Justina Coronel (@JustinaCoronel) May 8, 2019
McKenzie lived in East St. Louis, a city right across the Mississippi River – and the Missouri/Illinois border – from St. Louis, proper, where Elliott grew up.
Still just in grade school, the 14-year-old McKenzie had already received football scholarship offers from the University of Illinois and Missouri. Furthermore, the teen had been featured in Sports Illustrated, the magazine that forecasted McKenzie as a major player in the future of professional football.
He also appeared in the NFL Hall of Fame All-American Eighth Grade All-Star game in Canton, Ohio. In that game, McKenzie had five receptions for 161 yards and two touchdowns.
"My baby taught me to live."

14-year-old football phenom Jaylon McKenzie was shot and killed on Saturday night. Today one of our crews talked to his mom, and as they filmed, the TV in the background tuned to ESPN ran a story on his passing. Chills. pic.twitter.com/l1R8RazuTT

— Corey Miller (@corey_miller5) May 6, 2019
The proximity of McKenzie's tragic final moments to Elliott's hometown undoubtedly played a role in his decision to pay for the services. But the story apparently really struck a nerve with the Cowboys running back, as ESPN has reported that Elliott has told people he plans to stay in touch with McKenzie's family going forward.