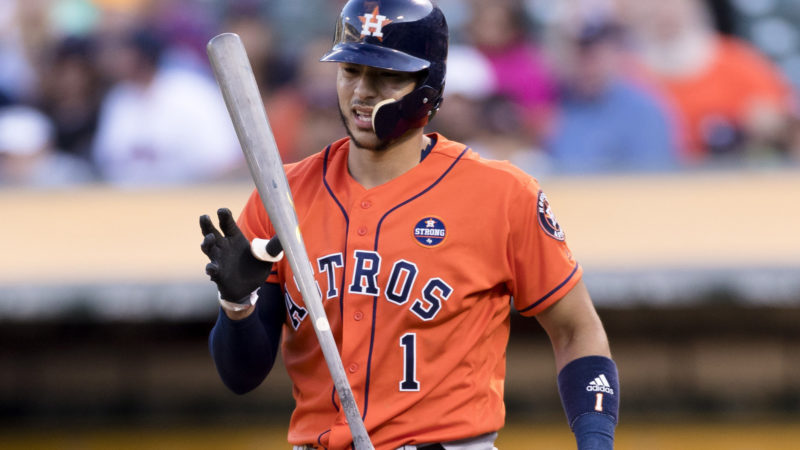 Earlier this week, the Houston Astros had a media day where owner Jim Crane, newly hired manager Dusty Baker, and multiple players apologize and speak on the sign-stealing scandal. The team took a lot of hate and criticism for their lackluster effort in the press conference, and media scrums, and some players around the league offered their thoughts about this lackluster effort. 2019 National League Most Valuable Player(MVP) Cody Bellinger, spoke out about the matter, claiming their apologies were "whatever" and that the team had been cheating for three years. Bellinger offered more criticism, claiming that Jose Altuve took an MVP award away from Aaron Judge.
You can see how visibly pissed Cody Bellinger is when talking about the Astros pic.twitter.com/QUXiNwzbxd

— Blake Harris (@BlakeHarrisTBLA) February 14, 2020
Correa did not take well to these comments from Bellinger. On MLB Network, Correa would speak on the matter, referencing the remarks of Bellinger and his displeasure with them. Correa was pretty fired up, going as far as to use an explicative on live television during his interview. On the matters of the punishments from the league, Correa said that the apology echoed by Crane and the actions Crane took (firing AJ Hinch and Jeff Luhnow) were crucial to this situation. Correa would say that the team needs to "wear the facts to the chin" and apologize as they have, but ultimately many players around the league are unhappy with the apologies and still fuming with anger.
Carlos Correa went full scorched earth here on the Dodgers and Bellinger. Amazing interview. pic.twitter.com/9R4IXzKT0Q

— Daniel Gotera (@DTGoteraKHOU) February 15, 2020
One of the issues many players from the league and the Dodgers have voiced is that the team was cheated out of a World Series in 2017, but the Astros feel that they won fair and square. It has been proven by Major League Baseball the team was using technology illegally during the 2017 postseason, but the question is, did it help them enough to win the World Series. People will feel both ways about this, Astros fans may feel the team had enough talent to help them succeed regardless of the illegal use of technology. The team was talented, no doubt about that, but the Dodgers fans feel that they were cheated out of a fair World Series.
This storyline is not going away, the Astros sign-stealing scandal from 2017 is far from being swept under the rug. The Astros are going to see a lot more publicity from other teams around the league as Spring Training continues, and do not be shocked to see some hitters thrown at in 2020, even with the league stern warning issued. There is a high chance that the Astros may see a brawl or two this season with plenty of teams quite angry with the Astros organization.