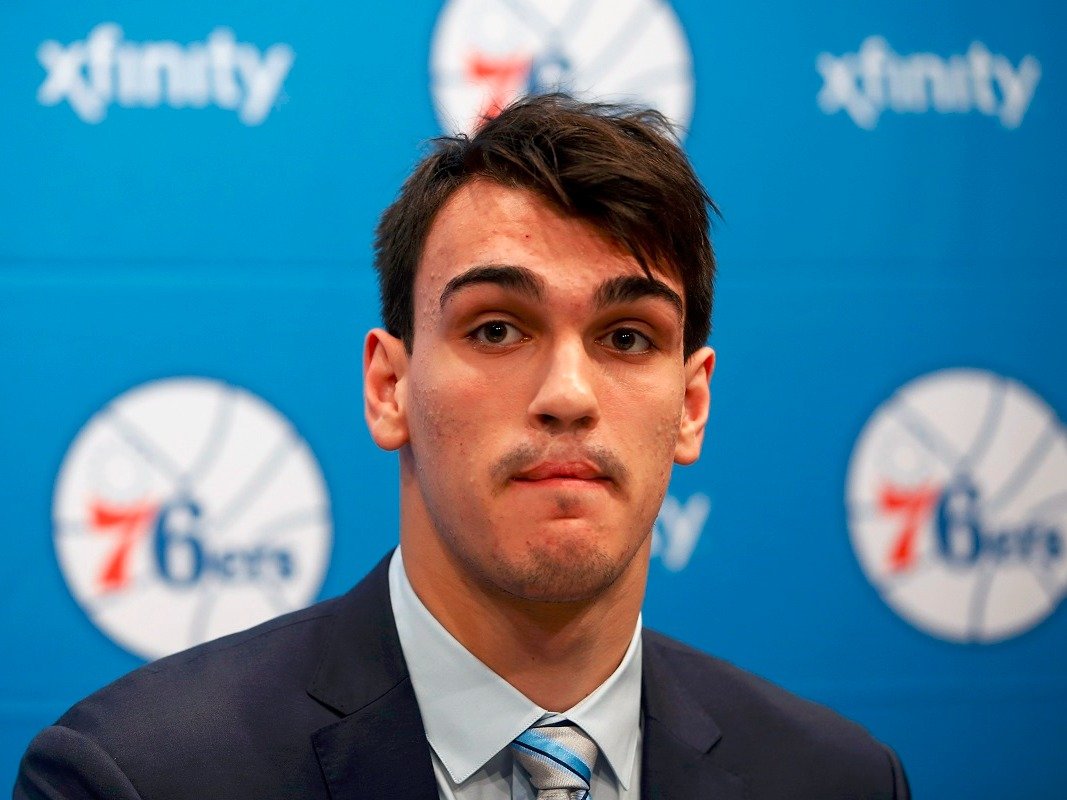 Dario Saric is the international man of mystery in the NBA. He was originally selected by the Orlando Magic in the 2014 NBA Draft but his rights were traded to the Philadelphia 76ers in exchange for Elfrid Payton and some other picks.
While Payton has been at the helm for the Magic, running their offense for the last two seasons, Saric has not yet been seen on an NBA floor. The Croatian big man has been a player many wonder about, in particular Sixers fans. He stands at 6'10" and appears to be a fantastic shooter all the way out to the three-point line but his athleticism has come into question. Saric's skillset eliminated the thoughts of many Philly fans thinking the Sixers missing out on Kristaps Porzingis could be a bad thing.
A guy with so much potential would obviously be someone the team wants to bring in as soon as possible, especially since we all only get older as each day passes. Saric is 22 and the Sixers are looking to have all their assets in house as they make moves and push towards relevance once again. Unfortunately, despite reports of his interest in playing for Philly next season, it appears that the 76ers have no official answer on his future plans.
Philadelphia 76ers new general manager Bryan Colangelo and head coach Brett Brown met with Saric and his agent but no progress was made.
Following from Scott Howard-Cooper of NBA.com.
Colangelo had arrived the day before from Istanbul after he and 76ers coach Brett Brown watched Dario Saric's team in Turkey in a playoff game Tuesday and met with Saric and Saric's agent Wednesday, trying to get the 12th pick in 2014 to Philadelphia next season.

"He really showed his full repertoire, everything from some post moves and some good interior passing to an improved shot," Colangelo said of watching Saric on Tuesday. "The perimeter shot looks like it's really coming. He's got a full range of ball skills and passing skills. I think his game will definitely translate to the NBA in a positive way. The timing of him coming to the NBA is still in question. I believe there's a desire on both sides to make it happen sooner rather than later, but at the same time, the contract scenario, economics, etc., etc. all plays a part in that decision making. We'll know soon enough whether it's going to happen for this particular season. That's our goal and our desire. I think in the next few weeks we'll have more clarity."

Told that he sounded pessimistic about Saric joining the 76ers for 2016-17, Colangelo replied: "I don't think I'm optimistic or pessimistic. I think I'm just neutral right now. I do (have a gut) but I'm not sure I want to reveal it. I'm hopeful we can get it done. It would be helpful to the organization and I think it would actually be helpful to Dario to kind of get off on the right foot in the league."
Saric has a July 17 deadline in Turkey, Colangelo said, to either commit to another season in Europe or move to the NBA. But Philadelphia would like a resolution, even a disappointing one, weeks earlier to have a clear handle on the roster before free agency.