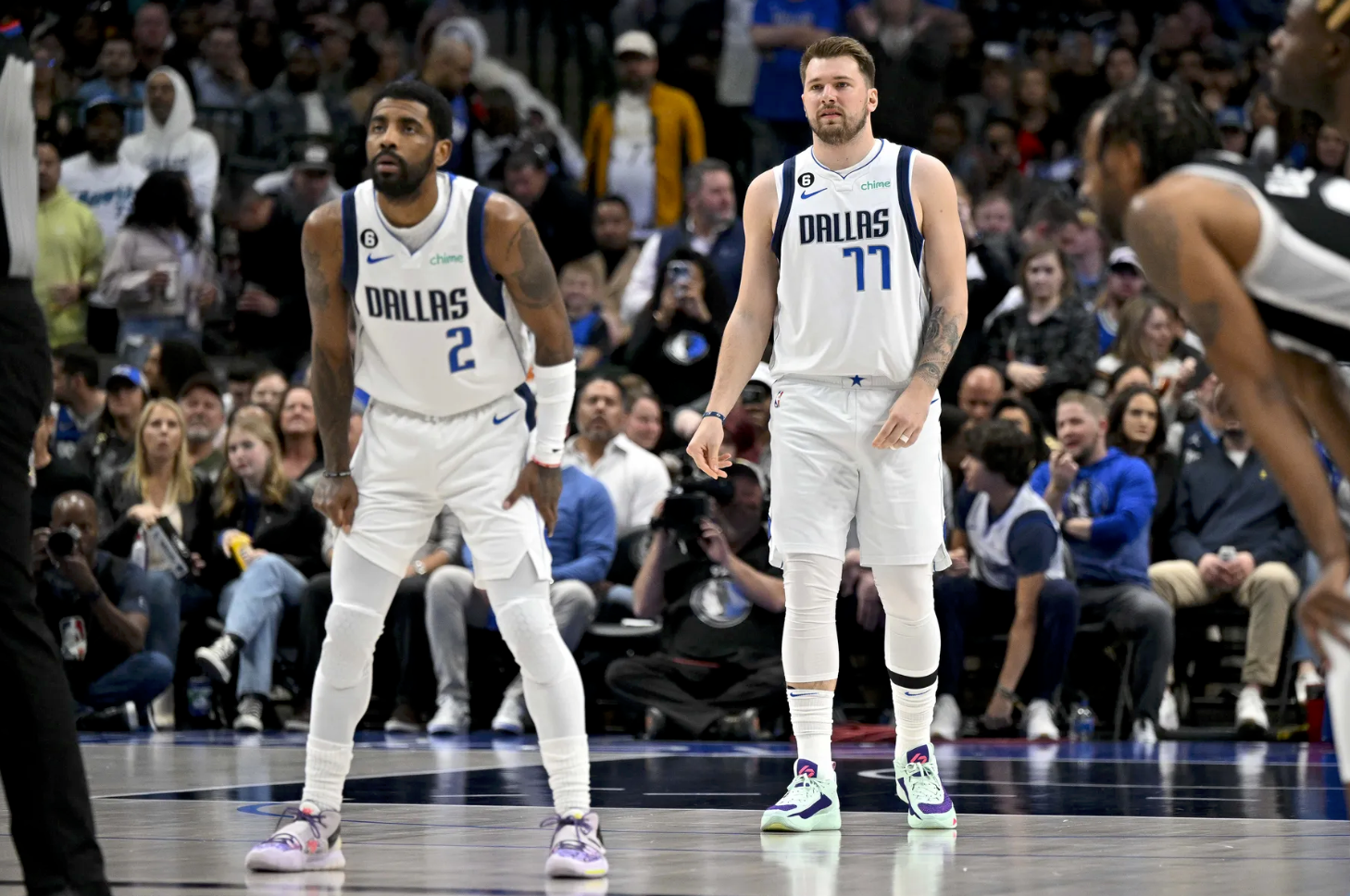 Top to bottom, this might be the toughest division to peg. The Mavericks offense should be electric but how will that translate to wins? The Rockets have decided they want to stop being an unserious franchise but are Fred Van Vleet and Dillon Brooks enough to get them in the playoff hunt? Can the rest of the Grizzlies hold down the fort without Ja and now, Stephen Adams? How many games does Zion play this season? Wemby looks terrifying but will his out of this world talent be able to carry a roster that clearly isn't built to win in his first year? Any of these teams could finish first and while some of us may be surprised, none of us would truly be shocked. Let's dive in.
Dallas Mavericks
2022-2023 record: 38-44
This team is trying to operate on two timelines and may ultimately fail at both. First, they pulled off a panic trade when they acquired Kyrie Irving. Kyrie, who is best described as mercurial, comes with a ton of baggage alongside his fancy handles and tough shot making ability. He hasn't played a full season in years for a litany of reasons. He is a point guard on the wrong side of 30 with a laundry list of injuries and an unpredictable personality. He makes their offense better but greatly weakens their ability to defend at the point of attack. The team's record when he and Luka played together was subpar despite how good they looked offensively on certain nights.
On the other end, the Mavs have finally decided to take the draft seriously. They took Derrick Lively at 12th in the draft and believe he is the center of the future. Rookie bigs are rarely able to step in and make a difference in their rookie years. If they want to chase wins, the veterans will eat into his minutes. If they want to prioritize his development, it will surely come at the expense of wins and losses. Jason Kidd will struggle to tow that line and this team will struggle to stay in the playoff hunt as the season progresses. This imbalanced roster reeks of .500 basketball.
Prediction: 41-41
---
Houston Rockets
2022-2023 record: 22-60
Jabari Smith Jr. looked incredible in Summer League, pundits started to wonder out loud if the Rockets could find themselves in the playoff hunt. I, for one, am not buying it. For one, I like Fred Van Vleet and agree that Dillon Brook's unlikability distracts fans from the fact he is a useful player. I don't, however, believe they are transformational type players. The Raptors, with more talent than the Rockets, struggled to put things together. Brooks is a good and sometimes great on ball defender, but he won't have Jaren Jackson Jr. and Steven Adams behind him. Alperen Sengun, for all his offensive talent, is a liability on defense. Jabari Smith Jr. will have to take a huge step forward on defense for this team to have any chance of putting together a top-15 defense. It's possible but would be a lot to ask of a player in his second year.
The biggest question surrounding the team is how they view Jalen Green and how Jalen Green reacts to that. If they continue to embolden Green as their best player, will his shot selection and decision making improve? If they take the ball out of his hands and ask him to take on more of a complimentary role, is he willing to sacrifice counting stats in the name of winning? Ime Udoka will demand buy-in from his players but that may be easier said than done. There was zero accountability in that Rocket's locker room the past few seasons. It may take a season for the young players, and Green in particular, to learn how to be professionals before they can learn how to be winners.
Prediction: 30-52
---
Memphis Grizzlies
2022-2023 record: 51-31
The over looked like an easy play until the Steven Adam's news broke. With him being out for the season, it means more minutes for Jaren Jackson Jr. at the 5. While his long-term ceiling is probably based on his ability to play center, he hasn't shown the ability to play his best basketball there. His propensity for fouling is exposed when the responsibility of protecting the rim falls squarely on his shoulders. The depth that allowed the team to tread water in previous years while Ja Morant was out may no longer be there. If the younger players are not ready to step in and help the team win, the team may struggle even after Ja returns to the court.
Along with his on-court contributions, Adam's absence will also leave a leadership void. Those responsibilities will now fall to Marcus Smart and Celtic fans can tell you how volatile that can be. Desmond Bane is a stud. JJJ is a force on both sides of the court when he avoids foul trouble. Ultimately, however, a frontcourt of Xavier Tillman, Santi Aldama, David Roddy, and Kenneth Lofton leaves feeling queasy about the team's ability to navigate the start of the season.
Prediction: 43-39
---
New Orleans Pelicans
2022-2023 record: 42 -40
On paper, it's easy to like, if not love the roster that New Orleans has assembled over the past few years. Brandon Ingram is a star. He isn't a top 10 player but is certainly worth the contract he's being paid. Herb Jones and Trey Murphy are exciting young wings. Jonas Valanciunas was born 20 years too early but is still capable of punishing opposing frontcourts. The questions about this are and have been about health and one player's health in particular.
Stan Van Gundy put the ball in Zion Williamson's hands and helped unleash a truly unstoppable force. Since then, Zion has struggled to stay on the court and both his mental and physical wellness have been called into question. Jose Alvarado is hurt. Larry Nance, who looked like the ideal player next to Zion, is already dealing with injuries. Ultimately, we may never see a healthy version of this team together for an extended run. The Pelicans may reach a breaking point soon and start asking themselves some difficult questions if the team continues to underachieve.
Prediction: 42-40
---
San Antonio Spurs
2022-2023 record: 22-60
Wemby appears poised to step into the league and have an impact on day one. Some people wondered if there would be an adjustment period due to the speed and strength required to excel in the NBA. Those questions have been put to bed. His wingspan and athleticism are a force to be reckoned with. That being said, it would be in the Spurs' best interest to manage his minutes and help ease his transition into the league. Their first, second, and third priority should be to determine the best way to build around their new franchise player. Devin Vassell and Keldon Johnson are good young players but if the fit next to Wemby isn't ideal, the Spurs will probably look to move on. Coach Pop is smart enough to know that cutting corners won't benefit the franchise. He won't chase empty wins at the expense of the future.
The Spurs will be competitive and might even surprise some of the elite teams on certain nights, but continuing to build through the draft is the best path forward. There will be 4 quarters where Wemby is tied to the bench. There will be late game leads that are squandered. The Spurs, and their fans, understand that they have a long runway ahead of them, and optimizing a potential championship window should be the team's focus moving forward.
Prediction: 27-55