The long-awaited return of legitimate NBA basketball is only weeks, and the increasing excitement has us all wondering how the 2023-2024 season will unfold. The landscape of the league has drastically changed, giving a select few teams more of an opportunity to compete for the Larry O'Brien Trophy. Let's look at which teams in the Central Division will either improve or fall in the standings this season.
Indiana Pacers
2022-2023 record: 35-47
Haliburton is coming off an impressive third season in the NBA. His cerebral, innate court vision creates a plethora of scoring opportunities for his teammates. He posted a stat line of 20 points per game along with 10 assists on a superb 40% shooting from beyond the arc. His backcourt mate, Bennedict Mathurin, was an absolute bucket in his rookie season. He showed grit and a lack of fear in big moments, earning himself All-Rookie first-team honors after averaging nearly 17 off the bench. The Pacers were impressive last year and will be even more exciting this upcoming season. Indiana is still in the rebuilding process, but talented enough to push for a playoff spot right now. The Obi Toppin and Bruce Brown acquisitions are perfect fits for this squad. Toppin's skillset will be maximized fully from playing with Haliburton – and with Myles Turner's ability to space the floor, Toppin will have numerous pick-and-roll lob opportunities. They'll be extremely fun offensively. A must watch league pass team that will put up a ton of points.
Now, what Bruce Brown will bring is a point of attack perimeter defender, and a ball handler to control the offense in Halliburton's minutes off the floor. In addition to Brown's defensive prowess, Indiana selected Jarace Walker in this year's past NBA Draft. The combination of Walker and Turner in the frontcourt will prove to be deadly to opposing offenses. Their versatility and switchability are unmatched, giving this youthful squad some much needed help defensively. Nonetheless, Hall of Fame coach Rick Carlise will keep this team competitive each night and expects Mathurin to receive some All-Star nods this season.
Prediction: 38-44
---
Chicago Bulls
2022-2023 record: 40-42
The Chicago Bulls decided to run it back this season with their big three of Zach LaVine, DeMar DeRozan, and Nikola Vucevic. President of Basketball Operations Arturas Karnisovas and General Manager Marc Eversley are depending on internal improvement heading into the 2023-2024 NBA season. Big seasons are expected from former fourth overall pick Patrick Williams and the flashy, combo guard Coby White.
Last season, this team ranked 5th in defense but an abysmal 24th on offensive of the ball. This is a head scratcher given the fact that their trio all made their careers from their elite ability to put the ball in the hoop. Coming into this season, Billy Donovan is putting an emphasis on creating more 3-point opportunities and attacking the paint to generate more free throw chances; through two preseason games, this change of style appears to be beneficial for Chicago.
The underrated addition of Jevon Carter will fill a huge void left by Lonzo Ball. The Bulls have been missing that connecter type of player to bring the offense together, and given Carter's skill set, he'll provide much needed stability at the point guard position. The fact that this team is no longer reliant on the return of Ball this season will help this talented roster focus on the task at hand. Expect the Bulls back in the playoffs this season
Prediction: 45-37
---
Cleveland Cavaliers
2022-2023 record: 51-31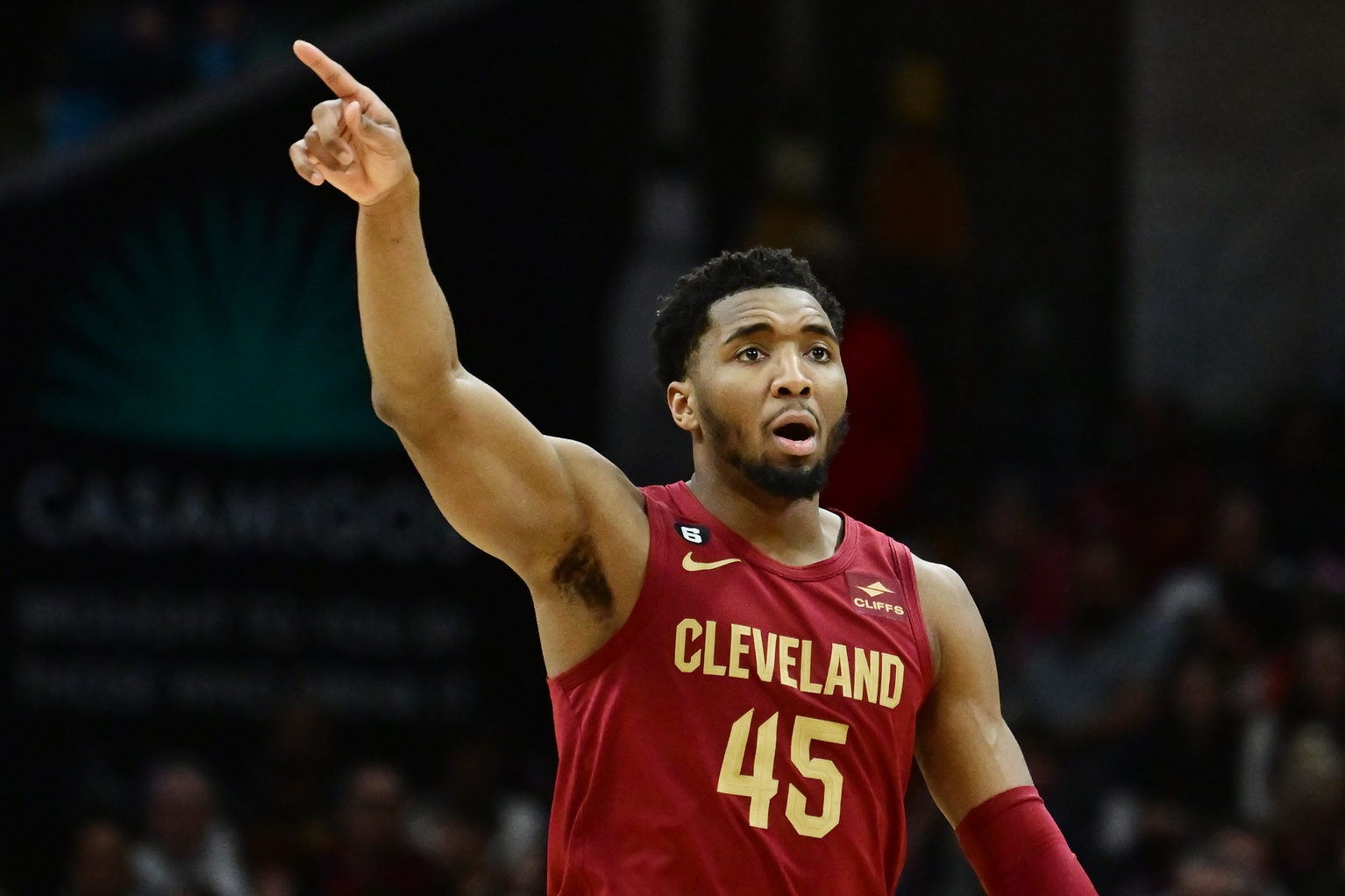 Similar to Chicago, the Cleveland Cavaliers are running it back with the same core. Their All-Star backcourt in Darius Garland and Donovan Mitchell, along with the defensively stout frontcourt of Evan Mobley and Jarrett Allen. Donovan Mitchell and the Cavs fell 4-1 to the New York Knicks a season ago. Darius Garland disappearing in his playoff debut, along with their lack of shot creation outside of Donovan Mitchell was their Achilles heel. Mobley had a nice year two, but it wasn't the star-level ascension we've all been anticipating. He averaged 16.2 points, 9.0 rebounds, 2.8 assists and 1.5 blocks. He certainly displayed his two-way versatility, shooting capability and his adeptness to put the ball on the floor. However, against an aggressive defense like the Knicks, he shrunk under the bright lights. In year three, his star level potential needs to be showcased every night if Cleveland wants to make that next jump.
In the offseason, they added sharpshooter Max Strus to occupy their long-awaited need for a small forward. He'll provide elite outside shooting and allow clean drives for Mitchell and Garland. The Cavs certainly addressed their one glaring need during the break and I expect for Donovan Mitchell to have another MVP type season after averaging 28 on 48/38/86 splits. They'll finish as a team with homecourt advantage once again, but further aspirations rest entirely on Evan Mobley's shoulders.
Prediction: 51-31
---
Detroit Pistons
2022-2023 record: 17-65
Last season, the former number one overall pick, Cade Cunningham, had his season cut short – playing 12 games while averaging 19.9 points, 6.2 rebounds and 6.0 assists. For a rebuilding franchise to lose its franchise piece for the season can prove to be extremely detrimental. On the contrary, however, this allowed the fifth overall pick Jaden Ivey to progress at a faster rate. He made great strides in the latter portion of the season as a playmaker and explosive scorer, finishing his rookie season averaging 16.2 points and 5.3 assists. This tandem in the backcourt is the future of the Detroit Pistons, and now coupled with a Head coach like Monty Williams they have a great foundation to build upon – like Devin Booker's development early in his career with Williams.
The addition of highly touted rookie Auser Thompson and the steady development of Jalen Duren, James Wiseman, along with their two rising stars give them team a versatile nucleus and a bright future. Head Coach Monty Williams noted that too many young players on the court are a disservice to the team. That being said, veteran players such as Bojan Bogdanovic, Joe Harris, and Alec Burks carry enormous responsibility in keeping this team heading in an upward trajectory. All in all, I believe Cade Cunningham is a generational talent with a unique blend of athleticism and IQ. However, this roster and young pieces need more time. I project slight improvement but not a huge leap.
Prediction: 28-54
---
Milwaukee Bucks
2022-2023 record: 58-24
A few weeks ago, the Milwaukee Bucks sent a message throughout the league after facilitating a trade that landed them future Hall of Famer Damian Lillard – completely changing the complexion of the NBA. Pairing Lillard with Giannis Antetokoumpo might've created the deadliest duo in the league; add Kris Middleton to the mix and you have one of the best trios in the NBA, along with a fully fortified roster to aid the stars. A season ago, Middleton was a shell of himself after coming off a significant injury, and teams learned how to build a wall in the paint against the Greek Freak. Still, the 28-year-old averaged a career-high in points with 31.1 a game, while gathering 11.8 rebounds and dishing out 5.7 assists. However, due to Middleton's regression and the lack of shot creation throughout the roster, their season ended in the first round of the playoffs to the 8th-seed Miami Heat. Fortunately, Dame Time has arrived to solve previous mishaps.
There is legitimately no way to stop this combination of players in the pick-and-roll. Do you want to blitz Damian? Lillard will just toss it to Antetokoumpo and he'll play 4-3 basketball. Do you want to play drop coverage? Then Dame is firing from deep all game with his 37% career 3-point shooting. Do you want to bring the center up? Dame is blowing right by the big man and headed to the cup. Lastly, do you want to double both? Then, they'll just kick it out to their multitude of shooters. From a defensive standpoint, this team is impossible to guard. Sure, their perimeter defense will suffer with the loss of Jrue Holiday, but when the playoffs arrive, and possessions slow down, Dame Time will close them out as we've seen throughout his career. Record wise, the Bucks will post a slightly better one than last season due to a change in the coaching position with the newly hired Adrian Griffin. But disregard their regular season record, come playoff time you'll see the team's full potential on display.
Prediction: 60-22