Each team in the 2019 NBA Playoffs have now played at least two games. There was plenty to learn but here is just one big thing every single team needs in order to improve their chances of making it to the NBA Finals.
D'Angelo Russell has been this season's crowned prince of unnecessary standom with his MIP caliber season but now he needs to perform in the playoffs. He has become a large part of the Nets offense and in game 1, he started out as cold as his veins. He does not have to be perfect but these playoffs have shown that the team with more threes is likely going to win. As long as his three-ball is working, the Nets should find success against this Sixers team whose bigs can be exposed in pick and rolls.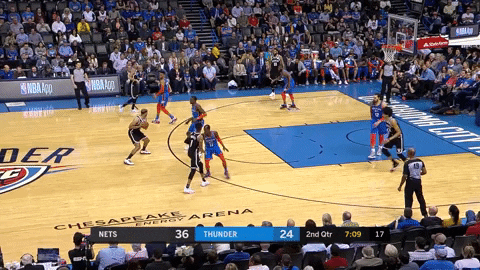 Philadelphia 76ers
Big Men Court Availability
Both of the Philadelphia 76ers two main bigs have problems staying on the court. Joel Embiid has had injuries plague his career. When he is on the court, he is a marvel. Meanwhile, when he off the court, the Sixers are the DC cinematic universe. His health is not only important in terms of his ability to get on the court but his play on the court. In Game One, he was settling for a lot of jumpers. He had the highest free throw frequency of any player with over 3 post-ups per game. He needs to stay down low and generate easy buckets.
Boban can simply be played off the court. His ability to rebound and tower over opposing players for putbacks can be useful in spot minutes but his slow and plodding defense makes him a liability on switches and in the pick and roll. The Sixers bench is already anemic, they need Boban to be a factor.
Orlando Magic
Frontcourt Play
The Orlando Magic are unlikely going to get another DJ Augustin game. That will not happen. What could happen is the Magic's frontcourt could play aggressive defense and score in the half court. The pairing of Aaron Gordon and Jonathan Isaac has the potential to be terrifying on defense simply with how big, long, and agile they are. Pair that with Vucevic who is slow plodding and hypothetically can get you easy buckets in the post and the Magic could see themselves relying on their frontcourt players. What is not certain is, can they rise to the challenge.
Nikola Vucevic in the regular season:

21PPG 12RPG 4APG 1STL 1BLK on 52/36/79 shooting

Nikola Vucevic in two playoff games:

9PPG 7RPG 3APG 0 STL 1BLK on 29/25/67 shooting

— Justin Jett (@JustinJett_) April 17, 2019
Toronto Raptors
Kyle Lowry
Kyle Lowry's shooting percentages in the regular season as a Raptor:
42.5 FG%
37.8 3PT%
80.5 FT%
50.5 EFG%
57.2 TS%
Kyle Lowry's shooting percentages in the playoffs as a Raptor:
40.8 FG%
33.8 3PT%
78.8 FT%
48.8 EFG%
53.9 TS%
Every single shooting statistic is down. Now, this is normal for the playoffs but should not be acceptable for a team's star. Lowry certainly is not as bad as his reputation would tell you but, he has definitely struggled in the playoffs. Kawhi Leonard will be Kawhi Leonard but the Raptors need Lowry to be his regular season self if they hope to finally make it to the NBA Finals.
Los Angeles Clippers
Sustainable Offense
The Clippers have one main source of offense; Lou Williams and Montrezl Harrell pick and rolls. This duo has ravaged opposing bench mobs but it is relied too heavily on down the stretch of games. They will need to find more ways to efficiently produce offense aside from this and spot threes from their shooters. They should believe in Landry Shamet more to run offense while Shai-Gilgeous Alexander needs to slither into the paint consistently.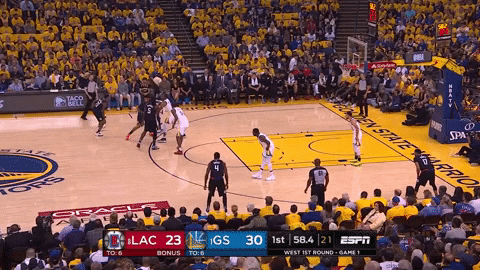 Golden State Warriors
Finding Bench Rotation
DeMarcus Cousins is likely done for the season. The hay-wire talent act that the Warriors walked upon this season has finally snapped and with it, some of their incredible depth.
After the historic, hall of fame starting four that they still possess, here are the four "best" players according to Win Shares:
Kevin Looney
Andre Iguodala
Jonas Jerebko
Alfonso McKinnie
These are not inspiring names. Now, they are going to start Andrew Bogut and get other spot minutes for bench guys like Jordan Bell but they don't have a lot of time to figure out their rotation with the Clippers on their heels and the Rockets potentially next round.
Indiana Pacers
Better Big Man Play
For much of the season, having two big men as good as Domantas Sabonis and Myles Turner was a cheat code. One was the dominant defender with a little outside touch. The other was a rolling PNR artist with excellent passing instincts and relentless rebounding. Through one game, neither of them topped 10 points or shot better than 34% from the field.
The Pacers relied on these two players after Victor Oladipo went out for the season. They have to go back to that caliber of play if they hope to beat the Celtics.
Boston Celtics
Gordon Hayward
It is funny how quickly perception can change. Before the year began, the Celtics were seen as the second most talented and deepest rosters in the league. Months later, and their depth is an issue and their star former All-Star free agent signing from 2017 has struggled all season. Hayward showed promise in his first playoff game but he still shot just 33% from the field. Nearly every wing player for the Celtics has underperformed but the player that matters the most is the one that used to be in their "Big Three".
Oklahoma City Thunder
Paul George's Shoulder
Paul George needed to be dominant. The Thunder are tied for the worst three-point shooting percentage of any other playoff team and without Paul George, they would be averaging 33.3% on three-point attempts. This puts them second worst in the entire league, tied with the Lakers. In game one, Russell Westbrook, Paul George, and Dennis Schroder shot a combined 8/34 (23.5%) outside of the paint.
If Paul George is not right, the Thunder simply won't have enough shooting. As seen in Game Two.
Portland Trail Blazers
Enes Kanter Defense and Rebounding
Enes Kanter is not a good defender, he is, however, a good rebounder. He has led the league in offensive rebounding percentage twice and has an ORB% of 16% over the last four seasons. Only four other players who played 1,000 or more minutes have averaged an ORB% of 16% or higher in the last four seasons. Enes Kanter has done it three times in those four seasons,.
Kanter likely won't be able to keep up his adequate defense but he needs to keep grabbing a lot of offensive rebounds.
Detroit Pistons
Blake Griffin's Health
I am so sorry.
Milwaukee Bucks
Giannis' Improved Three-Point Shot
The Bucks have plenty of space and Giannis Antetokounmpo but when will a team commit to sticking on those four shooters, while dropping Giannis's man to near the paint. You can not stop Giannis from getting to the rack but you can make shooting from outside more enticing. Leaving him wide open while sticking closer on shooters may be able to stymie this offense just enough.
Utah Jazz
Guarding James Harden
Defending James Harden solely to his left side sounded like a good idea. It even looked like a good idea when the Milwaukee Bucks decided to try it out. However, Harden does not need many looks to figure a gimmick defense out. He now knows he can get into the heart of the paint whenever he wants. His floater has been all season as he has shot 48.8% and it looks identical to his alley-oop pass. Not to mention, he almost always finds the right man on the perimeter. As long as his teammates are hitting, the Rockets should have no problem beating the Jazz.
Instead of this woeful novelty, the Jazz should replicate the Spurs' way of defending Harden. Play him straight up, sticking on shooters, and giving him the middle of the floor. If you take away the three-point line and near the rack but as mentioned, Harden's floater is much better than it was when the Spurs flummoxed Harden into giving the Rockets an early exit.
Houston Rockets
Three-Point Shooting
27 missed threes in a row in route to losing a chance at the NBA Finals tends to put an emphasis on three-point shooting. James Harden will be marginally worse in the playoffs than he is in the regular season. This is known. He will still put up plenty of points and be the guiding force that leads them to wins but how his teammates shoot is crucial.
San Antonio Spurs
Amount of Threes
For much of the season, the Spurs went against conventional thinking and shot fewer threes to better their efficiency. Because of their two star players taste for the mid-range game, the Spurs picked their spots when it came to three-point shooting. They shot the fewest threes in the league but at the best efficiency.
Bottom 5 teams in 3PA ranked by 3PT%
Spurs – 39.2%
Clippers – 38.8%
Pacers – 37.4%
Bulls – 35.1%
Timberwolves – 35.1%
Now, the playoffs are dictated by three-ball and it will be interesting to see how the Spurs adjust. Can they keep hitting fewer threes for a higher percentage or will their lack of outside shooting haunt them? They maybe should start chucking to find out.
Denver Nuggets
Monte Morris
Monte Morris was an efficiency king this season and it has been his MO over the course of his career. Through two playoff games, however, Morris is shooting just 37.5% from the field and has only attempted two threes. His steadiness, shooting, and ability to lead the offense without turning the ball over was crucial for the Nuggets all season long. They need that season to include the playoffs.