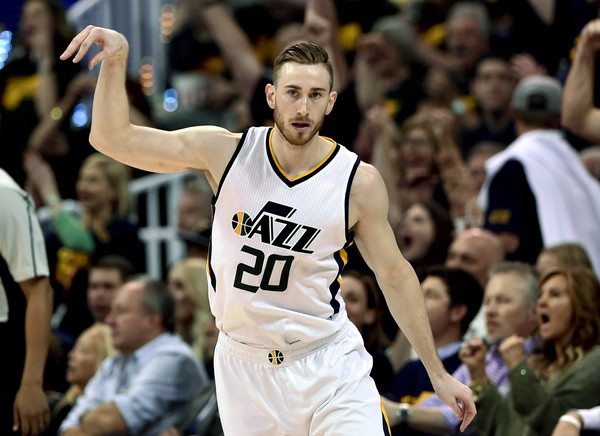 The most sought-after free agent of the summer has made his decision, Gordon Hayward signed a four-year max deal with the Boston Celtics. The Jazz made some moves to try and build a team around him. The Miami Heat cleared the books to sign the forward to a max deal. But it appears Hayward chose the team led by his college head coach Brad Stevens over the Heat and the Jazz.
Chris Haynes of ESPN had the initial report.
Free-agent Gordon Hayward plans to sign with the Boston Celtics, league sources tell ESPN.

— Chris Haynes (@ChrisBHaynes) July 4, 2017
Hayward's agent told Haynes' ESPN colleague Adrian Wojnarowski that a decision has not been made yet. It sent everyone into a tizzy for a few hours.
Gordon Hayward's agent, Mark Bartelstein, tells ESPN: "Gordon hasn't made a decision yet. We are still working through it."

— Adrian Wojnarowski (@wojespn) July 4, 2017
But Hayward ended up accepting the deal with the Celtics as he wrote in a Player's Tribune article.
As you can see, it's taken me a while, and thanks to everyone for their patience. I can't even begin to count the number of conversations I've had with my wife, Robyn, and the rest of my inner-circle, since the season ended, and all the way up to this evening — just going through every possible angle, in every potential direction.

My meetings with all three teams during this process — Miami, Boston and Utah — were just unbelievable. They couldn't have been more impressive. Each meeting left me convinced that the team I'd just met with was the right fit. And even after I slept on it last night, while I was leaning heavily in one direction … I still wasn't 100-percent convinced about what I wanted to do.

What's crazy is — before I even had a chance to make my decision, before I had a chance to sit down and write this, and before I even had a chance to talk about it with the people I love — I was already reading reports about where I was going. And I guess that's just the way things work, in 2017. But I'm sorry it had to work out like that.

This was a life-changing decision for me and my family, and something we took really seriously. And from the very start of this process, one thing stood out as important: I knew that I wanted the fans and the organizations to hear my decision directly from me.

After seven years in Utah, I have decided to join the Boston Celtics.
And Shams Charania of The Vertical has his contract number.
Free agent Gordon Hayward has agreed to a four-year, $128M deal with the Boston Celtics, league source tells The Vertical.

— Shams Charania (@ShamsCharania) July 4, 2017
Hayward is coming off of the finest season fo his career; he put up career-highs in points (21.9) and rebounds (5.4) per game. He also shot 39.8 percent from three-point land. His career year was exemplified by the fact that he participated in his first All-Star game and led the Jazz to their first playoff series victory since 2010.
Hayward was also tied for 20th in the league, and 6th among small forwards in box plus-minus at 4.2.
The former Butler forward is clearly a franchise player in this league, and with Hayward signing with the Celtics, he reunites with his former college coach Brad Stevens and the Celtics look like they might be able to pose a threat to LeBron James in a seven-game series. Interestingly, this is the anniversary of when the Celtics signed Brad Stevens as their Head Coach.