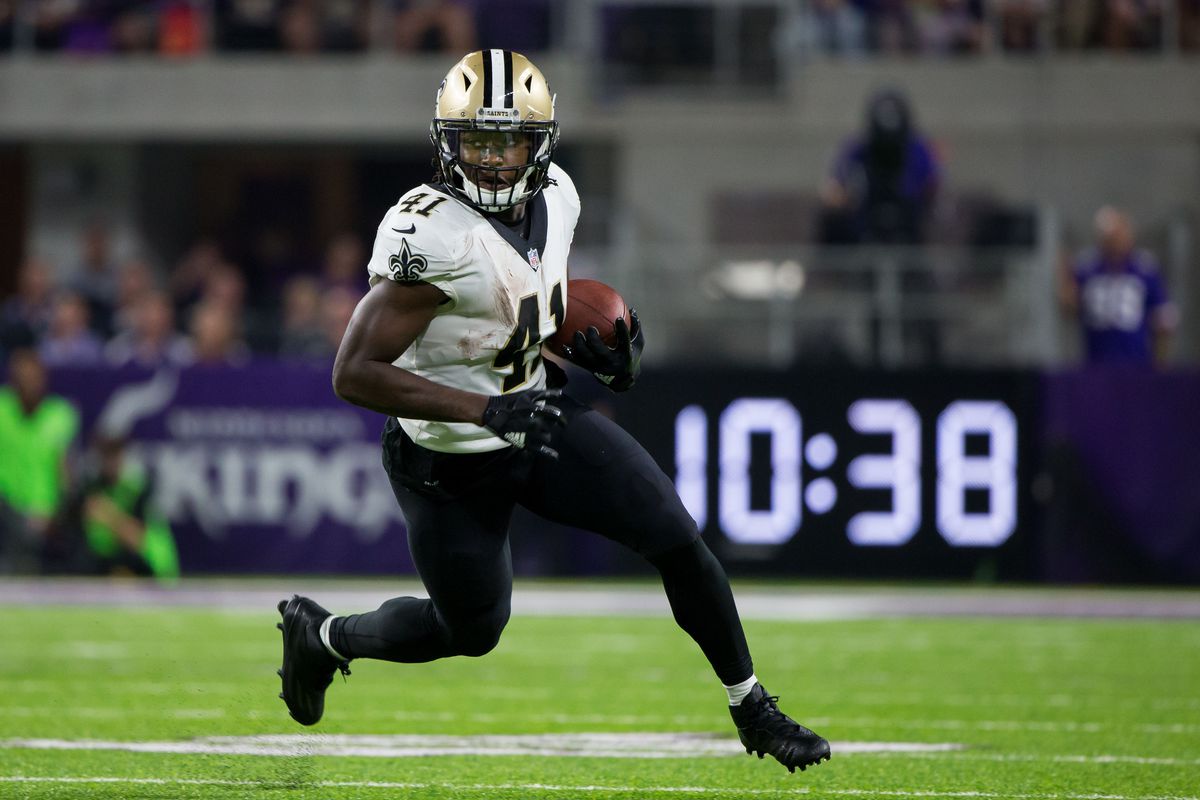 For the first time in several weeks, there's a new team atop these NFL Power Rankings. As a whole, there wasn't much meaningful movement in these rankings as opposed to previous weeks, but that doesn't make the NFL any less interesting. In fact, it's just the opposite: as the NFL gets closer to the playoffs, every game becomes increasingly important for a vast majority of teams in the league.
Def Pen's 2017 Week 14 NFL Power Rankings, Tier One: In a Comfortable Space
New England Patriots
Philadelphia Eagles
New Orleans Saints
Minnesota Vikings
New England (10-2) takes over the top spot for the first time this season. Maybe we held off too long in these NFL Power Rankings, but a combination of the Eagles recent loss, the Patriots steady play, and what feels like a really weak AFC outside of New England makes this move a pretty easy one.
The Eagles (10-2) don't drop too far in the NFL Power Rankings after losing to the Seahawks because 1) Philadelphia still is tied for the NFL's best record, and; 2) The Seattle games had a few weird twists (like Carson Wentz fumbling out of the back of the end zone trying to dive for a touchdown). Those weird games happen every now and again. However, the big worry in Philly would be that their record is inflated due to a blessing by the Scheduling Gods. The Eagles three toughest games this year came against the Chiefs (in Week Two – you know, when Kansas City was good), Carolina in Week Six (when the Panthers were still figuring things out), and this past week against the Seahawks. Only one of those games resulted in a victory for Philadelphia.
Like Philly, there's an argument that New Orleans (9-3) has benefitted from a relatively weak schedule. There's still no getting around that the Saints' defense is light years ahead of where most thought it'd be, and the running game – thanks to Alvin Kamara and Mark Ingram – might be the best in the league. For now, New Orleans holds steady, but they face a tough task this week in an Atlanta team that is desperate to hang onto its playoff hopes.
2017 NFL rookie rankings through Week 12https://t.co/exPUBRrEGI pic.twitter.com/PpeYRPHzoP

— Pro Football Focus (@PFF) December 2, 2017
Minnesota (10-2) had a nice win against the Falcons last week. But the Vikings only managed to score 14 points in that game. Minnesota's offense has looked untouchable at times but really pedestrian at other points in the season. Viking fans have to be worried about which will show up when it matters.
Tier Two: On the Brink, for Better or Worse
Pittsburgh Steelers
Carolina Panthers
Los Angeles Rams
Over the last two weeks, the Steelers (10-2) extended their winning streak, now at seven games. But, considering the games were against Brett Hundley's Packers and the hapless Bengals, plus the fact Pittsburgh won those games by a combined six points, it's not crazy to say the Steelers couldn't have possibly looked worse and still won. Outside of an up-and-down season from Ben Roethlisberger, it's hard to put a finger on what's missing here. Even with such a good record, it still feels Pittsburgh is achieving only realizing about 60% of their potential.
The highest graded WRs through Week 13 pic.twitter.com/1xixNm5e3P

— Pro Football Focus (@PFF) December 7, 2017
Of all the teams ranked this high in the NFL Power Rankings, Carolina (8-4) is on the thinnest ice. For starters, they're trailing New Orleans in the division standings, and have lost to the Saints twice, thus losing the tiebreaker even if the Panthers did manage to pull even. Additionally, Carolina faces a gauntlet of a schedule ahead: the Vikings this week, then Green Bay (in a game where the Packers might get Aaron Rodgers back), before closing the season with the Buccaneers and Falcons (in a game that might have a wild-card spot at stake.
The Rams (9-3) face Philadelphia at home and Seattle on the road the next two weeks. For now, L.A. hold steady in Tier Two of the NFL Power Rankings, but we'll wait to elaborate further until we see how they stack up against those other NFC contenders.
Tier Three: Playoff Hopefuls
Seattle Seahawks
Tennessee Titans
Jacksonville Jaguars
Atlanta Falcons
Baltimore Ravens
Buffalo Bills
Seattle (8-4) could be a week or two away from taking control of the NFC West. Which is really impressive considering the players they're missing due to injury and how they've had to reinvent their team on the fly.
The Titans (8-4) should be thanking their lucky stars that they play in the AFC South. It would stand to reason that in any other division, Tennessee wouldn't be in a position to make the playoffs … or at least their chances would be dramatically worse. At this point, though, it's hard to put any discernible distance in the NFL Power Rankings between the Titans and the team they're trying to hold off in one of the league's worst divisions.
As the Jacksonville (8-4) defense gets better and more confident, their offense keeps finding new ways to get worse. The Jaguars have been relatively successful this season despite playing with one of the NFL's worst starting quarterbacks. Now, what looked to a rookie-of-the-year-in-the-making season from Leonard Fournette has crumbled. The running back's performance bounced back a little last week after an atrocious showing a couple weeks ago (and a really weird one-game suspension a few weeks before that), but the Jags will need more if they hope to do any meaningful winning from here on out.
Atlanta (7-5) followed up one of their best games of the season with arguably their worst. Playing the Saints this week isn't exactly the confidence booster they need, either.
The Ravens (7-5) can make a little AFC noise this week if they can beat Pittsburgh on Sunday night and improve their playoff chances. However, a loss would be far from a death blow. Baltimore finishes up with Cleveland, Indianapolis, and Cincinnati. Still, it's hard to envision a scenario where the Ravens do anything in the postseason (if they get there).
Nine wins might be enough to get into the AFC playoffs, and Buffalo (6-6) has a pretty clear path to that number. They play Indianapolis this week, have two games against Miami left, with the only other opponent being division-leader New England.
Tier Four: Desperation Setting In
Green Bay Packers
Los Angeles Chargers
Kansas City Chiefs
Detroit Lions
Dallas Cowboys
Cincinnati Bengals
Washington Football Team
Arizona Cardinals
While it might not happen every year, once in awhile there's a team that is on the brink of being a total cross-off to hoisting the Super Bowl trophy at the end of the season (think of the New York Giants' recent Super Bowl years). With the prospect of getting Aaron Rodgers back next week, the Packers have potential to be one of those come-from-nowhere teams.
Warrior performance by Kenny Clark for the Packers yesterday on a bum ankle. Consistently disrupted the pocket. He's an underrated part of the GB def: pic.twitter.com/uOBH1u942g

— Alex Gelhar (@AlexGelhar) December 4, 2017
As a result of K.C.'s downfall (more on that next), the Chargers (6-6) rank a little higher in the NFL Power Rankings than they might otherwise. Despite a .500 record and still being in second place in the AFC West, it's far from ridiculous to consider L.A. the favorite to win the division.
We've been pretty stubborn in these NFL Power Rankings to move the Chiefs (6-6) down too far – after all, they're still winning the AFC West. But it gets more clear every week that Kansas City has completely forgotten how to play winning football.
As per (almost) usual, when the NFL season is done, we're going to look back on Detroit's (6-6) year and wonder: how in the world was this team not better?
Scanning the standings could trick somebody into thinking Dallas (6-6) has a better chance to make the playoffs than they actually do. The Cowboys are two games back, which makes things really difficult, but far from insurmountable. But, Dallas would need to jump four teams in the process, and that will prove next-to-impossible.
It feels like this week's game between Oakland (6-6) and Kansas City should tell us something about the trajectory of at least one of the teams involved. However, the Raiders' chances at the playoffs are considerably worse than the Chiefs, so there's not as much on the line for Oakland. Still, it'd be nice to see the Raiders give their fans something to feel good about before the team moves out of northern California.
The Bengals (5-7) are one of a few teams that need to take a lot of time this off-season to evaluate their entire franchise, from the top on down.
Washington (5-7) could probably benefit from a change of philosophy after this season. No other team in the past decade seems so intent on trying to win the off-season. That approach simply hasn't worked.
Although it's pretty clear Arizona (5-7) needs to add pieces around their core (especially at quarterback), the Cardinals stand to improve as much this offseason as any other team just by virtue of getting healthy. Specifically David Johnson, who they revolve their entire offensive approach around, and is one of the few NFL non-quarterbacks who could challenge for an MVP someday if healthy.
Tier Five: Hope for Next Year is Better than No Hope at All
Houston Texans
New York Jets
Houston (4-8) is another team whose potential can't accurately be judged until we see them at full strength. But it might be foolish to think getting Deshaun Watson and J.J. Watt back automatically makes the Texans a Super Bowl contender. It obviously doesn't hurt, but there's plenty of other holes in the roster.
The Jets (5-7) were a surprise this season, but sometimes the pleasant surprise seasons have collateral damage. In New York's case, a lower draft pick could mean the Jets miss out on an impact player that could really transform the entire franchise.
Tier Six: Worse than Previously Thought
Miami Dolphins
Tampa Bay Buccaneers
Chicago Bears
There's plenty of talented players on Miami's (5-7) roster. And they've paid dearly for some of it (Ndamukong Suh, et al.). The Dolphins might have been better off spreading that money out in order to focus on building depth rather than chasing big-name players.
Normally, it's probably best to build an NFL team independently of what other teams are doing. Tampa Bay (4-8) might be an exception to that rule. The Buccaneers need to figure out what they have to do to compete for the NFC South before they can focus on steps beyond that.
It'd kind of funny how NFL teams can change personnel over the years, but still, land in the approximately the same place. Doesn't it seem like Chicago (3-9) has relied on a strong running game and special teams while trying to figure out the quarterback spot for an entire generation?
Tier Seven: Where's the Bottom?
San Francisco 49ers
Denver Broncos
New York Giants
Indianapolis Colts
Cleveland Browns
When the 49ers (2-10) made the switch to Jimmy Garoppolo a few weeks back, we said we'd try to evaluate them in the NFL Power Rankings in different ways (pre- and post-Jimmy G.). Well, since then, San Francisco has looked quite a bit better in that time. So while it's hard to move a 2-10 team up too far, a modest improvement should be enough to provide Niner fans with some level of optimism going forward.
Denver (3-9) doesn't have anything to apologize to Von Miller for. After all, they put enough around him to win a Super Bowl. As it stands though, the Broncos are wasting the prime years of one of football's best players.
The highest graded edge defenders this season pic.twitter.com/rbBzlGKdFx

— Pro Football Focus (@PFF) December 7, 2017
The Eli Manning situation and offensive struggles of the Giants (2-10) in general have received the bulk of the attention this season, New York quietly has a lot of explaining to do on the defensive side. Coming into the year, that side of the ball was supposed to be reminiscent of dominant units of New York Giants past. It has been anything but, however.
It's really tempting to think a lot of the Colts' (3-9) problems will go away with a healthy Andrew Luck under center. Consider though: 1) Jacoby Brissett has been pretty decent; 2) No matter who's at QB, there's still a lack of offensive impact players aside from T.Y. Hilton, and; 3) Indianapolis has allowed the most points in the NFL.
The Browns (0-12) keep Browning.