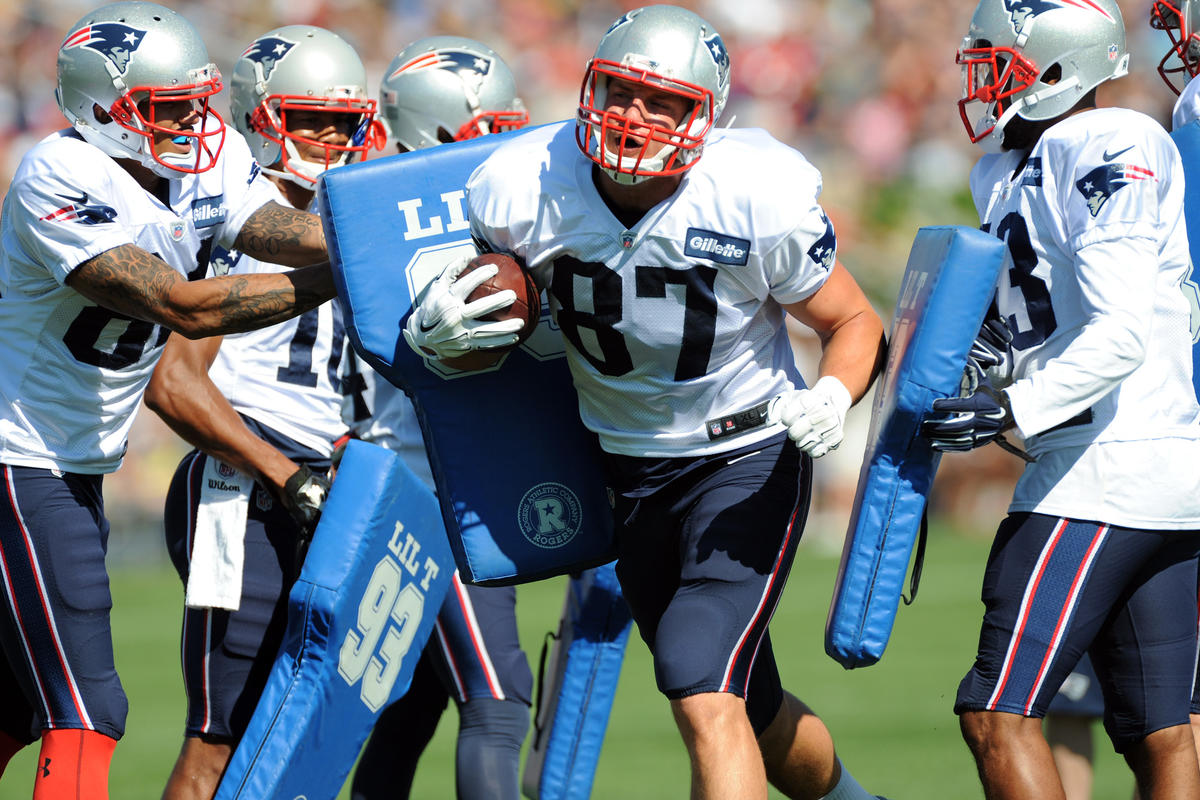 Over the past couple weeks, it feels like the NFL landscape has expanded further out, doesn't it? Which is to say: There's more of a distinction now between the good and bad teams than there was earlier. Especially considering that – with each week – the playoff picture grows into clearer focus. Even teams that have similar records, it would be foolish not to put the teams with clearer Eal paths to the playoffs high in these NFL Power Rankings. As a result, we're adding a seventh tier for the first time.
Def Pen's Week 13 NFL Power Rankings, Tier One: The Big Four
Philadelphia Eagles
New England Patriots
Minnesota Vikings
New Orleans Saints
It really doesn't matter what the Eagles (10-1) do from here on out. At least assuming they don't suffer a rash of injuries and/or totally go in the toilet. For all intents and purposes, Philly has the division locked up, and are the favorite to have home-field advantage throughout the playoffs on the NFC side. While the Patriots might have a chance for the top spot, the Eagles remain in the top spot in the NFL Power Rankings.
Since Bill Belichick has taken over in New England (9-2), it almost seems like the team has a sixth sense of knowing when to utilize certain aspects of their team. Anybody who's owned Rob Gronkowski in fantasy over the past couple seasons can tell you the Patriots keep him on football's version of a pitch count. Look for him to have a huge finish to the season, the Pats know he's the guy offensively that puts them over the top, and as the season wears down, the reigns are taken off.
The best teams in the NFL this year all run diverse offenses.

— Cian Fahey (@Cianaf) November 24, 2017
Outside of Philadelphia, it's crazy how interwoven the next-best NFC teams' schedules are. Especially the next few weeks. Example: the Vikings (9-2) and Saints both play the Panthers and Falcons the next two weeks, but in reverse order.
The Saints (8-3) have done a fantastic job this season getting to where they are. However, as noted above, they play the Panthers this week, then play the Falcons twice in a three-week span. It'll be fascinating to watch how New Orleans positions itself over that time.
Tier Two: The High Risk/High Reward Group
Pittsburgh Steelers
Los Angeles Rams
Carolina Panthers
The Steelers (9-2) needed every second (and a couple breaks) to beat the Aaron Rodgers-less Packers. That doesn't speak too well for Pittsburgh, but they're still a very dangerous team. Of all the teams that appear at the top of these NFL Power Rankings, it seems like the Steelers might be the team that is capable of beating anybody but also losing to anybody.
The Rams (8-3) have been one of the biggest surprises of the season. But with each win, their spectacular season is less and less of a surprise. They need to be careful though, being a pretty young team with Seattle still on their heels for the top NFC West spot, L.A. still doesn't have any room to take their foot off the pedal.
Our highest graded rookie WRs in 2017 pic.twitter.com/C3J3LSbaXb

— Pro Football Focus (@PFF) December 1, 2017
Carolina (8-3) is the highest-ranked non-division-leading team in these NFL Power Rankings. They have (smartly) settled into the NFL's premier win-ugly team. And that suits them very well. The elephant in the room though is their performance is almost entirely dependent on the health of Cam Newton and Luke Kuechly. If both are right, Carolina can be as good as anyone. But that's some thin ice to skate on.
Tier Three: Well Positioned, but with Holes
Tennessee Titans
Jacksonville Jaguars
Seattle Seahawks
Atlanta Falcons
Kansas City Chiefs
Tennessee (7-4) needs to take care of a golden opportunity to stack up some wins the next couple weeks as they play the Texans, Cardinals, and 49ers the next three weeks. After that, they play the Rams and Jaguars. If the Titans play well, the Week 17 game against Jacksonville doesn't have to have the division at stake.
Jacksonville (7-4) won't make it easy on the Titans, though. The Jaguars' schedule isn't any tougher than that of Tennesee. They have the Colts, Seahawks, Texans, and 49ers before getting the Titans at home the last week. But, in comparison to the Titans, the Jags' position seems a little more volatile based on unsteady QB play and the fact that Leonard Fournette's performance hasn't just come crashing back down to earth, it's kind of a mystery what's all went wrong with the rookie RB between being an active scratch for missing team activities and poor on-field play.
Sometimes it can be a little laughable how individual awards (MVP) can be tied to team performance or vice-versa. But if the Seahawks (7-4) make the playoffs, it will be hard not to draw a direct correlation between the play of Russell Wilson. In the past, the QB has benefitted from an elite defense and running game. Those areas of the game are both offering a fraction of the production they once did in Seattle. For maybe the first time, Russell Wilson is relied upon to – almost single-handedly – carry an NFL team. And he's doing so with great success.
Despite a roller coaster of a season so far, the Falcons (7-4) are still hanging onto a wild-card spot. Plus, Julio Jones just had his most dominant performance of the season. Things are trending well in Atlanta, and it looks like they might overcome the purported Super Bowl hangover. Talk of the Falcons demise appears to have been greatly exaggerated.
NFL QB Rankings by PFF grade after Week 12https://t.co/I4voeL66vx pic.twitter.com/orrJ1nAk9S

— Pro Football Focus (@PFF) December 1, 2017
Leading into – and even a few weeks after the start of – the season, the AFC West looked like the NFL's deepest and most competitive division. But now it's devolved into the somebody-has-to-win-it zone. The Chiefs (6-5) still (somehow?) are the leader to be that somebody, but they've looked like a pretty bad football team over the course of the last six weeks (five of which resulted in loses).
Tier Four: Fingers Crossed
Baltimore Ravens
Buffalo Bills
Detroit Lions
Despite having a couple dominant, shutout performances under their belt this season, the Ravens (6-5) have shown a propensity to play to the level of their competition. That doesn't bode too well for them, considering every game from here on out is a must-win if they hope to make the postseason. Plus, their next two opponents are the Lions and Steelers. To be sure, Baltimore's standing in the NFL Power Rankings is on shaky ground.
Give credit to Tyrod Taylor for not letting the ultimately worthless move to Nathan Peterman tank the Bills season. It would have been easy – if not human – for Taylor to make a mess of the situation when the franchise turned its back on him. However, with Taylor (back) calling the signals, the Bills still are etched into the playoff picture.
Detroit (6-5) only has one opponent left on its schedule that has a winning record (which is Baltimore, who the Lions play this week). Although Detroit needs help to make the postseason (specifically, they need the Falcons and/or Seahawks to lose) they can do themselves the biggest favor by taking advantage of their schedule.
Tier Five: Facing an Obstacle-laden Path Forward
Green Bay Packers
Los Angeles Chargers
Dallas Cowboys
Washington Football Team
One more loss will be the season's death nail for the Packers (5-6). But Brett Hundley looked vastly improved last week and looked like he may be turning a corner to being a productive quarterback. It also looks like Green Bay will get Aaron Rodgers back as soon as he's eligible to come off I.R. The Packers still have the potential to be the monkey wrench in the NFC playoff picture, though they're in desperate need of help in the form of teams ahead of them losing and the health of their own squad.
Who would've tough three weeks into the season that'd we'd reach a point the Chargers (5-6) have a chance to win the AFC West? They can do just that. Look for the Chargers to do just that now that Kansas City has lost all ability to win football games. Also look for L.A. to vault ahead of teams that now rank ahead of them in the NFL Power Rankings. Still, at this point, a team with a losing record can only be placed so high.
Even if the Cowboys (6-6) can build off their win in the Week 13 opener against Washington, they still face a tall task to get into the postseason. It just doesn't look like it was meant to be this season in Dallas.
How much Zeke has meant to Dak: pic.twitter.com/fwPAyXO6ZK

— Adam Schefter (@AdamSchefter) November 26, 2017
Tier Six: The Best Bad Teams
Washington Football Team
Cincinnati Bengals
Arizona Cardinals
Houston Texans
New York Jets
Tampa Bay Buccaneers
Denver Broncos
Chicago Bears
The juxtaposition of how good Kirk Cousins has been this season as compared to how relatively bad the rest of Washington's (5-7) offense has been this season. The intrigue won't stop when the season does tho, as this team faces very tough questions surrounding its player personnel, namely Cousins and his contract situation.
Cincinnati (5-6) might be in the NFL's most precarious situation. They seem legitimately stuck between figuring out if they're a team that has building blocks to eventually round out into a competitive team or being one in desperate need of a top-to-bottom (or even bottom-to-top) rebuild.
Even though this season is all but lost in Arizona (5-6), if the Cardinals can find a good quarterback to move forward with and put together a good draft this off-season, it wouldn't be all that surprising if this team was back in contention next year.
The same line of thinking laid out above in regards to Arizona could also apply to the Raiders (5-6). However, Oakland (soon to be Las Vegas) faces more questions than the Cardinals. Specifically, can Derek Carr and Amari Cooper get back to playing like the impact players they once were?
If healthy, the future version(s) of the Texans (4-7) can make a run at being the top team in the AFC South. But at some point, isolated instances become a trend. It's a legitimate question to wonder if J.J. Watt can get back to the same player he was when he was regarded as the best player in all of football. Plus, their other defensive star, Jadeveon Clowney, only has one year remaining on his contract. It's imperative Houston keeps its core healthy and intact. But they can only really control one of those aspects.
Even though the New York Jets (4-7) have a losing record, they're nowhere near as bad as most expected. That's reason for optimism. But the Jets are still in need of impact players (and depth in general) across the board.
On paper, Tampa Bay (4-7) has a really intriguing roster. But that hasn't translated to on-field success, even when they were relatively healthy. How many more seasons will the Buccaneers be content to run it back and field virtually the same team year in, year out before they're forced to make big, uncomfortable changes? The gap between talent and standing in the NFL Power Rankings might be greatest in Tampa.
The trajectory of the Denver Broncos (3-8) is fascinating. They've plummeted down the NFL Power Rankings over the course of the season, and John Elway's plan to build a contender while settling for mediocre QB play has backfired on him this season in spectacular fashion.
Chicago (3-8) can at least explain away the poor season. While no franchise plans on losing, the Bears used this season to build a foundation for seasons to come. Whether or not that foundation is stable or not remains to be seen.
NFL Power Rankings, Tier Seven: The Broken
Miami Dolphins
New York Giants
San Francisco 49ers
Indianapolis Colts
Cleveland Browns
Miami's (4-7) season, despite a couple nice wins, has been a total disaster. Only the Browns (at -123) have a worse point differential than the Dolphins (-115). That has to be the measuring stick by which Miami evaluates their roster. And if they can't properly evaluate what they currently have in the locker room, it will be impossible for the franchise to move forward in a winning manner.
It seems like the Giants (2-9) move to Geno Smith at QB is a misguided attempt to figure out what's wrong with the team. Getting some impact players (Odell Beckham Jr.) healthy for next season is a start, but this is a team that needs so much more beyond health.
San Francisco (1-10) at least seems comfortable with who they are at this point. Now that they've moved to Jimmy Garoppolo at quarterback, it's fair to evaluate the 49ers a bit differently from here on out than we have up until this point. Either way though, there's no getting around the fact that they've been terrible this season.
The Colts (3-8) rank below the 49ers – despite a better record – simply because there's no way around it: Indianapolis missed its mark by more than any other team in the NFL this season, with the possible exception of the New York Giants. To make matters worse, it seems like Indy still has room to fully bottom out, whereas other teams (like San Francisco) can at least hope to start trending up.
The more losing Cleveland (0-11) does, the more pressure management has to right the ship with every ensuing off-season. No franchise has tried to turn the page more often than the Browns over the past decade. That leads to players, coaches, and management to try and find short-term fixes to achieve some measure of job security. But the impatience ownership has shown to let one regime see its vision though keeps setting the organization back. And every time you think it can't get any worse in Cleveland, they find new ways to achieve new lows. Look for the Browns to only marginally – if at all – move up the NFL Power Rankings even beyond this season.