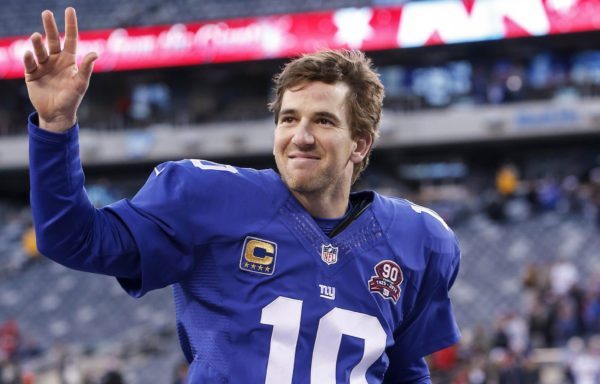 The end of an era is coming in New York. The New York Giants have decided to bench Eli Manning and start Geno Smith in his place. Adam Schefter shared the news on Twitter.
Giants named Geno Smith their new starting QB.

— Adam Schefter (@AdamSchefter) November 28, 2017
This news marks the end of Manning's incredible run with the Giants. Manning has been the starting quarterback since 2004.
Eli Manning has started every Giants game since Nov. 21, 2004, a streak of 210 consecutive games. Streak ends Sunday, 87 games short of Brett Favre's record.

— Adam Schefter (@AdamSchefter) November 28, 2017
Today is the official start of the end of Eli Manning's time with the Giants.

— Adam Schefter (@AdamSchefter) November 28, 2017
Needless to say, Manning was extremely emotional when talking to the media.
Eli Manning fight back tears. Almost crying, tough to see #Giants pic.twitter.com/cHRTZYEXK4

— Pat Leonard (@PLeonardNYDN) November 28, 2017
Geno Smith will start on Sunday. Smith has had a rough time so far in the NFL. He was originally drafted in 2013 by the New York Jets and is 12-18 as a starter. He has seen very little NFL action since the Jets decided to start Ryan Fitzpatrick when Smith was out with a broken jaw.
Manning's run with the Giants has been an incredible one. He helped bring two Super Bowls to New York, one in 2007 and another in 2011. Manning has over 50,000 yards passing, a 60% passer rating, and over 300 touchdowns.
It is no secret that the Giants season has been disappointing. The Giants came into this season with high hopes to build on an 11-5 record. Instead, the Giants have fallen to a 2-9 record and are last in the NFC East.
This could possibly be the end of Manning's time in New York. Head Coach Ben McAdoo said that this was not the end for Manning and the Giants, but it is hard to see how Eli would be willing to come back and start. If Eli is released, then he would make an interesting pickup for teams in search of a quarterback. He may be old, but I believe Eli still has a little left in the tank.