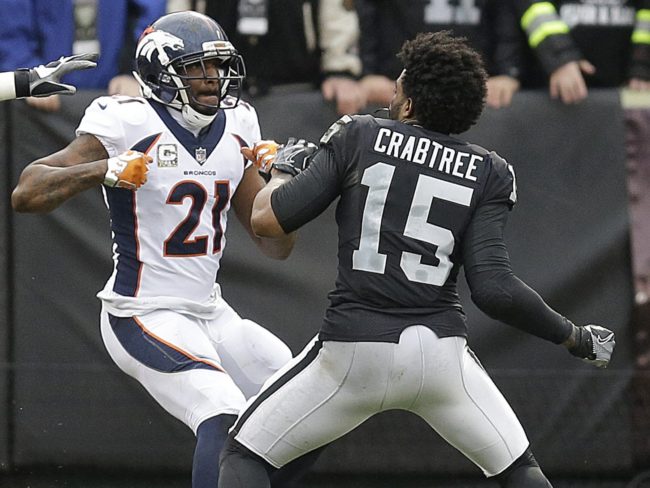 Michael Crabtree and Aqib Talib both have had their suspension reduced from two games to just one. Adam Schefter reported the news of the reductions on Twitter.
Michael Crabtree suspension reduced to one game, per source.

— Adam Schefter (@AdamSchefter) November 29, 2017
NFL also reduced Aqib Talib's two-game suspension to one game, per source. So both players will serve one game.

— Adam Schefter (@AdamSchefter) November 29, 2017
The feud between these two players intensified this past Sunday. Both Crabtree and Talib tangled with one another on the sidelines. The scuffle escalated and other players became involved.
Broncos and Raiders fight inspired by Aqib Talib and Michael Crabtree pic.twitter.com/I0rcqi5pIm

— Nick Bromberg (@NickBromberg) November 26, 2017
Last year, Talib ripped off a gold chain Crabtree was wearing around his neck. Crabtree had taped his chain to his body in preparation that Talib may try to do it again.
Tensions may be running high between these two players, but also within the two teams. The two rivals currently sit in the bottom tier of the AFC West. The Oakland Raiders currently have a 5-6 record and the Denver Broncos a 3-8 record.
Neither team has had the season that they wished. Many picked the Raiders to win the division and the Broncos had a winning record last season.
Both teams will try and move on this Sunday without their star players. If anything, this will lead to another interesting confrontation between Crabtree and Talib when the two meet in the future. Talib will return against the Jets and Crabtree against the Chiefs December 10.