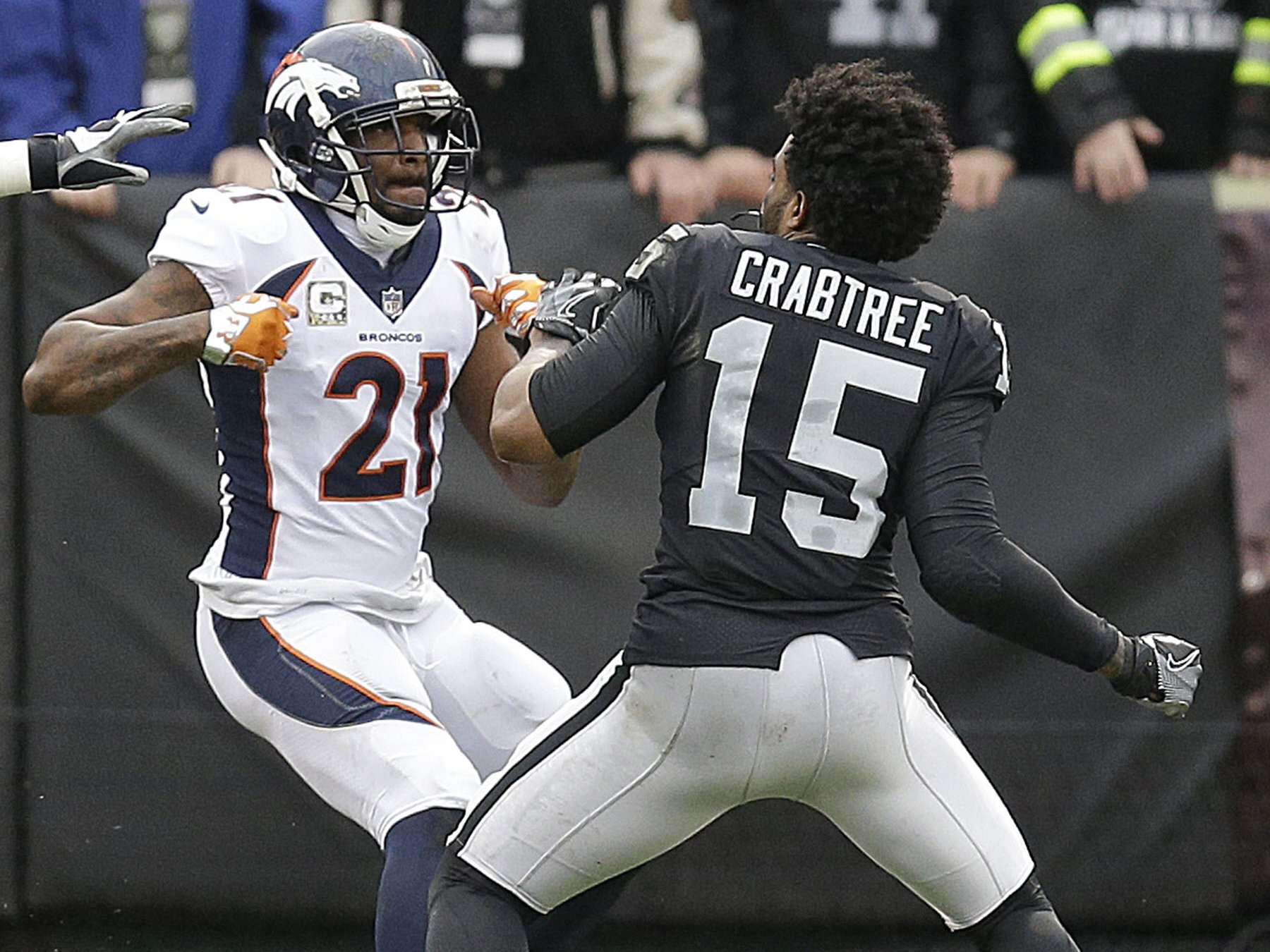 Gas was thrown on the ever-flaming rivalry between the Denver Broncos and Oakland Raiders on Sunday. The Broncos and Raiders players fight that took place on late Sunday afternoon led to the ejections of Oakland Raiders WR Michael Crabtree, OG Gabe Jackson, as well as Denver Broncos CB Aqib Talib. This is only the latest in a series of altercations between Talib and Crabtree.
Michael Crabtree and Aqib Talib both ejected for fighting in old-fashioned, Raiders-Broncos style.

— Adam Schefter (@AdamSchefter) November 26, 2017
The scuffle began when Crabtree was blocking Talib and the players, still engaged, left the field of play and onto the sidelines. It appeared as though Talib either fell backward or was taken to the ground by Crabtree, but the Raiders wide receiver was pulled to the ground along with the Broncos corner. While the players were engaged, Talib ripped the gold chain Crabtree was wearing off. This is the second time Talib has done that to Crabtree.
Broncos and Raiders fight inspired by Aqib Talib and Michael Crabtree pic.twitter.com/I0rcqi5pIm

— Nick Bromberg (@NickBromberg) November 26, 2017
Last season when the two squads squared off, Crabtree had a gold chain he was wearing underneath his pads exposed, and Talib ripped it off.
As the two players hit the ground along the sideline on Sunday, Talib rolled over on top of Crabtree, but by then several other players on both teams were at the scene to pull the players away from each other.  As tempers appeared to be cooling, Crabtree started jogging back to his sideline, only to loop back to where Talib was standing. By then, Crabtree was no longer wearing a helmet and Talib swung his left arm and narrowly missed punching Crabtree in the face. Immediately following the thrown punch, it looked as if Crabtree poked Talib (still wearing his helmet) in the eye. Crabtree then threw a missed punch of his own before the players were separated for good.
While order was eventually restored, it seems pretty obvious that the NFL league office will hand down additional punishments. In the days ahead, it seems assured that something in the way of suspensions or fines will follow the Broncos and Raiders players fight.