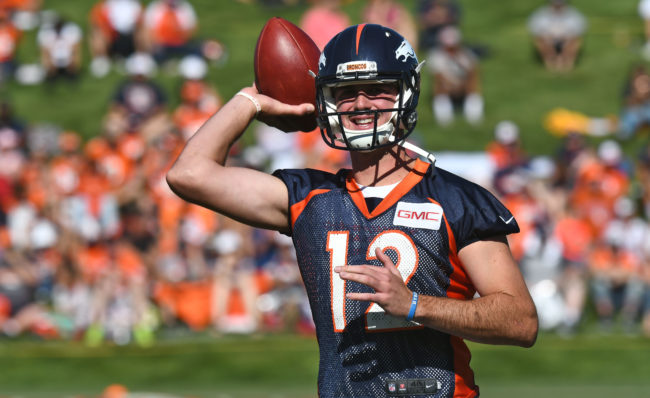 The Broncos won the Super Bowl in 2015 but failed to even make the playoffs the following year. Denver made some questionable coaching hires. Vance Joseph is the new head coach in the Mile High City (I have big time reservations on this hire). They even let defensive guru Wade Phillips walk out the door. For an offense that overachieved with Gary Kubiak, I'm not sure what their ceiling is without him. With questions swirling around the Denver Broncos, what should you keep an eye out for during training camp in 2017?
3 Position Battles To Watch:
Quarterback: Paxton Lynch, Trevor Siemian, Chad Kelly
Paxton Lynch was taken in the first round of the 2016 draft with the expectation the job would be his in a year. Now with Siemian proving to be capable, Denver may want to wait another year as Lynch develops. Remember, Lynch was super raw coming out of Memphis and could really use more time, especially with a new offense being installed. Don't forget about Chad Kelly either who could be the most talented of the bunch. He just gets in trouble too often to be counted on.
2. Running Back: C.J. Anderson, Jamaal Charles, Devontae Booker, De'Angelo Henderson
It's a crowded running back group in Denver. I expect the team to keep all four players, but playing time is a question mark. Charles is the real x-factor if he is able to recapture the magic he had with the Chiefs. Health will obviously be the determining factor for Charles. Anderson and Booker split time in 2016 and will likely continue at a similar rate.
3. Tight End: Virgil Green, Jake Butt, Jeff Heuerman, AJ Derby, Henry Krieger-Coble
This is a game packed tight end group. Not just that, I was a fan of all of these recent draft picks except for Heuerman who is virtually a blocking tight end only. For fantasy implications alone, this group is must watch TV. Butt may take some time to get on the field recovering from the torn ACL but is the best of the bunch.
Ready To Breakout: Bradley Roby
Roby is kind of the third wheel in the corner room with Aqib Talib and Chris Harris. Entering year four, Roby could become a dominant corner in his own right. Having five career interceptions during that time, Roby has shown the ability to create plays. Entering the fourth year, Denver has to make a choice to pick up the 5th year option.
Rookie To Watch: Garett Bolles
You won't find many nastier players than Bolles. Bolles will take the reigns at the left tackle spot and hope to become the franchise left tackle. At 25, the former Utah product can step in right away. Bolles is a polished pass protector but needs to improve on his run blocking as an undersized player.
Fantasy Sleeper: Carlos Henderson
The third wide out job in Denver is begging to be had. Henderson was taken in the third round and could fill in the slot job with plus speed. Henderson comes from a small school in Louisiana Tech and may take time to develop. If he's ready, look for a productive season.