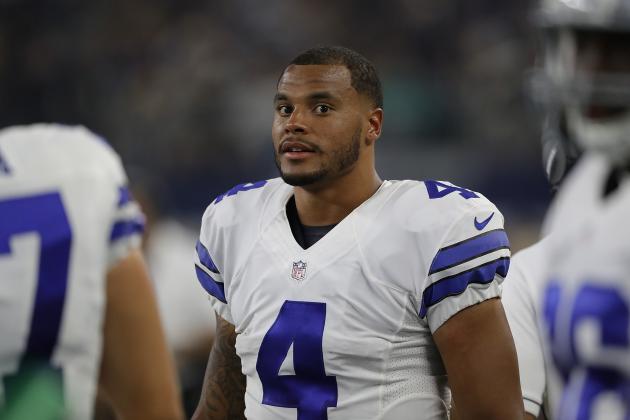 There isn't a whole lot of movement in the NFL Power Rankings compared to last week. But that doesn't make things any less interesting. More than any league, the NFL can turn on its head at any given time. However, the playoff picture is coming into clearer focus, creating more distinct breaks between tiers. Here's where we stand as of right now:
Def Pen's 2017 Week 10 NFL Power Rankings, Tier One: Soaring Above the Rest
The Eagles keep on rolling. After (perhaps too much) hesitation, Philadelphia has the top spot all alone. A few interesting games for Philly coming up after this week's bye: at Dallas, then after a home game against Chicago, road games against the Seahawks and Rams.
Tier Two: Next Best
Los Angeles Rams
Kansas City Chiefs
Pittsburgh Steelers
New England Patriots
New Orleans Saints
One of the best arguments for the Rams being a real contender is how they take care of business against clearly weaker teams. In a parity-driven league, even good teams get suckered into playing down to the level of competition.  Not the Rams though, which is in part the reason they rank so high in the NFL Power Rankings.
I feel that in all this election talk we are missing the most important story which is that the Rams are No 1 in DVOA and that is insane.

— Aaron Schatz ? (@FO_ASchatz) November 8, 2017
Coming off three losses in four weeks begs the question: Has the NFL figured out the Chiefs offense? Forcing Kansas City to be a nickel-and-dime offense neutralizes their big-play ability. And maybe some of their young players are hitting a bit of a wall in the season. Whatever it is, the hot start affords the Chiefs some safe space, but they need to figure out a better way forward than they've shown the past few weeks.
Pittsburgh gets some extra credit by virtue of a bad division. Somewhat surprisingly, it is the Steelers defense that has been carrying them. The unit hasn't given up more than 15 points the last three weeks.
New England is riding a four-game winning streak, but much of that can be attributed to a weak portion of the schedule. Wins against the Buccaneers, Jets, Falcons, and Chargers don't move the needle a ton, but it does set up the Patriots nicely to once again have a leg up on home AFC playoff games (and a high spot in the NFL Power Rankings).
The highest graded QBs through 9 weeks pic.twitter.com/0Y3aAdvDUi

— Pro Football Focus (@PFF) November 11, 2017
In the NFC, only the Vikings defense has given up fewer points than New Orleans. The emergence of the Saints defense is one of the most surprising developments of the season.
Tier Three: Not Exactly Where They'd Like
Seattle Seahawks
Carolina Panthers
Dallas Cowboys
Buffalo Bills
Minnesota Vikings
Tennessee Titans
Jacksonville Jaguars
Atlanta Falcons
Though the Seahawks maintain a winning record, they easily could have five losses. Seattle has pulled off some ugly wins this season. The only game in which they looked impressive all around was a 46-18 victory against the Colts. But that game happened so long ago we actually thought there was a chance Andrew Luck might play in it beforehand.
Carolina has a home game against the Dolphins and a game versus the Jets in New York standing in the way of a battle in New Orleans for NFC South supremacy.
It appears as if the Cowboys might finally have to find an offensive identity without Ezekiel Elliott. Dak Prescott has been really great this year, but if defenses don't have to respect the run as much, cane Prescott continue at an MVP-caliber pace?
The Bills are positioned for a playoff berth, but there's bound to be obstacles along the way. There's a legit argument to make that this week's home game against the Saints is the biggest game in Buffalo in years.
The prospect of Teddy Bridgewater making it back into the lineup this season is really intriguing, to be sure. But Minnesota's best win is still a 29-19 victory over New Orleans. That was in Week One.
Up until last week, the Titans, Jaguars, and Texans all appeared together in the NFL Power Rankings. A jumble of AFC South-ness. Safe to say Houston took a dramatic step back after the Deshaun Watson injury (hence their drop). Tennessee might boast a better and more consistent all-around roster, but the Jaguars' defense continues to ascend, and so does Jacksonville's chances to get into the postseason.
Atlanta hosts Dallas this week and goes to Seattle next. One loss – much less two – in those tough games could be a death blow for the Falcons' season.
Tier Four: Not Great
Detroit Lions
Washington Football Team
Baltimore Ravens
Houston Texans
Los Angeles Chargers
Denver Broncos
New York Jets
Green Bay Packers
If the Lions don't get into the playoffs this year, it should be considered their worst collapse (which is saying a lot). As of right now, Detroit doesn't play a team with a winning record from here on out with the sole exception of a Week 12 home game against Minnesota.
The NFC East will be lucky to get one wild card team. That particular division certainly isn't getting two. Having to leapfrog Dallas may prove a tough task for Washington.
Baltimore could wiggle back into the wild card picture over the next couple weeks. They're definitely catching upcoming opponents – Packers and Texans – at the right time(s). But the Ravens just seemed destined for 7-9, maybe 8-8.
For Oakland, a team with high expectations in a tough division in a city desperately trying to hang onto its football team (or at least see a winner before it leaves) with the inherent risks of an NFL season has proved to be a pretty toxic mixture. The Raiders continue falling down the NFL Power Rankings.
Just about every season, it looks like the Texans get closer and closer to being a legit contender. But every year, something goes horribly wrong and leaves Houston with more questions than answers. While some big questions (namely surrounding the QB spot) were answered at least temporarily, this season has proved as perplexing for the Texans as any other.
The Broncos and Chargers show the importance of sample size. Early on, Los Angeles was on its way towards disaster by virtue of losing close games, and Denver looked like it had just enough quality QB play to pull out those close games. Things have normalized, L.A. has won a few and Denver the opposite. Now they're the same 3-5, and much closer to the bottom of the NFL Power Rankings than the top.
Last Thursday's game between the Bills and Jets was kind of a weird game (even for Thursday night). New York pulled out another unexpected win though and continues to move up the NFL Power Rankings.
Watching Packers football without Aaron Rodgers is depressing. Who knew he had such an impact on the defense? That's kind of a rhetorical question, but when the offense can't convert a third down, it puts the defense in positions to fail.
If Packers fans want to be mad today be mad at the dudes who entrusted the season in Brett Hundley and then did nothing to help him.

— Cian Fahey (@Cianaf) November 10, 2017
Tier Five: The Wheels Are Off
Tampa Bay Buccaneers
Miami Dolphins
Chicago Bears
Arizona Cardinals
Cincinnati Bengals
A couple winnable games coming up for Tampa Bay (the Jets and Dolphins), but little has gone right for the Buccaneers this season. Usually, when the NFL tide fades this far away from a team, it takes a full offseason to correct itself. Tampa Bay desperately needs to figure out the right course of action to be successful next season.
Early on, Miami pulled something of a sports miracle by maintaining a winning record despite numbers that suggested they were way worse than their wins and losses suggested. The Dolphins have regressed to the mean and became what they are: a bottom-10 team.
I've started to remember free-agent classes by where I was that day. "Oh, Kenny Stills was traded in 2015. I know because I was at my ex-girlfriend's apartment."

— Robert Mays (@robertmays) November 8, 2017
Chicago has shown a propensity to muck games up. The upside to that style is it keeps games close. The downside is they just don't have the talent and experience to win games late on a consistent basis. Over the next few weeks, the Bears could seriously damage any optimism around Green Bay and Detroit. Those two contests are followed with a matchup against the Eagles. All three pretty fascinating games regarding how competitive Chicago will be.
Arizona and Cincinnati each came into the season with playoff expectations. But both now have plenty of issues. And those issues start with the quarterback position. Even beyond this season, the future does not project well for either the Cardinals or Bengals, barring a revelation at QB.
Tier Six: Getting Comfortable in the Basement
New York Giants
Indianapolis Colts
San Francisco 49ers
Cleveland Browns
Even though the Giants have had more than their share of major injuries, their season never got on the right track. For a team with such high expectations prior to the season, New York's front office must be asking how they misevaluated their own team so badly. It's starting to look like changes will start with an overhaul of the coaching staff. How much further will it go?
The Colts have been a mess for a while. They're a mess currently. They will continue to be a mess.
San Francisco plays a rare game in which they have a legit chance to win (against the Giants). But would a win delay the switch to Jimmy Garoppolo? Surely the 49ers want to give their newly-acquired QB a look before the season's up.
All that's left for the Browns is to perhaps pull off an upset this season. Otherwise, they're right on pace for top pick in the NFL Draft. And maintain the very bottom spot of the NFL Power Rankings. Rinse, repeat.