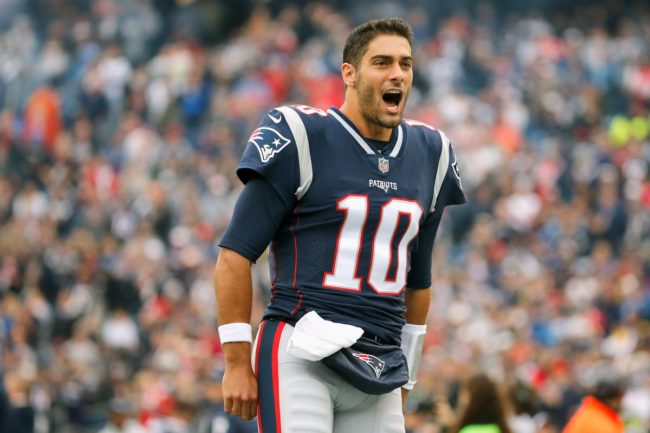 Adam Schefter can normally take the NFL trade deadline off because, well, nothing major ever happens. This year we have already seen a flurry of moves that have already changed the NFL landscape. This year, it appears the NFL has taken the MLB trade deadline approach where teams are either in go for it mode or ready to sell for draft picks. In each of the major NFL trade deadline deals, I have given a grade to how the team faired in that particular deal. Who won the 2017 NFL trade deadline?
Texans acquire Jeremy Lane, 2018 5th round pick, 2019 2nd round pick:
Seahawks acquire Duane Brown:
Texans Grade: A
The Texans have dumped valuable draft capital in recent trades including the Brock Osweiler salary dump deal and moving up in the draft to select Deshaun Watson. Replenishing two draft choices was a must for Houston considering they are without a first or second-round pick in the 2018 NFL Draft. The fifth-rounder this year gives them some extra ammo in 2018 while also adding a very valuable selection in 2019.
Houston already has some pretty dynamic cornerback depth with Jonathan Joseph, Kareem Jackson, and Kevin Johnson. Adding Lane is a throw in but isn't a bad fourth corner at all. Lane, 27, has two career interceptions.
The obvious downside to this trade is losing an All-Pro left tackle of course. Brown had one year left on his deal after this season worth $9.75 million. Then again, Brown held out for eight games to start the year and was seeking a new contract. Brown, 32, realistically has about 3-4 good years left and has battled injuries for a majority of his career. For a player that wasn't necessarily happy in Houston to yield some high draft choices is a win for the Texans. The challenge is now replacing him next year when Deshaun Watson has this team moving towards Super Bowl contention in the near future.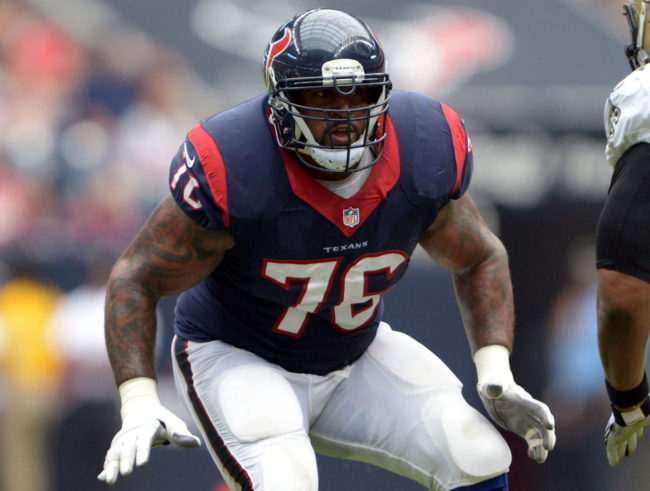 Seahawks Grade: C+
Seattle is in go for it mode and you can't knock them for doing so. After already dealing away their 2018 2nd rounder for Sheldon Richardson, Seattle one-upped themselves dealing for Brown. Seattle essentially had no chance of winning a Super Bowl with their anemic offensive line but now they do.
Russell Wilson has been carrying this franchise with no running game, a bad offensive line, and an average receiving core. Protecting Wilson should have been imperative all along and something Seattle has oddly ignored in recent years. Brown gives the Seahawks a franchise left tackle and restores this unit to very respectable. Now we just have to tell Seattle to find a running back that can actually gain a yard, not those scrubs Eddie Lacy or Thomas Rawls that need to be cut immediately.
*UPDATE: Jeremy Lane failed his physical. The Texans will now receive a 2018 third round pick along with a 2019 2nd round pick. Duane Brown and a 2018 5th round pick will head to Seattle. New grades have been written above.
49ers acquire Jimmy Garoppolo:
Patriots acquire 2018 2nd round pick:
Patriots Grade: D
Bill Belichick has been a terrible general manager the past two years, there's really no way of saying otherwise. Name one player under the age of 25 you would love to start your franchise with that the Patriots have? You can't because they have no young talent. Belichick lost the Brandin Cooks trade as I predicted in the offseason. Why are the Saints making a resurgence? Because they found an offensive lineman that can protect Drew Brees in that Cooks deal. How about when Belichick threw a boatload of cash at Stephon Gillmore who has been nothing short of terrible during his Patriots tenure. Can I remind people that Belichick also gave away Chandler Jones and then flunked the draft the past two years? Really I could go on all day, Tom Brady is the only thing holding this franchise together.
Belichick also gave away Jacoby Brissett for Phillip Dorsett who is absolutely worthless. Why is that important? Well, now the Patriots don't have a backup quarterback. It's pretty easy to see what Belichick is doing; when Tom Brady retires, Belichick will follow suit. That's the only reason any of these moves make partial sense. Instead of flipping Jimmy G in the offseason for a treasure chest of picks, the Pats settle for what's likely to be the 33rd or 34th pick in the NFL Draft. With Jimmy G set to hit free agency next year, New England had no choice but to trade him at some point considering they couldn't pay both quarterbacks for around 50 million total next year. He messed up big time but not dealing him this offseason when teams were more desperate. Howie Roseman, a guy who is a real GM, flipped that bum Sam Bradford for a first and conditional 4th round pick. Trust me, Belichick could have done much better. This wasn't a Brian Hoyer, Matt Cassel, or Ryan Mallet. Garoppolo was the real successor.
49ers Grade: A-
Garoppolo, 25, is entering the prime of his career and gives the 49ers their franchise quarterback. Paying a 2nd round pick for a franchise quarterback is a lot of bang for your buck. I've compared Garoppolo to Tony Romo coming out in the draft process. Jimmy G is perfect for Kyle Shanahan who is mobile and has great footwork to run his offense. I would be shocked if this duo doesn't result in a lot of success.
I was worried about the 49ers this offseason after taking that fool C.J. Beathard who flat out stinks.  Beathard wasn't even draftable on my board this year. They also passed on Deshaun Watson but have tried to make up for it with this deal. Jimmy G in four career games has shown he can play throwing four touchdowns to go along with a 68.3 completion percentage. Most importantly handsome quarterbacks don't fail, it's one of my many rules when scouting quarterbacks.
Dolphins acquire 2018 4th round pick:
Eagles acquire Jay Ajayi:
Dolphins Grade: C+
Running backs are a dime a dozen so it's hard to blame Miami for hitting the reset button. Ajayi came into the NFL with knee concerns and it's likely he won't have a long career as must running backs don't in this era. It's expected to be another fantastic running back draft class in 2018 but the challenge is picking the right one. Miami picked Ajayi in the 5th round two years ago but sort of whiffed on Kenyan Drake in the third round last year.
Head coach Adam Gase deserves credit for trying to shake up the locker room and has a winning record with an average roster. Ajayi hasn't had the type of year he did in 2016. Probably because teams don't respect Jay Cutler or Matt Moore and have stacked the box. That's not Ajayi's fault so it's likely his 2016 form will return to the Eagles. It's going to be tough for the Dolphins to run the ball this year as Damien Williams and Kenyan Drake probably aren't the long-term answer. Miami currently has the worst offense in the NFL ranking 32nd in points (13.1) and yards per game(252.4) so it can't get much worse, right?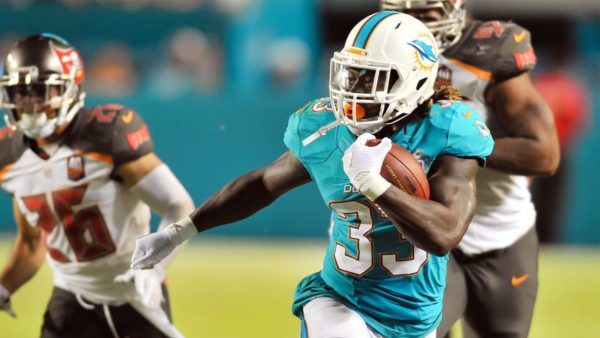 Eagles Grade: B+
The Eagles traded one of their fourth-round picks to go out and snag a premier running back. The Eagles received two of those picks in the Eric Rowe and Sam Bradford trades that they clearly won. Oh another failed Bill Belichick trade, you don't say! Howie Roseman is the best general manager in football, period.
As I said above, the Eagles will probably get the 2016 version of Ajayi running behind a nice offensive line and an elite quarterback. Ajayi ran for 4.9 yards per carry and 1,272 yards in 2016 with Miami. Ajayi, 24, also comes with a cheap contract as a former 5th round pick in 2015. Philly controls his rights in 2018 as well. Even if Ajayi departs in 2018, Philly will probably receive a 4th round compensation pick the following year anyway. This is what you call a low risk, high reward trade.
Ajayi not only gives the Eagles a reliable runner, he's a great pass protector as well, something the Eagles don't have currently. With Jason Peters out for the year, Ajayi's pass protection talents will be key to a Super Bowl effort. When the weather starts to get cold, you like this team a hell of a lot more with an Ajayi, Blount, Smallwood, Clement rushing attack.
Bills acquire Kelvin Benjamin:
Panthers acquire 2018 3rd round pick and 2018 7th round pick:
Bills Grade: F
I loved the Bills direction ever since Sean McDermott took over in Buffalo. He has built a winning culture, rocked the 2017 NFL Draft, and dealt away headaches like Sammy Watkins for more draft capital. This trade makes no sense with what the Bills have been doing.
The Bills receiving core has been the worst in the NFL with only 45 catches on the year. Frankly, it hasn't mattered since they are 5-2 on the year. Benjamin probably doesn't move the needle for the Bills this year and may have stunted the development of Zay Jones, a promising 2nd round pick. Ask yourself this question; is Kelvin Benjamin worth $8.45 million next year? Absolutely not!
Benjamin probably isn't a great football fit either. Jordan Matthews was already the possession receiver who has a lot of talent in his own right. The Bills probably played themselves because they aren't ready for prime time yet. Benjamin has 32 catches for 475 yards, and 2 touchdowns on the season. For a player that has struggled with injuries his entire career, this move seems like a head scratcher.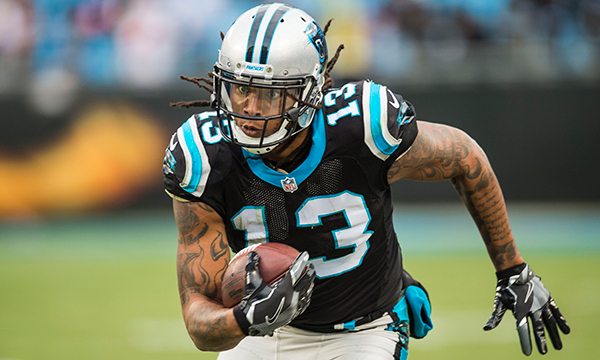 Panthers Grade: A
Talk about highway robbery. The Panthers have to be thrilled to heist two draft picks for Kelvin Benjamin. Let's get the record straight, Benjamin isn't a good receiver. I don't think we use the common sense theory enough. The year Carolina went 15-1 and took a trip to the Super Bowl guess how many games Benjamin played that year? ZERO, YES, ZERO.
Benjamin isn't a player with good speed or elite route running traits. Benjamin has a hard time separating at all, he wins with his pure size. For a quarterback like Cam Newton who is arguably the least accurate quarterback in the league (58.8 career completion percentage), it was never a great fit to trust Cam to fit balls in tight windows to Benjamin.
Moving forward, Carolina adds a valuable third-round pick where the franchise has had great success in the past (Charles Johnson and Steve Smith are examples). Benjamin's high salary also comes off the books. One thing that's also not being discussed; Are we sure Curtis Samuel isn't better than him? Samuel was taken in the second round this past year and comes with elite speed. Samuel is 100 percent a better compliment to Devin Funchess. Benjamin is essentially the same player Funchess is which limits Carolina's creativeness on offense. Expect Samuel to take off with an open role on offense.