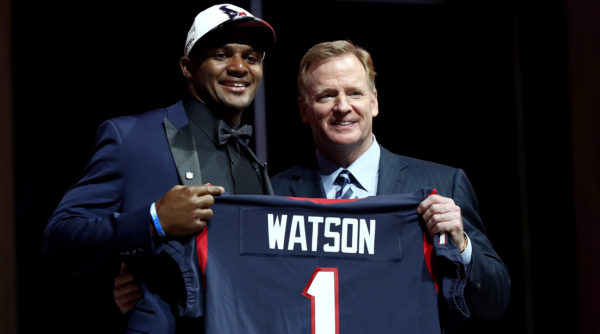 The NFL Draft is the staple for building a winner in the NFL. While the process isn't an exact science, the draft is the most important part of the offseason. Flushing your system with young talent can go a long way into defining a winning culture. Missing in the draft often times costs people their jobs. Now that the 2017 NFL Draft is in the books we can look at who did well. We start with the AFC South that is compiled of the Colts, Texans, Jaguars, and Titans. Of those four teams, it's time to look at the winners and losers. Who won the 2017 NFL Draft in the AFC South?
Houston Texans: Draft Grade A-
Round 1, Pick 12 (No. 12 overall) Deshaun Watson, QB, Clemson
Round 2, Pick 25 (No. 57) Zach Cunningham, LB, Vanderbilt
Round 3, Pick 25 (No. 89) D'Onta Foreman, RB, Texas
Round 4, Pick 24 (No. 130) Julién Davenport, OT, Bucknell
Round 4, Pick 36 (No. 142) Carlos Watkins, DT, Clemson
Round 5, Pick 25 (No. 169) Treston Decoud, S, Oregon State
Round 7, Pick 25 (No. 243) Kyle Fuller, C, Baylor
The Texans got their franchise quarterback. That alone gives the Texans an A. The only reason I knock them down to an A- is because they gave up a first rounder next year to do so. The Texans also gave up draft capital to dump Brock Osweiler. The important thing is Houston got their guy and you can't knock them too much for doing what it took to do so. Deshaun Watson is a gamer, there is no other way to describe him. He also has the proper infrastructure surrounding him to give him the proper tools to success. There is no reason to think he can't replicate the success Dak Prescott had a year ago with the Cowboys. I also loved the other picks Houston put together. Zach Cunningham simply finds his way to the football leading the SEC in tackles a year ago. I worry about his lack of ball production but this guy is a tackling machine and gives the Texans another prolific linebacker. I also think there is a chance D'Onta Foreman is the Texans best running back option day one. Foreman is a big lumbering power back with really nimble feet. He also figures to be a serious goal line vulture helping them in the red-zone. Julien Davenport is worth the flier in a weak offensive line draft. His Senior Bowl was underwhelming, to say the least, but he has terrific length and size. Carlos Watkins may have been my favorite pick on the entire 3rd day of the draft. Watkins is a terrifying interior defensive lineman that will wreck havoc for the Texans. He slipped way too far in the Draft and likely should have been taken in the 2nd round.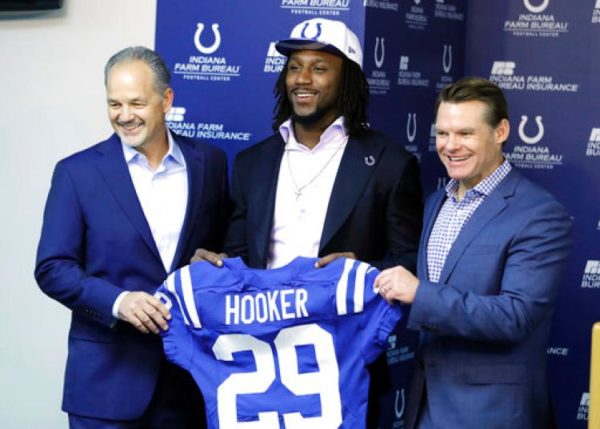 Indianapolis Colts: Draft Grade A
Round 1, Pick 15 (No. 15 overall) Malik Hooker, S, Ohio State
Round 2, Pick 14 (No. 46) Quincy Wilson, CB, Florida
Round 3, Pick 16 (No. 80) Tarell Basham, DE, Ohio
Round 4, Pick 31 (No. 137) Zach Banner, OT, USC
Round 4, Pick 37 (No. 143) Marlon Mack, RB, USF
Round 4, Pick 38 (No. 144) Grover Stewart, DT, Albany State
Round 5, Pick 14 (No. 158) Nate Hairston, CB, Temple
Round 5, Pick 17 (No. 161) Anthony Walker, LB, Northwestern
Chris Ballard hit a home run there is no question about it. I love the Malik Hooker selection who was my number one rated safety. The Ohio State product is a ball-hawking safety with 7 interceptions last year. The Ed Reed comp isn't too far fetched here. Injury question marks are the only thing to worry with Hooker. Quincy Wilson was also an excellent choice. Wilson is a long corner that thrives with press coverage. He also has great movements skills that were on display at the combine. To hit on Tarell Basham in the 3rd round should just have Colts fans gushing with joy. Basham is a polished pass rusher with an excellent get off. He could have easily been picked in the early second round after a dominating Senior Bowl. Zach Banner also gives Indy a steady offensive lineman. Banner is a heck of a football player but questions about his size drop him to the 4th round. Look if you get Bryant McKinne (who I compare Banner to) in the 4th round that's a steal. Marlon Mack was another outstanding pick. Don't be surprised if he is the starter sooner than later. The South Florida prospect has been overlooked for the entire draft process. Nate Hairston, the Temple corner, is a player that really impressed me at the East-West Game. Anthony Walker is also a steal in the 5th round. Ballard wheeled and dealt smartly moving up late in the draft realizing 4th and 5th round picks have a much better success rate compared to 6th and 7th rounders. For the first time ever, Andrew Luck has a competent front office. Now it's time to fire Chuck Pagano and give him a quality head coach.
Jacksonville Jaguars: Draft Grade C+
Round 1, Pick 4 (No. 4 overall) Leonard Fournette, RB, LSU
Round 2, Pick 2 (No. 34) Cam Robinson, OT, Alabama
(Round 3, Pick 4 (No. 68) Dawuane Smoot, DE, Illinois
Round 4, Pick 3 (No. 110) Dede Westbrook, WR, Oklahoma
Round 5, Pick 4 (No. 148) Blair Brown, LB, Ohio
Round 7, Pick 4 (No. 222) Jalen Myrick, CB, Minnesota
Round 7, Pick 22 (No. 240) Marquez Williams, FB, Miami (OH)
Look I get what the Jags are trying to do, but I don't necessarily agree with it. Jacksonville has made it imperative that they become better at running the football. That's great and all but what is your surrounding infrastructure? Taking a running back 4th overall without a dominating offensive line in front of Leonard Fournette will prove to be a foolhardy decision. Look no further than Todd Gurley with the Rams who is irrelevant because of their offensive line. Fournette isn't a guy who is shifty and makes people miss in the lane, he needs a productive offensive line to become effective. I like Fournette, just not here. The lone pick I did like was Cam Robinson who could be the franchise left tackle. At least they made an attempt to help Blake Bortles right? The late round picks didn't bode well with me. Dawuane Smoot is a player who really struggled in my eyes at the Senior Bowl. He looks like an average 3rd down pass rusher only. Dede Westbrook is a knucklehead that actually got booted from a combine interview for being a clown. Blair Brown could be a contributor on special teams. Jalen Myrick runs fast and likely does the same on special teams. That's about all that happened for the Jags.
Tennessee Titans: Draft Grade C-
Round 1, Pick 5 (No. 5 overall) Corey Davis, WR, Western Michigan
Round 1, Pick 18 (No. 18) Adoree' Jackson, CB, USC
Round 3, Pick 8 (No. 72) Taywan Taylor, WR, Western Kentucky
Round 3, Pick 36 (No. 100) Jonnu Smith, TE, FIU
Round 5, Pick 11 (No. 155) Jayon Brown, LB, UCLA
Round 6, Pick 34 (No. 217) Corey Levin, OL, Tennessee-Chattanooga
Round 7, Pick 9 (No. 227) Josh Carraway, OLB, TCU
Round 7, Pick 18 (No. 236) Brad Seaton, OT, Villanova
Round 7, Pick 23 (No. 241) Khalfani Muhammad, RB, Cal
I hated this draft. In fact, the only thing saving them from a D is the sheer volume of picks. Then again, any general manager with half a brain would have made that trade with the Rams that they foolishly moved up to draft that bum, Jared Goff. Corey Davis at five is way too high. Especially considering he has very questionable hands. In my opinion, unless it's Julio Jones, there is no way I can Draft a wide out in the first round. Wide outs can be found anywhere. They even doubled down at the position for Taywan Taylor. I have no idea where that pick even came from. I'm not even sure I included him in my Senior Bowl notes because he didn't stand out in the slightest. Adoree Jackson is the definition of a boom or bust prospect. The USC alum is a really raw corner that good speed. His technique is flawed though. They also grabbed Jonnu Smith? My question is why? He was the worst tight end at the Senior Bowl and has some character issues. He got boiling water thrown on him by his girlfriend for a reason right? The only pick I approved of was Jayon Brown who is a really great coverage linebacker. Brown is undersized but moves really well and will come up with his fair share of picks for a linebacker. The other late round picks weren't even on my radar.