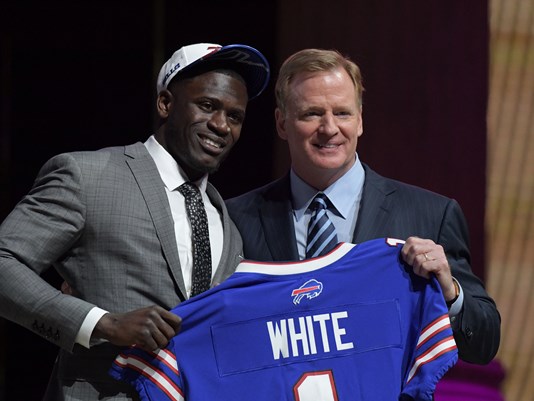 The NFL Draft is the staple for building a winner in the NFL. While the process isn't an exact science, the draft is the most important part of the offseason. Flushing your system with young talent can go a long way into defining a winning culture. Missing in the draft often times costs people their jobs. Now that the 2017 NFL Draft is in the books we can look at who did well. We start with the AFC East that is compiled of the Patriots, Jets, Bills, and Dolphins. Of those four teams, it's time to look at the winners and losers. Who won the 2017 NFL Draft in the AFC East?
Buffalo Bills: Grade A-
Round 1, Pick 27 (No. 27 overall) __ Tre'Davious White, CB, LSU
Round 2, Pick 5 (No. 37)  __  Zay Jones, WR, ECU
Round 2, Pick 31 (No. 63)  __ Dion Dawkins, G, Temple
Round 5, Pick 19 (No. 163) __ Matt Milano, LB, Boston College
Round 5, Pick 28 (No. 171) __ Nathan Peterman, QB, Pittsburgh
Round 6, Pick 11 (195) __ Tanner Vallejo, LB, Boise State
The Bills won the draft? My favorite move the Bills made was trading back from the 10th pick to move back. Buffalo collected Kansas City's first round pick in 2018 and drafted a really good player in the back end of the first round in Tre White. The LSU corner was a four-year collegiate starter and has the makings to be a number one corner in the league. I also love Buffalo's 2nd round selections. Zay Jones from East Carolina was my favorite receiver in the entire draft. If I had to bet, I would guess he has a better NFL career than Mike Williams, Corey Davis, and John Ross. Jones has the best set of hands in the entire draft. I'll take my chances with the NCAA leader in receptions. Those guys don't fail. Buffalo also grabbed the best lineman in the draft as well in Dion Dawkins. The Temple guard has pro bowl potential. All three players were big time standouts at the Senior Bowl and likely caught Sean McDermott's eyes. The only thing keeping Buffalo from an A or A+ is they gave up picks to move up for Jones and Dawkins and kind of whiffed later in the draft. Milano and Vallejo are likely special teams contributors. Peterman might be able to stick as a backup quarterback in the league.
Miami Dolphins: Grade B
Round 1, Pick 22 (No. 22 overall) __ Charles Harris, DE, Missouri
Round 2, Pick 22 (No. 54) __ Raekwon McMillan, LB, Ohio State
Round 3, Pick 33 (No. 97) __ Cordrea Tankersley, CB, Clemson
Round 5, Pick 20 (No. 164)  __ Isaac Asiata, OG, Utah
Round 5, Pick 35 (No. 178)  __ Davon Godchaux, DT, LSU
Round 6, Pick 10 (No. 194)  __ Vincent Taylor, DT, Oklahoma State
Round 7, Pick 19 (No. 237) __ Isaiah Ford, WR, Virginia Tech
Boy, do I love Miami's draft. Another statement that is almost unheard of given how dysfunctional the Dolphins were prior to Adam Gase's arrival. Charles Harris is a gamer on the edge. In terms of explosion, Harris is going to cause havoc. I expect the Missouri pass rusher to record a number of double-digit sack seasons for the Phins. Getting Raekwon McMillan was another big steal. To snatch him in the second round is an incredible value. The Ohio State linebacker immediately becomes the leader of the defense. McMillan is a tackling machine and always finds his way to the football. Grabbing Tankersly in round 3 was another good pick. He was better in 2015 but he could develop into a top corner if he can reduce his tendency to grab. The Dolphins late round picks also have a chance to develop into contributors. I very much approve of the Miami draft.
New England Patriots: Grade B+
Round 3, Pick 19 (No. 83 overall) __ Derek Rivers, DE, Youngstown State:
Round 3, Pick 21 (No. 85) __ Antonio Garcia, OT, Troy:
Round 4, Pick 25 (No. 131) __ Deatrich Wise Jr., DE, Arkansas
Round 6, Pick 28 (No. 211) __ Conor McDermott, OT, UCLA
Look I'm not in favor of the Brandin Cooks trade but New England is in win now mode with Tom Brady nearing the end of the road. It's hard to question adding Mike Gillislee, Dwyane Allen, and Kony Ealy with these draft picks that offer virtually no bust potential. If any other team did this I wouldn't support it but it's New England, the time to win is now. The picks that they did have, wow did they hit on. Derek Rivers is an instant difference maker who put on a show at the Combine and Senior Bowl. The Pats also added a nasty factor with Antonio Garcia. In a weak offensive line class, adding a Garcia is a huge win. Also, add in Deatrich Wise who's a big time steal. He was a player to watch at the East-West Game. The only miss here is McDermott who stinks, but hey Bill Belichick isn't perfect.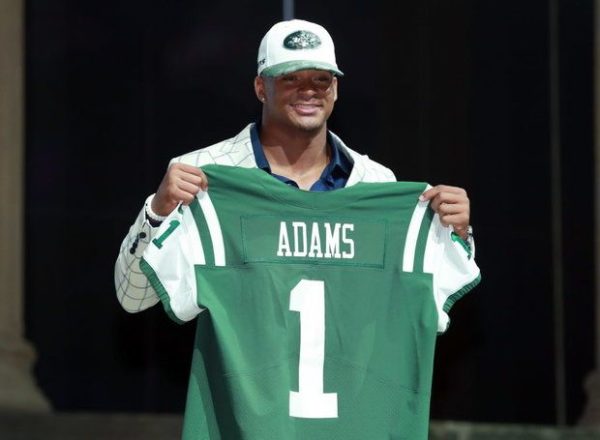 New York Jets: Grade B-
Round 1, Pick 6 (No. 6 overall) __ Jamal Adams, S, LSU:
Round 2, Pick 7 (No. 39) __ Marcus Maye, S, Florida:
Round 3, Pick 15 (No. 79) __  ArDarius Stewart, WR, Alabama:
Round 4, Pick 35 (No. 141) __ Chad Hansen, WR, Cal
Round 5, Pick 6 (No. 150)  __ Jordan Leggett, TE, Clemson
Round 5, Pick 38 (No. 181)  __ Dylan Donahue, DL, West Georgia
Round 6, Pick 4 (No. 188)  __ Elijah McGuire, RB, Louisiana-Lafayette
Round 6, Pick 13 (No. 197)  __ Jeremy Clark, DB, Michigan
Round 6, Pick 20 (No. 204)  __ Derrick Jones, DB, Ole Miss
The Jets had an up and down draft in my eyes. Getting Jamal Adams warrants a high grade by itself. Adams is an alpha in the secondary that will try to change the Jets losing culture. The 2nd and third round picks were head scratchers to me. Taking Marcus Maye to me made no sense as Calvin Pryor and Marcus Gilchrist now are not needed. Maye is a good player but they had better options available. The Stewart pick also baffled me. he wasn't a difference maker at Alabama so why should I think that will change in the NFL. The late round picks I did like are Chad Hansen and Jordan Leggett. Both players will be good weapons for the Jets offense this year.