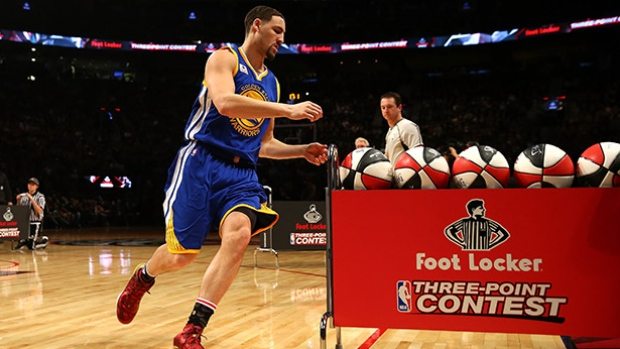 Golden State Warriors star Klay Thompson will be back to defend his crown as he formally will participate in the 2017 NBA Three-Point Contest. The sharpshooter will headline a field of deadeye three-point specialists, but the field will be without Thompson's teammate on the Warriors, Stephen Curry.
Dallas Mavericks wingman Wesley Matthews announced his intentions to participate in the three-point contest early and then he was followed up by Portland Trail Blazers guard C.J. McCollum. The rest of the field was announced on a special pregame show.
The Inside the NBA pregame show announced the remaining participants on a special show before the Thursday night matchups on TNT.
Kyrie Irving immediately becomes a favorite seeing as he won the contest in 2013. Nick Young will immediately be the choice for the funniest participant thought so the loss of Stephen Curry might not be missed that much from an entertainment standpoint.
The three-point contest has lowkey been challenging the Slam Dunk Contest as the event of All-Star Saturday night, but without Zach LaVine, the 2017 NBA three-point contest might be coming to take over this year.
What: All-Star Three-Point Contest
When: Saturday, Feb. 18, at 8 p.m. ET (second event)
Where: Smoothie King Center
TV: TNT