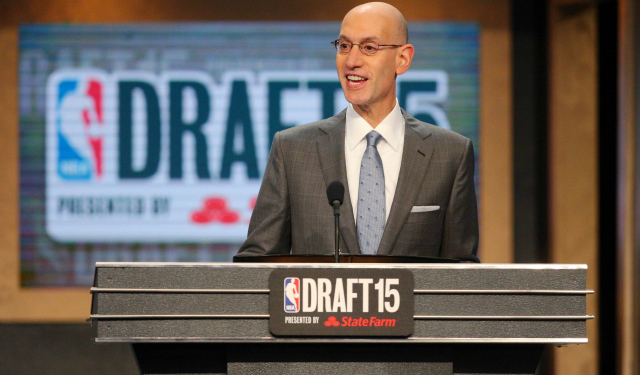 This is our first mock since May 25th also known as Draft Decision Day. This was the last day for underclassmen to return to school or decide to stay in the draft. Many of those who decided to return were borderline 2nd round guys. Our 1st round was not really affected by any decisions but as workouts continue to go we may see some movement with those in the first round, top 10 especially.
2016 NBA Mock Draft: 1st Round
1) Philadelphia 76ers- PF Ben Simmons (LSU)
Best player in the draft, plain and simple. Simmons stock has not dropped with me. People feel like he coasted at LSU, well give me the guy that coasted and still almost posted triple doubles. Rumor has it the Sixers are currently leaning his way but with a month to go before the draft things can always change.
2) Los Angeles Lakers- SF Brandon Ingram (Duke)
Ingram stays at number two for me and the Lakers would be very happy to have him. He fits best in LA and can slide into the perimeter scoring role left open by the retirement of Kobe. Ingram at the three with the two young guards LA has could be a nice group 1-3 in the coming years for the Lakers .
3) Boston Celtics via Brooklyn Nets- SG Buddy Hield (Oklahoma)
With the top two guys gone there is a huge drop-off to the next group of guys. Hield may be the safest guy here as his shooting ability and work ethic is something that should translate well. Add in the fact the Celtics need shooters and this could be a great fit for both sides.
4) Phoenix Suns – SF Jaylen Brown (Cal)
I like Jaylen Brown here now. Pairing him eventually with Devin Booker could be a nice 2-3 combo for the Suns. When you throw in Eric Bledsoe you now have a solid 1-3 heading into the future. Something will need to be done with Brandon Knight but maybe he can be packaged for the Power Forward they need.
5) Minnesota Timberwolves- PF/C Dragan Bender (Croatia)
The T-Wolves could opt for Jamal Murray here for the shooting he can bring but adding Dragan Bender to the front-court with Karl-Anthony Towns could be something special within two to three years. The T-Wolves have a good young core and adding a guy with Bender's potential could be huge if it pans out.
6) New Orleans Pelicans- PG Kris Dunn (Providence)
Dunn's play-making ability would be great here to sort of help take over for an oft-injured Jrue Holiday. His pick and roll skills would be a match made in heaven with a guy like Anthony Davis as well.
7) Denver Nuggets (via New York Knicks) PG/SG Jamal Murray (Kentucky)
Murray and Emmanuel Mudiay the Nuggets 2015 1st round draft pick could form a nice combo guard duo in the Nuggets backcourt. Playing two point guards at the same time is never a bad idea considering both are comfortable without the ball especially Murray. These two would seem to compliment each other well with Mudiay more of a slasher while Murray is a deadly 3pt shooter.
8) Sacramento Kings- PF Marquese Chriss (Washington)
A prospect with lots of upside and lots of athleticism. Chriss is interesting choice here and could develop into a really good power forward. With not many can't miss guys here Chriss is a nice high risk-reward for Sacramento and next to Boogie Cousins could be nice if Chriss develops right.
9) Toronto Raptors (via Denver Nuggets)- PF Deyonta Davis (Michigan State)
Davis is a guy who could have returned to school and developed some parts of his game but is also a guy with tons of potential. Davis is 6'10 but could stand to put on some weight. The Raptors need a power forward and while Davis may be a year or two away from being a serious contributor he could help give good minutes off the bench in his early years.
10) Milwaukee Bucks- PF Henry Ellenson (Marquette)
One the most unheralded freshman in the country who averaged 17&9 would be a nice fit in Milwaukee. He gets to stay home as a Wisconsin kid who also played his college ball in Wisconsin at Marquette. He gets to play next to Greg Monroe a guy who plays down low while Ellenson has the ability to step out.
11) Orlando Magic- PF/C Skal Labisierre (Kentucky)
The Magic front court could use a guy like Skal but he is going to need sometime to be the player he can be. If he ever reaches that potential he could be a very good player in the league. With his 7'0 size, mid range jumper and shot blocking ability Labisierre has the chance to be a very good player in the future.
12) Utah Jazz- SG/SF Timothe Luwawu (France)
A 6'7 wing that has "3 and D" written all over him could fit in on a Jazz squad not loaded with great wings. He could form a nice 2/3 with Gordon Hayward or play behind him as a shooter off the bench.
13) Phoenix Suns (via Washington Wizards)- Jakob Poeltl PF/C (Utah)
A seven footer who can score on the block and defend the rim. Poeltl could be a guy the Suns look to move on draft or they may trade down. With them drafting Brown earlier in the draft to help shore up the wing spot and no power forwards worthy of this spot I can see them trading down or trading a guy like Poetl for other pieces.
14) Chicago Bulls- PG Wade Baldwin IV (Vanderbilt)
Baldwin could be a nice back up option to Derrick Rose in his last years with the Bulls before they decide whether to re-sign him or not. Baldwin is loaded with potential with good athleticism, a solid 3 pt shot, but the real bonus is his 6'10 wingspan at only 6'4″.
15) Denver Nuggets via Houston Rockets- SF Taurean Prince (Baylor)
Another "3 and D" wing here and this one is going to Denver and could fit in nicely there playing behind Gary Harris and Danilo Gallinari. Prince won't command a bunch of shots which is something that could compliment those two scoring wings nicely.
16) Boston Celtics (via Dallas Mavericks)- PF Domantas Sabonis (Gonzaga)
An excellent rebounder that won't be a superstar but will be a great pro. Sabonis is not flashy but he's just a 'come to work every day' guy that can help you win games and he could be a nice addition up front with the crop of bigs the Celtics have.
17) Memphis Grizzlies- PG/SG Denzel Valentine (Michigan State)
Valentine is a guy who can play both back court spots with his shooting and playmaking ability. Those two skills are something that will translate very well and of course playing under Tom Izzo doesn't hurt. With the Grizzlies about to possibly lose Mike Conley, giving Valentine a look here would be a smart idea.
18) Detroit Pistons – PG Demetruis Jackson (Notre Dame)
Jackson could a nice back up point guard option behind Reggie Jackson. The back up point guard options once Jackson went to the bench this year just weren't good enough with an aging Steve Blake and Spencer Dinwiddie. Jackson would be an upgrade right away and at times could even co-exist with Jackson like he did as a sophomore playing alongside the Knicks' Jerian Grant.
19) Denver Nuggets via Portland Trailblazers- PG Tyler Ulis (Kentucky)
Yes he is only 5'9 but Ulis is one of the best point guards in this draft. If he had the height of even a Chris Paul and was only 6'0 he would a top ten if not top 5 draft pick that's how good he is. Because of his size he may never be a full-time starter in this league but he has the chance to be one of the better back up point guards in the league because of his feel for the game.
20) Indiana Pacers- SG Malik Beasley (Florida State)
An athletic shooting guard, Beasley showed an ability to talk knock down the three. He would be a good addition as back up to Monta Ellis while he continues develop after coming out as a freshman
21) Atlanta Hawks- PF/C Damian Jones (Vanderbilt)
Jones is a 6'11 PF/C with the ability to score down low with an improving outside shot. He can hit the trey but you probably don't want him taking a bunch early on. Jones could be a nice backup to Al Horford early in his career with the Hawks.
22) Charlotte Hornets- SG Malachi Richardson (Syracuse)
The 6'6 shooting guard from Syracuse attended the combine to see where he was standing. He told reporters with a first-round guarantee he would be gone and the gamble seemed to pay off. Richardson's smooth shooting stroke and good athleticism were enough to get him the feedback he wanted of slipping in the late first round.
23) Boston Celtics- SG Furkan Korkmaz (Turkey)
With their third pick of the first round the Celtics take a wing from Turkey with a nice three point stroke that could help out a Celtic team who need shooters. If he comes over right away could be a nice spot up guy off the bench.
24) Philadelphia 76ers via Miami Heat- PF/C Stephen Zimmerman (UNLV)
A 7'0 who could use some time to bulk up. Going to the 76ers would give him time to develop and grow behind the other multitude of bigs they have in the organization in his first couple of years. Zimmerman was thought of as a lottery pick coming into college so this could be a coup for the Sixers.
25) Los Angeles Clippers- PF/C Diamond Stone (Marlyand)
The Clippers aren't exactly loaded in the front court so the pick of Diamond Stone here is something I like. He won't be counted on right away but will still be able to get his feet wet some while he develops.
26) Philadelphia 76ers via Oklahoma City Thunder-C Ante Zizic (Croatia)
Ante is a 6'11 energizer bunny. He runs the floor very well for his size and he is able to pick up easy buckets that way. Could be a nice stash guy for the 76ers at the 26 spot.
27) Toronto Raptors- PF Cheick Diallo (Kansas)
After going with a guy in Ellenson earlier to help fill a need the Raptors take another freshman but one that needs some seasoning and time to learn the game. Once Diallo does he could in the mold of a DeAndre Jordan or Tyson Chandler after he puts on some weight as well.
28) Phoenix Suns (via Cleveland Cavaliers)- PF Ben Bentil (Providence)
Bentil went to the combine and impressed. He showed he can play inside and out which the league covets nowadays. He sneaks into the first round based on his impressive combine. He could find his way into the Suns rotation early in his career.
29) San Antonio Spurs- DeAndre Bembry (St. Joseph's)
Bembry breaks up the run of big guys here towards the end of the first round. He is a perfect fit for the Spurs as a guy with High IQ that rebounds well for a 6'6 wing. He also showed the ability to pass well averaging 4.5 his last year at St. Joe's.
30) Golden State Warriors- PF Brice Johnson (North Carolina)
Energy, energy, energy. That is what Brice Johnson will bring to the league, he showed a back to the basket game his senior year but he won't be a guy you throw it down low to. He can come in bring good energy as a role player and be similar to a Thomas Robinson with a more consistent mid-range jumper.