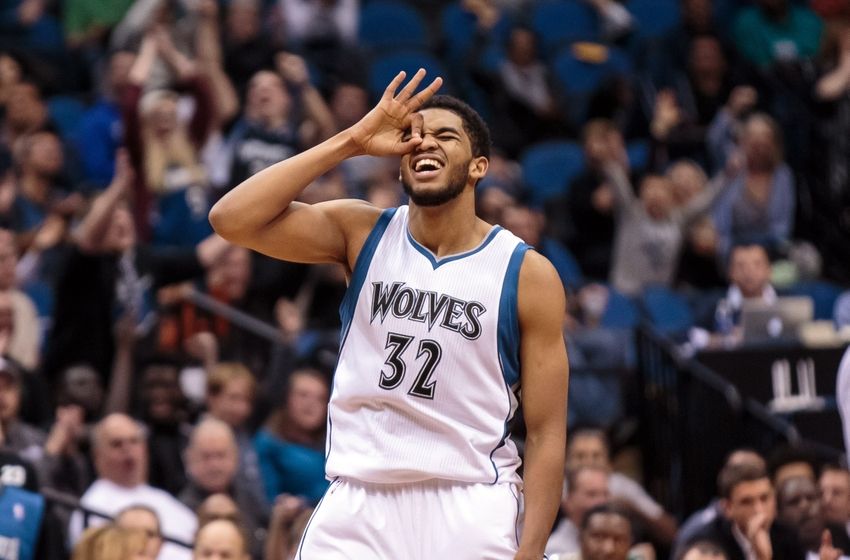 Karl-Anthony Towns has been the star of the 2015 NBA Draft class after being selected with the top overall pick by the Minnesota Timberwolves. While others like D'Angelo Russell, Kristaps Porzingis, Devin Booker, Jahlil Okafor, Stanley Johnson and Justise Winslow have been great, Towns has been undoubtedly better.
Towns started all 82 games in his rookie campaign, often as the Timberwolves starting center. He won Western Conference Rookie of the Month honors all six months that award was handed out, making him the first player to sweep that award since Damian Lillard in 2013.
Now it appears that Towns will be getting recognized for his first year efforts by being awarded the 2016 NBA Rookie of the Year award, according to all indications.
Timberwolves say there is a major NBA announcement to be made tomorrow…

(AKA Karl-Anthony Towns wins ROY)#Twolves pic.twitter.com/UR374POSqx

— rob (@R0BaTO) May 15, 2016
The Wolves announce a Monday morning news conference in which they're expected to formally announce Karl-Anthony Towns as Rookie of the Year

— Marc Stein (@ESPNSteinLine) May 15, 2016
It is expected that KAT will win the award but unless the Wolves announce that Kevin Garnett will be retiring, expect Towns to walk away with this award. The only thing left to wonder is will he join Stephen Curry as the other unanimous award winner this year or will any of the other standout rookies steal a first place vote from him?
UPDATE:
Towns has been unanimously voted the 2016 NBA Rookie of the Year. Following from an official NBA press release.
The Minnesota Timberwolves' Karl-Anthony Towns, who set franchise rookie records in scoring, rebounding, blocked shots and field goal percentage, has unanimously won the 2015-16 Kia NBA Rookie of the Year Award, the NBA announced today. The 7-foot center becomes the fifth unanimous winner since 1984 and joins teammate Andrew Wiggins, the 2014-15 honoree, to make the Timberwolves the first team with back-to-back winners in 42 years.

The 20-year-old Towns swept all six Kia NBA Western Conference Rookie of the Month awards on his way to becoming the seventh rookie in NBA history to average at least 18 points, 10 rebounds and 1.5 blocks and shoot 50 percent or better from the field. Since blocks became an official statistic in 1973-74, the other players to post those numbers are Sampson (1983-84), Hakeem Olajuwon (1984-85), Robinson (1989-90), Alonzo Mourning (1992-93), Shaquille O'Neal (1992-93) and Tim Duncan (1997-98).