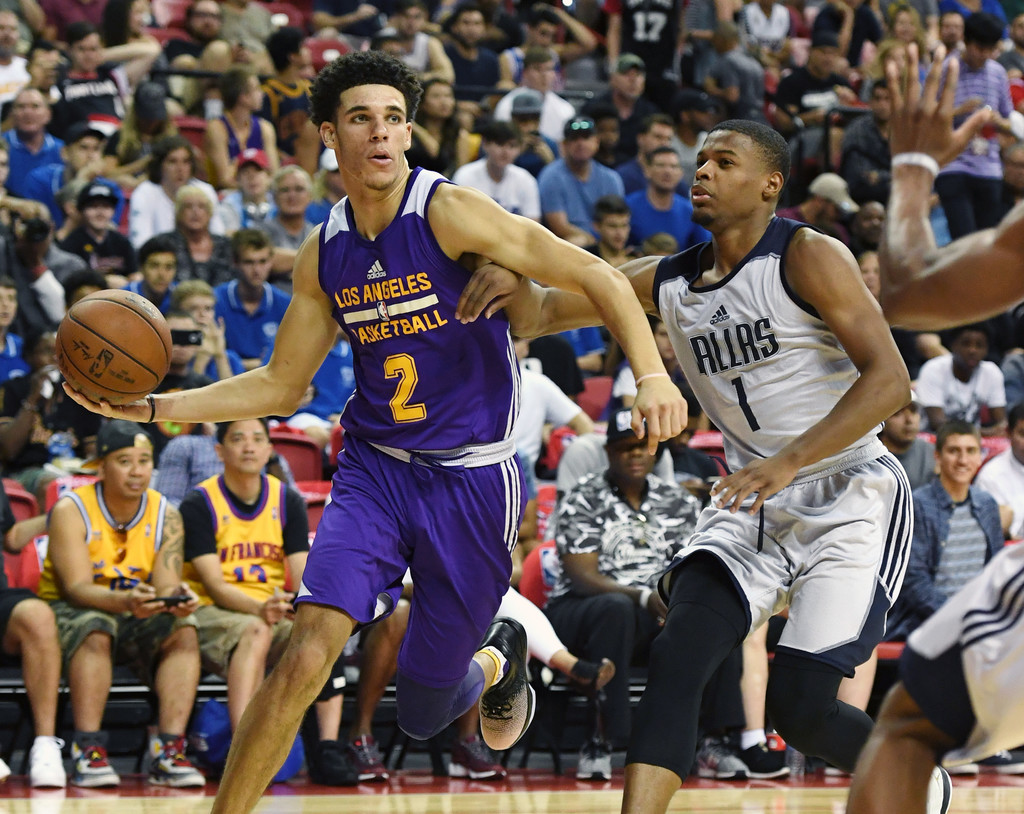 For most NBA hopefuls, NBA Summer League is an opportunity to put themselves alongside top picks as they try to make an NBA roster. For the top prospects, it's really a time to show off your skills and showcase your talents for the fanbase you're going to be a part of for the foreseeable future.
It all started at the top of July with the Orlando Summer League with a few teams attending before the NBA shifted out west. Utah was the next stop with four teams playing across four days of competition. But all eyes were in Las Vegas with over 20 teams participating in capturing that Las Vegas Summer League title. Some top talents took the court and competed as a small tease to the real NBA season.
2017 Las Vegas Summer League MVP Lonzo Ball, Dennis Smith Jr, Josh Jackson, Donovan Mitchell Jayson Tatum, John Collins, Bam Adebayo and many others impressed during 2017 NBA Summer League. Not only did they play well but they also made some pretty remarkable highlights that had their fans asking for more.
Check out some of the top plays below with a little help from the ClippitTV app. You can use this app to capture some of your favorite moments on TV. Whether it's a big dunk, funny joke or a memorable moment, you can use Clippit to save those moments in an instant. Check out the great plays NBA summer league had to offer.
2017 NBA Summer League Top 10 Plays
10. Las Vegas NBA Summer League MVP Kyle Kuzma hits the buzzer-beater
9. Lonzo Ball opens up Summer League with a lob to Ingram
8. Jayson Tatum with the spin and slam
7. Dillon Brooks with the putback
6. Jonathan Motley with the game-winner in Orlando
5. Josh Jackson's wild block is followed up with an alley-oop
Josh with the BLOCK!
Quese with the FINISH! #SummerSuns pic.twitter.com/9qCst7p2TX

— Phoenix Suns (@Suns) July 13, 2017
4. Donovan Mitchell went to work on Jayson Tatum and the C's
DONOVAN MITCHELL IS A PROBLEM.

Don't hurt #?3?, @spidadmitchell ?
(via @clippittv) pic.twitter.com/K2Jq4ycJo7

— Def Pen Hoops (@DefPenHoops) July 7, 2017
3. Dennis Smith Jr has the best non-dunk and dunk of Summer League
Dennis Smith Jr drives and hammers it down strong! ? #NBASummer pic.twitter.com/ywhMiVfFxi

— Def Pen Hoops (@DefPenHoops) July 17, 2017
2. Jaylen Brown is too old for NBA Summer League
1. John Collins with the hammer slam
JOHN COLLINS WE ARE NOT WORTHY!!! ? pic.twitter.com/3urJblnWfo

— Atlanta Hawks (@ATLHawks) July 12, 2017