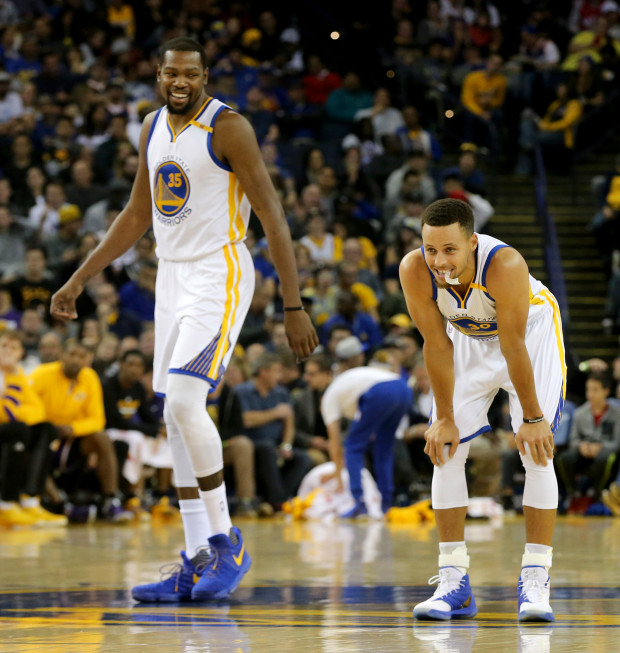 Any team with arguably four future Hall of Famers on it's roster, like the Golden State Warriors, is bound to have some friendly competition. If two of those players are aligned with two competing sneaker companies; let the games begin. Kevin Durant, a Nike athlete, recently made headlines while he was a guest on the Bill Simmons Podcast. Durant claimed that young athletes, young basketball players specifically, aren't very high on the Under Armour brand.
Steph Curry, Warriors teammate and Under Armour athlete, caught wind of Durant's comments. The two-time MVP categorically disagrees with Durant, and the two reportedly have discussed it.
Following from Scott Fowler of the Charlotte Observer:
"I told him that he has a certain opinion based on his experience growing up in the Nike business," Curry said of Durant. "What that means when it comes to the competition among shoe brands and universities and the whole grassroots system and whatnot – he's entitled to that opinion obviously. … But when it comes to what I'm trying to do with Under Armour, and what the Curry brand means and what Under Armour basketball means, that statement does not ring true at all."
Curry is extremely proud of the work he and Under Armour have done since their partnership began. Durant and Nike have experienced impressive levels of success with his signature shoe. Curry's  signature shoe at Under Armour has received some mixed reviews over the last couple of releases.  Kevin Durant's statement that young players don't want to play in Under Armour — especially coming from as large a Nike ambassador as Durant — is the type of thing that can negatively impact a brand on the rise.
Even while the company is under constant ridicule for their seemingly unimaginative sneakers, Curry continues to represent Under Armour:
"Where we were four years ago, and where we are now – you can't tell me nobody wants to wear our shoes," Curry said. "I know for a fact that they do."