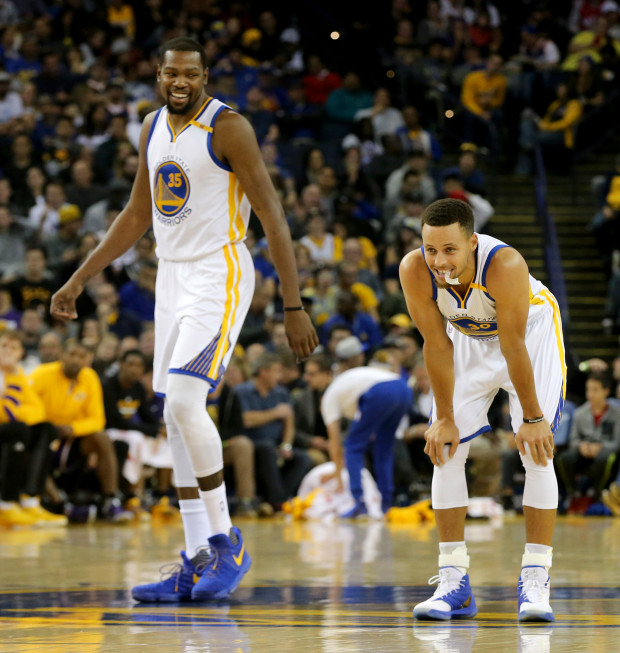 Kevin Durant has become quite an outspoken NBA superstar.
In June, the 2017 NBA Finals MVP ignited a hot debate on social media when Durant stated on the Bill Simmons Podcast that Kyrie Irving is better than Allen Iverson.
Last week, Durant said that Irving showed "courage" in asking for a trade from the Cleveland Cavaliers. Durant, who once said some sports reporters don't know basketball, has now become more open and honest with the media.
On Sunday, Durant returned to the Bill Simmons Podcast for the fourth time to answer questions from fans about various topics in two episodes called "Ask Kevin Durant."
At the 36:13 minute mark, one fan asked Durant "you proudly and rightfully rep the DMV. Why can't they keep high school prospects from there in that region?"
Durant said he chose to go to the University of Texas for college instead of the University of Maryland or Georgetown University because he wanted to get away from home and "see what was outside that area," Durant said on the podcast.
"A lot of the kids, to be honest, they don't choose Maryland unless they play in like an Under Armour system coming up. Shoe companies have a real big influence on where these kids go," Durant continued. "Nobody wants to play in Under Armours, I'm sorry. Like, the top kids don't because they all play Nike."
When Simmons asked Durant, who is sponsored by Nike, if he told fellow Golden State Warriors teammate and face of Under Armour Steph Curry how he feels about the shoes, Durant said, "Everybody knows that. Nobody don't want to say nothing."
It makes sense that kid who were already in Under Armour basketball camps and programs gravitate toward schools like Maryland with their sponsorship. On Georgetown, Durant said the playing style was more methodical and slow, and "the kids want to play up and down now."
Under Armour has established itself as a strong brand in sports apparel, having landed Curry, Tom Brady, Cam Newton and Bryce Harper for sponsorships. It will still take some time in the eyes of many consumers for Under Armour to catch up with Nike.
Coincidentally, stocks of Under Armour fell more than 3 percent on Tuesday.