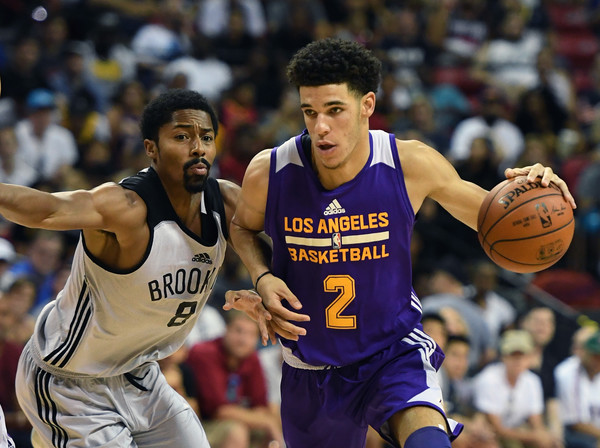 The 2016-2017 season was a strenuous year for the Brooklyn Nets. As they stumbled through the year, finishing the season with a league worst 20-62 record, roster continuity came at a premium. Brooklyn's General Maganger, Sean Marks, actively moved players in and out of the Nets' system as he worked to find pieces to fit into a team, working towards the future with few draft picks available.
Marks took flyers on players who had been in and out of the NBA, testing and evaluating their ability to play in the best league in the world.
In the offseason, prior to the start of the year, he signed Joe Harris and Justin Hamilton to contracts, two guys who never really received a legitimate opportunity at the NBA level. Both played valuable minutes for Brooklyn and appeared in the majority of their games. Another young player he signed prior to the season was the former first overall draft pick, Anthony Bennett. Bennett did not achieve the same success as Harris and Hamilton did, as Brooklyn waived him in January.
Throughout the season, Marks shifted players in and out of Brooklyn, specifically younger players. He traded for Andrew Nicholson and K.J. McDaniels. He also called-up Yogi Ferrell from the NBA D-League early on in the season, but he was later waived. Other players that spent time with the Nets from the D-League included both Quincy Acy and Archie Goodwin.
The most successful move Marks has made going through the D-League has undoubtedly been the signing of Spencer Dinwiddie. The 6'6″ point guard played 59 games with Brooklyn last season and seemingly cemented himself as a player that should be included in their future plans.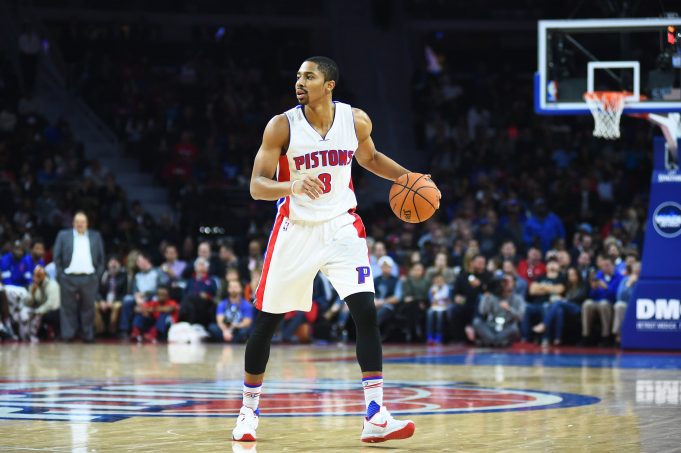 "It was great for me," Spence Dinwiddie told Def Pen this July on his season with Brooklyn. "It helped resurrect my career." While Jeremy Lin battled the injury bug throughout the majority of his first season with Brooklyn, Dinwiddie was able to receive the best opportunity of his short three year NBA career. The 23-year old averaged 22.6 minutes per game and even started 18 games over the course of the year. Over the season he averaged 7.3 points, 3.1 assists, and 2.8 rebounds per game.
Dinwiddie spoke highly of Marks and Brooklyn's Head Coach, Kenny Atkinson, and is a believer if what they are putting together with the Nets.
"They are doing a great job of trying to get guys in there, the people who they who they want to be in their system and their program to have a chance(to win) even without obviously their draft picks. Why not try to do the best thing possible. And they did not have anything to do with the previous situation with the trading of the picks and all the other stuff so I mean they are working with what they got and trying to put together a good ballclub."
Marks has drawn praise from many over how he has begun to rebuild the Nets. He has done an outstanding job in finding players who are young, can contribute, and can still develop into better players.
One aspect of his game that Spencer Dinwiddie was often criticized for, at least at the NBA level, was his outside shooting.
Dinwiddie told Def Pen the following back in December when he was signed by Brooklyn:
"A lot of people question my shooting," Dinwiddie said. "The only time period when my shooting was a problem was those limited games in Detroit where a lot of my shots were a late shot clock or end of quarter type shots."
His explanation as to why people questioned his shooting was spot on. With the consistent minutes he received last season, Dinwiddie shot a career high 37.6 percent from the three-point line, while averaging 1.7 attempts per game. His three-point shooting percentage was third on the team, only behind Acy and Harris. This offseason, Spencer Dinwiddie said he is focusing on improving his three-point shot off the dribble, to further develop his shooting abilities.
Dinwiddie also showcased outstanding court vision last season, something he prides himself on. Last year he was second on the Nets in assists per game. The only player who averaged more assists per game was starting point guard Jeremy Lin, who dished out 5.1 assists per game.
While Dinwiddie may not have led Brooklyn in any major statistical categories, one area he believes he leads the team in even now is his facial hair. The Nets' first round draft pick's facial hair, Jarrett Allen, came of discussion in our chat.
"It's not even close. It's not even close," Dinwiddie laughed as he told me who has better facial hair between him and Allen. "He barely has a mustache. His mustache is okay… but his fro is on point, his fro is amazing, but my goatee should be a national monument."
Over the last few weeks in the Las Vegas Summer League, Dinwiddie was able to succeed partially based on his playmaking capabilities.
In this video below he defends Alex Caruso's shot at the rim and then finds Archie Goodwin off a no-look pass for the open three-pointer.
Dinwiddie has grown leaps and bounds as a scorer, throughout his career, but last season and in Summer League, he looked like a confident player who could score in so many facets.
In this video below, Spencer Dinwiddie is able to leak out in transition, elevate, and throw down a dunk, beating Ivica Zubac to the rim.
Late in the game against the Lakers, with the Nets down, Dinwiddie did a good job of keeping Brooklyn in the game. In the clip below, Dinwiddie nails a three-pointer while being fouled. Talk about being a good shooter.
The Nets' backcourt added an exciting dose of talent this offseason when they acquired D'Angelo Russell. With Lin, Russell, and Dinwiddie all capable of playing both guard spots, the Nets should have a very strong rotation in the backcourt, amongst the likes of Caris Levert, Sean Kilpatrick, and Isaiah Whitehead as well.
Dinwiddie is excited to play with Russell and views him as a major piece for Brooklyn's future.
"We feel like we found our franchise cornerstone going forward," Dinwiddie exclaimed.
The biggest piece that was sent in return to Los Angeles was Brook Lopez, who Dinwiddie spoke glowingly of.
"He's really really good. He's a very underrated player. He's one of the most dominant basketball players that I've ever come across. He's extremely talented, and we're going to miss that."
With the moves the Nets have made this offseason, between the trades for Russell and Timofey Mozgov as well as DeMarre Carroll, Brooklyn has made moves to improve their roster and add to their future core.
"We're definitely not in tank mode," said Dinwiddie. "Our goal is to win as many games as possible and try to make the playoffs for sure. Whatever happens, happens. It has to be to aim for the playoffs because it's not like we are going to tank for the number one(pick). Why wouldn't go out there and play hard and try to be great."
Jeremy Lin recently spoke to a similar tune as Dinwiddie, proclaiming the Nets would make the playoffs.
Dinwiddie is hoping to contribute with Brooklyn next year after a solid first season with them. There are rumblings that a Lin and Russell backcourt is what Brooklyn wants to roll out with, which would clear the way for Dinwiddie to play either backup guard spots. Wherever and whenever Dinwiddie plays should not be a problem, as he has shown he can produce in different roles.
Spencer Dinwiddie has only gotten better throughout his NBA career, and he can be one of the first success stories of the Sean Marks era in Brooklyn.