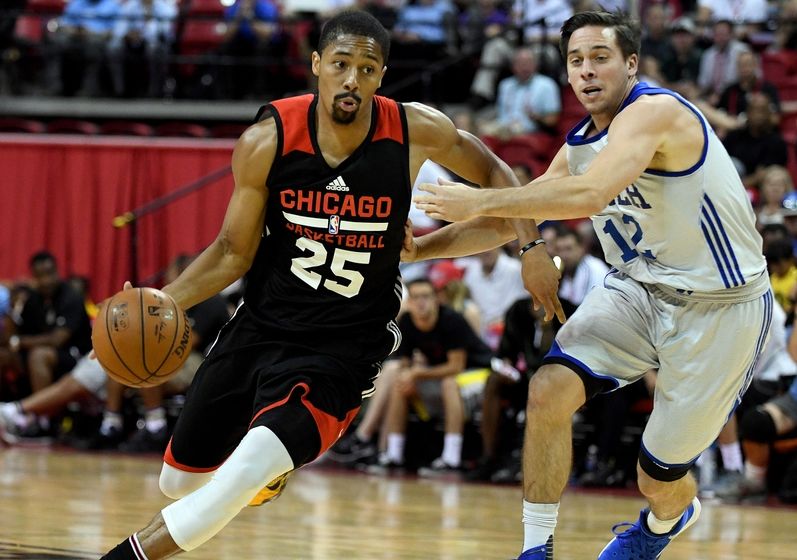 It isn't easy to stick in the NBA once you are drafted by an NBA team. Just ask Spencer Dinwiddie. The 38th pick in the 2015 NBA Draft by the Detroit Pistons has traveled down a bumpy road so far in his young NBA career.
After being drafted by Detroit, he played with the Pistons for the first two seasons of his NBA career. Behind the likes of Reggie Jackson, Brandon Jennings, DJ Augustin, even John Lucas III and Steve Blake. With all those guards ahead of him in Stan Van Gundy's rotation, Dinwiddie's playing time was sparse. While one could argue Spencer played well when he received minutes in his first two seasons, Van Gundy never trusted him enough to hand him the reigns to the backup point guard spot.
Instead, Van Gundy shipped him to the Chicago Bulls for combo big man Cameron Bairstow. Detroit would waive Bairstow just a few weeks after trading for him. Spencer was expected to have a role with the Bulls but was waived by Chicago before Summer League even began.
"The initial waive in the summer was expected because of the D-Wade signing," Dinwiddie told Def Pen. "I knew I would still likely go to Summer League with them if I cleared waivers."
Dinwiddie cleared waivers, as expected, and did join the Bulls Las Vegas Summer League team. Dinwiddie would be a key cog for the Bulls as they went on to win the Las Vegas Summer League Championship. He averaged 10.6 points, 3.7 rebounds, and 2.4 assists per game. After a solid performance in Las Vegas speculation grew that Dinwiddie would soon have an NBA gig once again and he re-signed with the Bulls in late July.
Spencer Dinwiddie went into Bulls training camp and a preseason battle against camp invite guards D'Vauntes Smith-Rivera and Thomas Walkup began. Spencer did what he needed to do and survived camp. He played well in preseason, controlling the offense off the bench for a Bulls team that went into the season with many questions surrounding their offensive abilities. He averaged 6.6 points, 2.4 rebounds, and 1.8 assists per game. It finally looked like Dinwiddie had done what was necessary to remain with the Bulls.
Then the news broke.
"They saw an opportunity to get a player they really liked in (Michael) Carter-Williams and at that point with my money being only partially guaranteed it just made sense," he said.
The Bulls flipped small forward Tony Snell to the Milwaukee Bucks for Michael Carter-Willaims. With MCW on the team, the Bulls point guard total swelled to four. With Dwyane Wade and Jimmy Butler also taking reps as a main ball handler throughout the game, the Bulls had no use to carry four point guards on their roster. Shortly after trading for Carter-Willaims the Bulls waived Dinwiddie and signed sharpshooter RJ Hunter.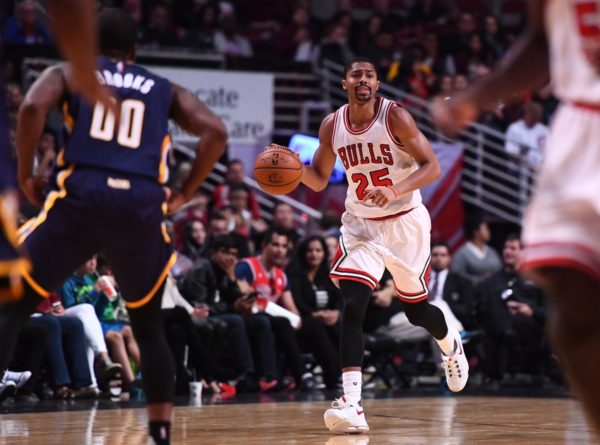 The move surprised Dinwiddie, who did nothing to lose his roster spot on the Bulls.
"I was shocked," he began. "That move came on the heels of that game in Milwaukee in the fourth quarter when my group when on like a 30-5 run. We were rolling. I was playing with confidence and I was confident in the fact that I was going to be on the roster and have a chance to take the backup spot. Then I got back to my phone after the game and the news broke and I knew it was going to change things. Then the move was made."
After being waived, Dinwiddie was faced with a tough decision. He could head overseas, where he could make north of $1 million playing in one of the best leagues outside of the NBA. His other option ,if he wanted to keep playing in the NBA ranks, was heading to the D-League, the up-and-coming minor league of the NBA. D-Leaguers currently make less than $20,000 per season, making this decision extremely tough as it would be for any player. The financial security to play overseas has been something that has kept players from playing in the D-League since the creation of it.
Dinwiddie chose to bet on himself. He headed to the D-League, joining the Bulls D-League affiliate, the Windy City Bulls.
"The beautiful thing about it is my first two seasons afforded me the luxury of not needing money at this point in time," Dinwiddie explained. "I believe I'm an NBA player," Dinwiddie said. "It just seems to me that the quickest way to get back into the NBA is to bite the bullet, go to the D-League, grind it out, and see if I can get back."
Quickly, Dinwiddie proved to be one of the best players in the D-League. In Windy City's inaugural game, Dinwiddie led the Bulls to a win over the Long Island Nets. He scored 17 points on 5-9 shooting, while hitting both of his three-point attempts, and dished out 11 assists. He then finished with 22 points and six assists in a game versus the Erie Bayhawks but Dinwiddie never cooled off. In his nine games with the Windy City Bulls, he averaged 19.4 points, 8.1 assists, 3.3 assists, and 2.2 steals per game. Dinwiddie's basic statistics were impressive, but his efficiency, something he has been criticized for throughout his NBA career, was the most impressive new wrinkle in his game.
"A lot of people question my shooting," Dinwiddie said. "The only time period when my shooting was a problem was those limited games in Detroit where a lot of my shots were a late shot clock or end of quarter type shots."
Dinwiddie has a legitimate point, considering most of his minutes came in garbage time when he was with the Detroit Pistons. His shooting has not been a problem in the D-League, shooting over 41% from three-point range in his nine games with Windy City on 3.2 attempts per game. Dinwiddie has found his stroke and unlocked yet another aspect of his growing game. The development of his three-point shot had formed Dinwiddie into one of the most exciting and potential-filled prospects in the D-League.
It only took nine games in the D-League for a team to realize the talent Dinwiddie possesses. The Brooklyn Nets announced that they had waived guard Yogi Ferrell on November 8th. Just hours after waiving Ferrell, the Nets agreed to a multi-year contract with Dinwiddie.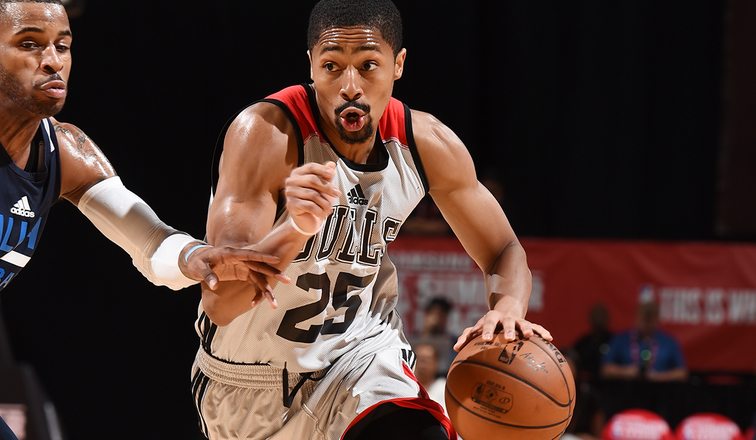 While most of the interview with Dinwiddie was conducted prior to the Nets signing him, I was able to speak with him shortly after he became a Net.
"Just excited honestly," Dinwiddie said on how he feels after signing with Brooklyn. "No other real feeling to it. It's almost like the grind of the draft process. I felt like with the work I was putting in I would get a call. I just didn't know when or to where."
Now with Brooklyn, Dinwiddie has his chance to reappoint himself as a talented point guard in the most competitive basketball league, but he won't forget what helped get him back to where he always believed he belonged.
"I don't think it happens for me without the D-League," Dinwiddie said prior to Brooklyn's game versus San Antonio on Friday. "I'm not a 10-year veteran or superstar name so I had to contribute to prove myself in a place where they were(teams) watching."
The Nets played the San Antonio Spurs on Friday night and Dinwiddie made his debut in the second half of the game. In 10 minutes he finished with six points and two assists.
…and getting on the board for the #Nets in the 4Q. 6pts in 4 minutes for @SDinwiddie_25 pic.twitter.com/MWLUaH5K6Y

— Brooklyn Nets (@BrooklynNets) December 11, 2016
Dinwiddie is only 23 years old and. He has great size for a point guard at 6'6″ and has developed the one area of his game that was often criticized in his three-point shot. He is not done developing either.
This is yet another smart low-risk move by the Nets' GM Sean Marks. He continues to bring in young players with undeveloped talent. He has done it so far with players like Sean Kilpatrick and Trevor Booker already has shown great signs in the young season. The Nets are no title contender by any standard, but quietly, Marks has brought together some intriguing young pieces. Dinwiddie is just another example.
"All I can do is continue to try to solidify my case," Dinwiddie pleaded while he was still with the Windy City Bulls. Now he has that opportunity, to show the many coaches, executives, and teams who told him that his services were no longer needed, that they made a major mistake.