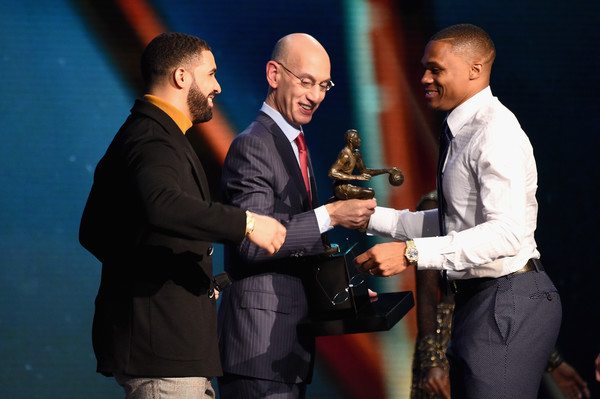 It was a season for the ages from Russell Westbrook. The Oklahoma City Thunder point guard now has an award to celebrate it.
On Monday, Westbrook was named the 2017 NBA Most Valuable Player, beating out James Harden and Kawhi Leonard in what was an objectively close MVP race.
In the end, The Brodie was deserving of the award after a historic season for the Thunder. The 28-year-old averaged 31.6 points, 10.7 rebounds, and 10.4 assists per game, becoming the first player since Oscar Robertson to average a triple-double for a full season. Westbrook also broke Robertson's record for most triple-doubles in a season.
Westbrook gave a long speech as he thanked fans, coaches, and even the media for their support. He also brought out several of his Thunder teammates onto the stage at the inaugural NBA Awards Show to show his gratitude. But Westbrook's most emotional moment came as he thanked his mother, brother, and wife, as the usually stoic superstar broke down in tears (video via NBA on TNT):
Russell Westbrook gets emotional during his 2016-17 NBA MVP award acceptance speechpic.twitter.com/aCjU0oxgml

— Def Pen Hoops (@DefPenHoops) June 27, 2017
Westbrook's win also meant we got another phenomenal Jordan Brand commercial centered around The Brodie:
Russell Westbrook wins the NBA MVP award!

Congrats to @Jumpman23 athlete, the Brodie

— Def Pen Hoops (@DefPenHoops) June 27, 2017