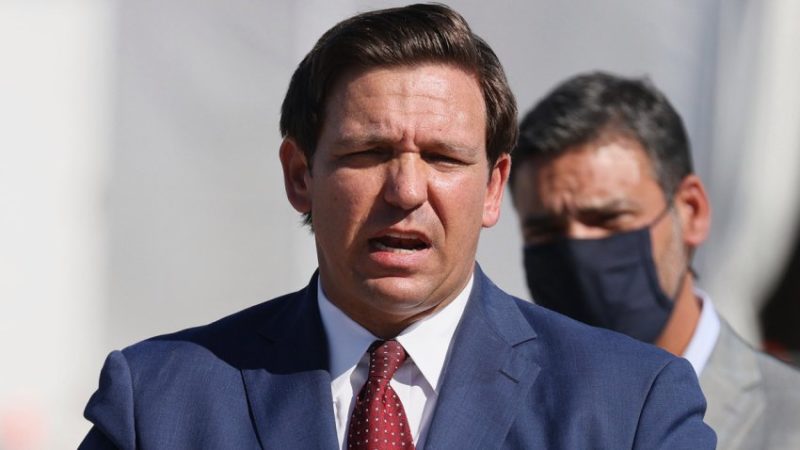 Florida Governor Ron DeSantis has not formally entered the 2024 presidential race, but he has already found himself in a back-and-forth with former President Donald Trump. Recently, the former President has referred to the governor as "Ron DeSanctimonious" and "Meatball Ron." In a new interview with Piers Morgan, DeSantis said that he didn't care for Trump's nicknames as long as he's referred to as a "winner."
"It's not important for me to be fighting with people on social media. It's not accomplishing anything for the people I represent," DeSantis said.
"If I got involved in all the under tow I would not be able to be an effective Governor."
As the interview progressed, DeSantis took another shot at the former President. The Florida governor said that attempts to avoid high turnover and "drama" by finding personnel that serve the "agenda of the people."
"I also think just in terms of my approach to leadership, I get personnel in the government who have the agenda of the people and share our agenda. You bring your own agenda in, you're gone," DeSantis said.
"So, the way we run the Government I think is no daily drama, focus on the big picture and put points on the board and I think that's something that's very important."
When asked if he would be launching a presidential campaign in the near future, DeSantis was noncommittal.
"I haven't made a final decision on it," DeSantis said.
"I've told people that I've got a lot to do over the next few months in Florida. We're gonna put a lot of points on the board. And then we'll see how the dust settles after that."
"I would have fired somebody like Fauci."

Ron DeSantis highlights the differences between him and Donald Trump, saying he would run a government with "no daily drama".

Watch the EXCLUSIVE and explosive interview with Piers Morgan, Thursday 8pm.@piersmorgan | @GovRonDeSantis pic.twitter.com/92ROJHwaeH

— Piers Morgan Uncensored (@PiersUncensored) March 22, 2023