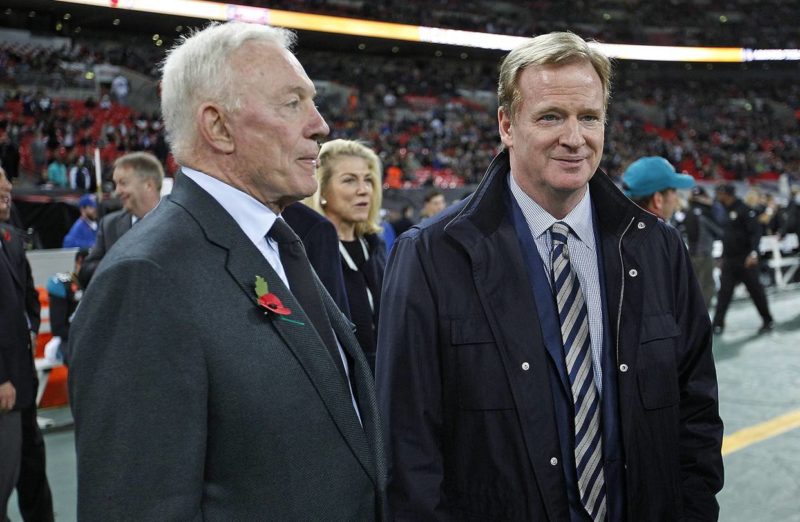 NFL Commissioner Roger Goodell is reportedly preparing to bring heavy punishments against Dallas Cowboys Owner Jerry Jones. Jones will be fined millions of dollars for behavior that was "detrimental to the league." This is just the latest development in a long-running saga between Jerry and Roger Goodell.
This fine is targeted at his attempts to prevent Roger Goodell from being Commissioner and his very public problems with the discipline his star running back Ezekiel Elliot faced from the league last season. It is also reported that Goodell has the support of most of the owners as well, he was apparently reluctant to pass the decision himself but was urged by several owners as of late.
This is just the latest development in a long and very public saga between Roger Goodell and Jerry Jones this last year. It started back when Jones was public about not thinking Ezekiel Elliot should be disciplined if he was arrested in a domestic violence case. The NFL suspended him anyway and then his appeals in federal court were denied.
Jones, at the time, tried to have Roger Goodell's contract adjusted as he argued Goodell was overpaid in the extension. This lead to Jones threatening to sue the rest of the league if Goodell was signed at all. This lead to a public fallout between owners which was not a great look for the league.
This all came during a time when the NFL was grappling with the National Anthem Protests and relationships with players were strained. As Jones continued his campaign against Goodell and lost most of his in-league support, there was talk of Jones being outted as an owner by the league.
Ultimately Roger Goodell was signed to a five-year extension where he can make up to $200 million if the league hits certain financial milestones. This leaves us with Goodell's current moves to make sure this doesn't happen again. I'm not sure Jerry is just going to take this fine quietly so we will have to wait and see where this road takes us.