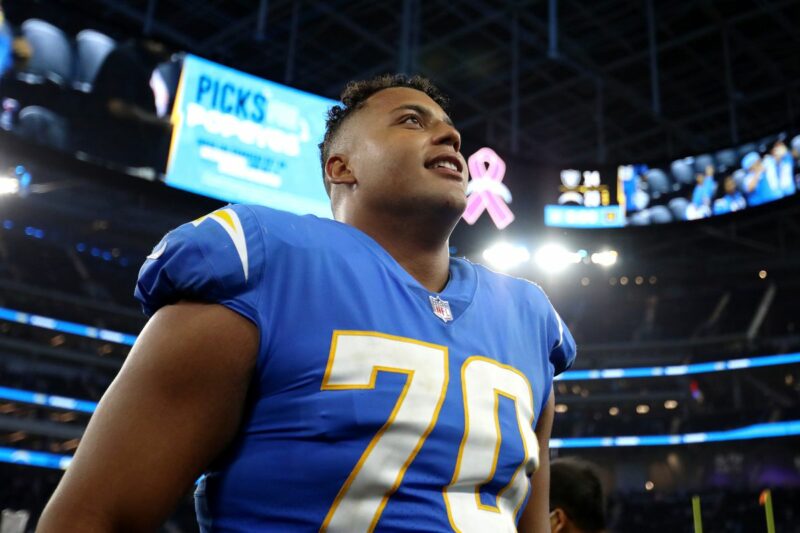 Los Angeles Chargers left tackle Rashawn Slater is likely to miss the rest of the season after suffering a torn left biceps tendon. Injuries have severely impacted the team for some time and this will be a significant loss for the team moving forward. Quarterback Justin Herbert is dealing with a few injury problems himself. The loss of his talented starting left tackle is not an ideal start to the NFL season.
Chargers' Pro Bowl left tackle Rashawn Slater tore his left biceps tendon and is expected to miss the rest of the season, as @TomPelissero reported.

— Adam Schefter (@AdamSchefter) September 26, 2022
This is a brutal injury for a player who had just started his second year in the NFL. The Los Angeles Chargers invested in Rashawn Slater when they drafted him with the 13th overall pick in the 2021 NFL Draft. As a rookie in the NFL, he did a good job and showed promise when protecting quarterback Justin Herbert. Without him, there is a noticeable gap in the protection on the offensive line. This could impact the team's willingness to play their injuries quarterback next week. That will depend on how he's feeling by the time the game rolls around.
The Chargers:

– JC Jackson had preseason ankle injury, played Week 2, then missed Week 3
– Justin Herbert playing through rib cartilage injury
– Rashawn Slater out for the year
– Joey Bosa left yesterday's game with a groin injury and did not return

It's not even Week 4.

— Bill Barnwell (@billbarnwell) September 26, 2022
With a 1-2 record the Chargers have not gotten off to the start they were hoping for this year. Starting off the year with a win against the Las Vegas Raiders was ideal but then a close loss against the Kansas City Cheifs and an embarrassing loss to the Jacksonville Jaguars has the team reeling. The loss of Rashawn Slater could hurt the team more down the road.