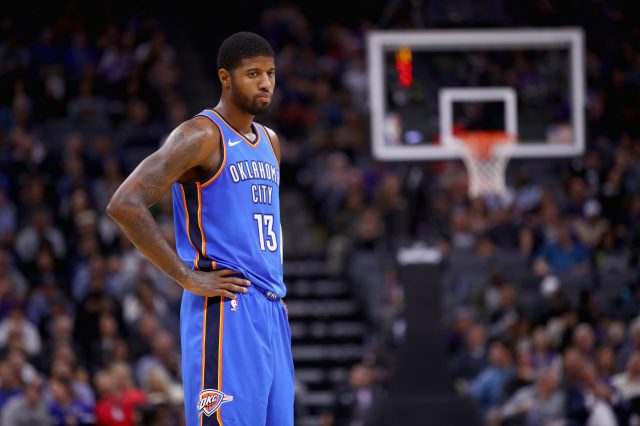 After a masterful off-season by general manager Sam Presti, the Oklahoma City Thunder were expected to be a powerhouse in the NBA alongside teams like the Golden State Warriors, Cleveland Cavaliers, and Boston Celtics. This Thunder team, led by the trio of Russell Westbrook, Carmelo Anthony and Paul George, is still very capable of reaching this threshold; however, at 12-14, the Thunder have fallen far short of these predictions through their first 26 games. After being acquired from a mediocre Pacers team, Paul George has made it known that he is tired of losing.
The following came from George after the the team's loss to Charlotte last night, per Royce Young of ESPN:
We're not getting off to a great start and it's just playing its way all the way through to when we get late in games, and for whatever reason we try to turn it on. It just seems we're a completely different team that last four or five minutes, and that's the way we've got to battle for 48 minutes.
These struggles from such a star-studded team is puzzling and disappointing, and George knows it:
For the talent that we have, obviously this is not where we want to be. But we're going to remain optimistic, though, about the future and what we can do. Once we can find a way to really do it night in and night out, it's no panic mode, but we have to start playing better. It's getting to a point where we can't allow ourselves to be at this point. We can say we're going to figure it out, we can say all that. But at some point it's gotta stop.
Oklahoma City's recent struggles aren't anything new, as they've ran into a number of roadblocks leading to inconsistent play since the beginning of the season. Whether it be star players struggling, a lack of defense, or closing out games, the Thunder have faced their fair share of problems.
Paul George and fellow newcomer Carmelo Anthony both came to OKC from dire situations in Indiana and New York, respectively, but now face the same circumstances out west. It will be interesting to see if George's comments become a wake-up call for the team, or if things continue to unravel.
The Thunder take on the Indiana Pacers tomorrow, a prime spot to get back on track.