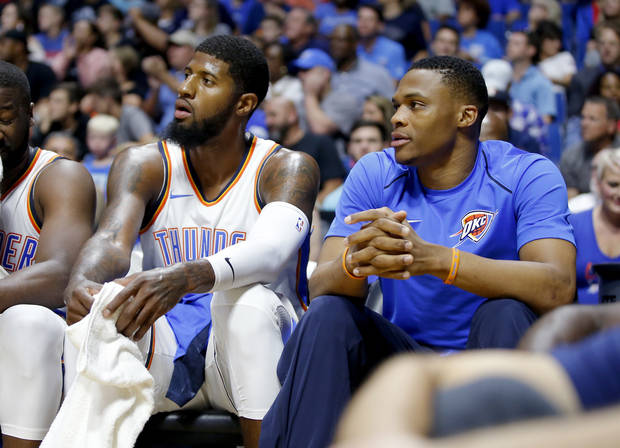 The star-studded Oklahoma City Thunder have been one of the biggest league-wide disappointments we've seen in the NBA so far this season. With a paltry season record of 4-7 and dropping their fourth game in a row at the hands of the Denver Nuggets last night, it's safe to say this team has found themselves in an early rut.
The newly-formed superstar trio of Russell Westbrook, Paul George, and Carmelo Anthony still has tons of wrinkles to work out as does the team as a whole. To address these recent issues, Norman Transcript's Fred Katz reports that the Thunder held an extensive team-only meeting following their most recent loss to air out any issues the team has been having.
Carmelo Anthony explained why this meeting could pay dividends down the road as the NBA season picks up:
"You have to talk about it. You have to look at it. You have to be up front with everybody, everybody's got to be held accountable for what's going on."
Though heavy isolation basketball has been part of the Thunder's downfall this season, Melo sees it a different way. He, Westbrook, and George are three of the more adept isolation players in the league, and Anthony reiterated that those situations are not the problem.
"We're very comfortable with kind of being in those situations, I think that's how we became who we are as players, being comfortable in those situations."
With three all-world players on the roster, OKC is simply too talented not to figure this situation out. A lot of their offense becomes stagnant at times and this is especially problematic in the final period where the game slows down. In their most recent loss to the Nuggets, the Thunder picked up only one assist in the fourth quarter compared to seven for Denver, a clear indicator of how they squandered yet another double-digit edge on the scoreboard.
Before their date with Denver, OKC lost an 18-point lead to the Celtics and also dropped the next two against teams they should've had no problem beating in the Portland Trail Blazers and Sacramento Kings.
This has been a disappointing start for a team that entered the season with championship aspirations. Though it's been an extremely underwhelming opening few weeks, expect the Thunder's core big three to iron out their kinks and get OKC moving in the right direction again.